Dear George Bush,
I read in Politico that you are unhappy with the Republican Party, and said so on the Today Show.
That stunned me.
This is the party that not only elected you president twice, but elected your father vice president twice and president as well.
5 times in 6 presidential elections, Republicans showed up at the polls and voted for a Bush. That is a remarkable tribute to Ronald Reagan, whose legacy you embraced and whose legacy your father exploited.
After leaving office you left politics, taking up painting and leaving behind a memoir that can best be described as an expression of embarrassment over your presidency.
For a dozen years, you eschewed the public eye, although you occasionally raised funds for the party and some of its candidates. You were the old soldier who faded away.
You remained silent as Obama pushed his inexplicably complicated and unnecessary Obamacare. Your silence on Benghazi was heard by some of us. We respected your right to just give up on politics and never speak again.
But now, after twice refusing to support President Donald John Trump, here you come to piss on his policies and his supporters.
I can understand your refusal to support the man who beat your brother Jeb! Blood is thicker than water. But that does not excuse you, because your silly silence emboldened Democrats. You should have taken the high road and accepted defeat. Instead, you sold President Trump out to build your esteem among those who called you Hitler as well.
Remember?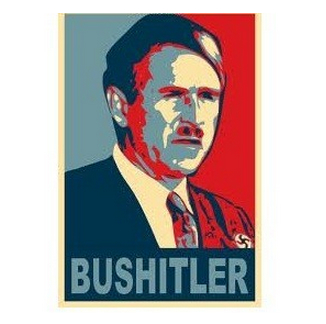 The opposite happened. Democrats and the rest of the Washington Establishment laugh at your feeble attempt to win favor in their eyes.
Meanwhile, you have abandoned and betrayed those who stuck by and defended you.
You told Today that the party is now "isolationist, protectionist, and to a certain extent, nativist."
But we haven't changed. We stayed the same. From Lincoln to Reagan, Republican presidents supported tariffs to protect our industries. It is called patriotism.
You said, "It's not exactly my vision. But, you know, I'm just an old guy they put out to pasture."
But we did not put you out to pasture. You did. We wanted you to help us through the awful Obama administration, but you went back to Texas and forgot about us. We thought your absence was temporary. We waited and waited and waited for you to defend yourself and attack the Democrats who tried to destroy your policies.
You stayed on the porch.
Now you return to the center stage and attack us.
Democrats this summer rioted in city after city. You were silent.
You attacked your supporters for daring to enter the Capitol to protest the acceptance of what they viewed as a stolen election.
You said, "It did make me sick. I felt ill. And I just couldn't believe it."
What about the hundreds of thousands of people who gathered at the National Mall to show their support for the Republican Party nominee -- just as they had supported you and your father 5 times.
Your continued support for illegal immigration is why you have put down the paintbrush and re-entered the arena, You are the Good Guy wrestler joining up with the Iron Sheik.
You should have stayed on the porch, because the Sheik considers you to be a Jabroni. On Twitter, he would tell you to GFY -- only spelled out and in capital letters.
Mister Bush, once you were the leader of a great nation. Now you oppose everything we thought you stood for. You join John Boehner in promoting yourself as a Repentant Republican who is on his knees begging for forgiveness from a Democrat Party that mocked you. I am sure psychiatrists have a term for this phenomenon. All I know is that it does not work.
You disappointed millions of people who voted for you. Attacking them is what you will be remembered for. Maybe we should have voted for Al Gore, a man who still supports his party and its voters.
To use the Iron Sheik's favorite pejorative, you are a Jabroni.
And a turncoat one at that.