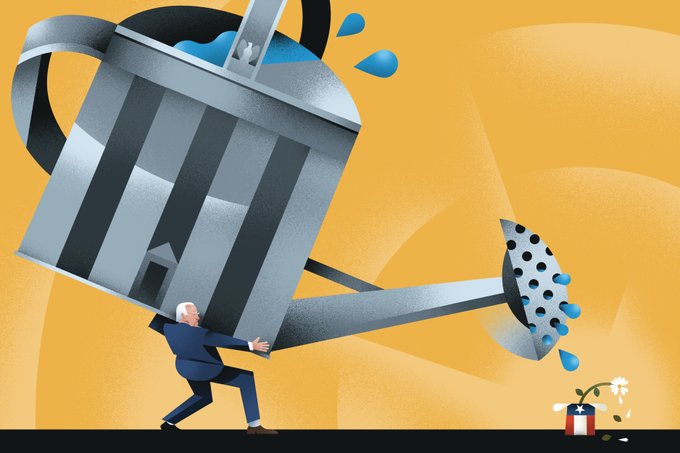 A reader asked me a few questions about Chairman Xiden's $2 trillion infrastructure plan, which I gladly answered and will share with readers.
But first let us look at how the mainstream press views this.
CNBC reported, "President Biden unveiled a more than $2 trillion infrastructure and economic recovery package on Wednesday."
Well that's a lot of money. We are increasing federal spending by another 50%. Whee.
The story said, "The proposal would:
"Put $621 billion into transportation infrastructure such as bridges, roads, public transit, ports, airports and electric vehicle development.
"Direct $400 billion to care for elderly and disabled Americans.
"Inject more than $300 billion into improving drinking-water infrastructure, expanding broadband access and upgrading electric grids.
"Put more than $300 billion into building and retrofitting affordable housing, along with constructing and upgrading schools.
"Invest $580 billion in American manufacturing, research and development and job training efforts."
Hmm.
So we are borrowing $2 trillion so we can spend $621 billion on transportation plus another $300 improving public utilities.
That's 45%.
Of course, the road money includes $20 billion to destroy racist roads. They are lined with racist trees. That is right, readers, America is fighting bigot-tree.
Which leads to my reader's questions. He wrote, "Mr. Surber, a couple of questions that I do not see being asked.
"1. Did not Obama have a infrastructure plan that cost one trillion dollars and did nothing?
"2. Where does all that gasoline tax we pay on each gallon of gas go? Where is this spent?
"3. Where does the ticket taxes we pay for airline flights go? Is this not spent on airport improvement? I thought airport upkeep and operational cost was paid by landing fees, gate rental, ticket counter rental and food court, etc.
"4. Are not tolls for some roads and bridges for upkeep and improvement?
"I am sure there are other examples as well."
My answers were simple.
1. That $787 billion stimulus under Obama went down the rathole to pay off investors, er donors. We know this because Biden guided the stimulus. He was the bag man.
2. The federal gasoline tax goes into a pot where senior senators dole it out to their states so they can get a highway named after them. We have 22 Bob Byrd Highways, Courthouses, and sundry other items. Some of them were actually necessary.
3. The government no longer needs to tax people to fund things. It merely prints what it wants to spend. Ticket taxes like most taxes exist only to punish people's behavior. In this case, the government opposes allowing the middle class to be free to roam the country, as the old Southwest Airlines commercial said.
This was why the government took over airport security after 9/11 and eagerly shut down the airports when the virus hit. The government never lets a crisis pass without expanding its power.
4. Finally, tolls exist to pay for the tollbooths. Every 30 years or so, when the bonds are paid off, the Turnpike borrows again to pay for improvements that always seem to include paving the driveways of politicians.
Skepticism is when you fear things will go wrong. Cynicism is when you know they will go wrong.
The highways to hell aren't paved with good intentions. They are paved with inferior asphalt spread poorly by a state highways department run by the unemployable nephews of state elected officials.