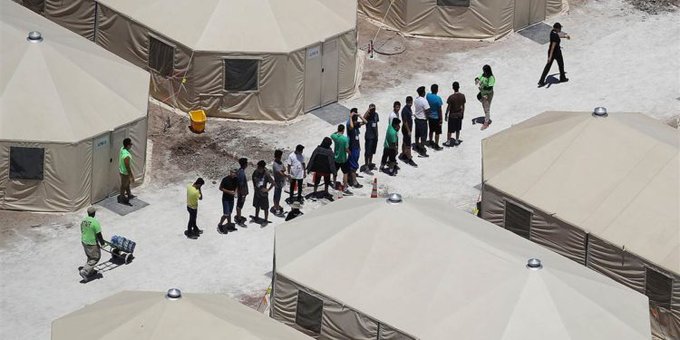 NBC reported that after a year of searching for them, lawyers have found the parents of only 61 of 506 illegal alien children.
That shows how much concern those parents have for the welfare of their offspring.
What the press now calls a humanitarian crisis is a tragedy not because of the kids in cages that Obama installed, or the wall that President Donald John Trump began to build, or even Biden's wink-wink, nudge-nudge about the border.
The crisis is on the parents who send their children thousands of miles north to fend for themselves. They put their children in the hands smugglers knowing full well the odds that their child will be molested. Amnesty International puts those odds at 60%.
Politico reported, "More than 18,800 unaccompanied children crossed the border in March, officials told reporters on a call Wednesday ahead of the release of Customs and Border Protection's monthly figures on Thursday. It's a record-breaking figure; the highest monthly number recorded were more than 11,000 children that crossed the border in May 2019. The March numbers released Thursday represent an almost 100% increase from February, when more than 9,400 minors were taken into custody."
They dumped 18,800 children on our border in one month alone. Let us call it what it is.
Child abuse.
NBC wrote, "Lawyers tasked with reuniting migrant families separated during the Trump administration said in a federal court filing late Wednesday that they have recently contacted the parents of 61 more children.
"The filing in the Southern District of California shows that the number of known separated children whose parents have yet to be reached by the pro bono attorneys, known as the steering committee, has dropped from 506 to 445. The committee issues periodic reports on its progress to the federal judge overseeing the reunification process.
"In late February, the steering committee announced it had found the parents of 105 children since mid-January, bringing the number of children whose parents had not been contacted down from 611 to 506.
"The steering committee, began their work under the Trump administration and have been continuing to contact families while the Biden family reunification task force is building its own database of potentially separated families.
"The lawyers believe that the parents of 302 children who have not yet been reached were deported to Central America, while the parents of 129 children are somewhere in the U.S. The lawyers say the government has not yet provided contact information for the parents of the remaining 14 children."
***
The children were not separated from their parents. They were abandoned. If the parents wanted to be with their children, we would not have to hunt the parents down like Dog the Bounty Hunter. The parents would be contacting us.