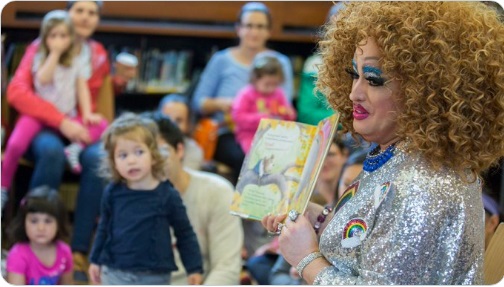 The arrest of Brett Blomme, a Democrat Milwaukee County children's court judge, on child pornography charges has the people who put on the Drag Queen Story Hour program in Milwaukee scrambling to distance themselves from him.
The Milwaukee drag queens posted a notice on Facebook, which says, "DQSH Milwaukee has never been run by the Cream City Foundation nor Brett Blomme, neither have either participated in planning, organizing, hosting or performing at any of our events. Brett has never held a title or position within our organization ever.
"Cream City Foundation has only ever been a fiscal sponsor that allows DQSH Milwaukee to give & receive funds as a non-profit. Aside from financials, they have had no part in DQSH Milwaukee & DQSH National."
That is a nice try, but the Cream City Foundation is the LBGTQ advocacy group that funded this program. Blomme and the money he steered to the group enabled the drag queen story hour.
Public libraries have no business hosting the drag queens. If a group of preachers tried that, the ACLU would be in court immediately saying this establishes a state religion.
Reformation Charlotte nailed the judge's arrest, noting, "It should come as no surprise that a Democrat promoting perversion and sexualization among young children would indulge himself in these images, yet the same people who decry it when it happens are the same people who celebrate diversity and inclusion among the sexually deviant."
The expression of such thoughts has been shunted to blogs in America.
None dare declare perversion to be perversion anymore. We have feminists castrating their sons in the name of transgendering. Apparently you can be born homosexuals but you are not born male or female anymore. The latter is a choice. DNA and biology be damned.
Blomme's election put children at risk.
A reader wrote, "I'm friends with Paul Dedinsky, the Scott Walker appointed judge that lost to Brett Bloome; the disgraced liberal who recently has been arrested by police for child pornography.
"Learning that someone was actively uploading images of children who have been sexually abused and compromised on a computer owned by the people of this state... hard to come up with words to describe it, especially for a place where little children must come and provide testimony to describe the myriad ways by which they were sexually assaulted and harmed.
"Pray for the two children this man adopted from the child welfare system."
That last point is a reminder that we were told that gay adoption was perfectly safe. Yes, he has a husband. It is the 21st century.
The child welfare system anymore is anything but. For example, Post Millennial reported, "Father jailed after referring to biological female child as his daughter.
"The warrant was issued by a judge for the arrest of a father after calling his biological female child his daughter, and referring to her with the pronouns she and her. He was found to be in contempt of court."
The confused brat is 14.
The drag queen story hour will continue unabated. It is now mainstream. The Wall Street Journal gave it its blessing when it ran a column by Charlotte Allen. She (I assume she is a she) is a contributing writer for Catholic Arts Today.
Allen wrote on October 9, 2019, "What I Saw at Drag Queen Story Hour.
"Children stared, squirmed or toddled off, but their parents were enthralled with Venus Valhalla."
Her column ended, "I couldn't tell what was going on inside those small heads, of course. Perhaps they were shy, or bored. Perhaps some of them were too young. Or perhaps Venus and her 6-inch eyelashes terrified them. Heavy stage makeup can look flattering under stage lights, but in ordinary indoor daylight the effect can be more Medusa than goddess of love. Spike heels and glitter viewed up close might seem scary to a small child whose mother's fashion inspirations are New Balance and Lululemon.
"Still, drag is a time-honored form of comic entertainment, from the Greek stage to RuPaul. Perhaps if the drag queens toned it down and positioned themselves less as 'queer role models' and more as comedians in the Milton Berle tradition, they'd be less off-putting. Also if they ditched the propagandistic reading lists: How many kids really want to hear one more tiresome lesson about 'individuality,' much less same-sex marriage?
"But I have an even better suggestion: Leave the little ones with the babysitter and have a Drag Queen Story Hour for parents. Adults these days crave kid stuff—coloring books, Legos, cookie dough—and those moms and dads who stuck out their tongues for the frog song will likely jump at another chance to sit on the floor, try on jewelry, relive kindergarten and virtue-signal. That should make everyone happy."
Berle did not promote perversion. He wore the dress to satirize women. That was the comedy.
Let us quit mincing around. The purpose of these story hours is to proselytize and to normalize a perversion. It is not a stretch to imagine that some drag queens tried to groom children as well.
As propaganda, the story hours work. This began 6 years ago. Now we have a president who wants men in dresses to shower with little girls. I am not saying the story hours alone did this, but they helped soften the target.
And of course, Milwaukee elected as a children's court judge a Democrat who helped fund this program.
My question is simple. Why don't we oppose perversion anymore?
Americans need to go back to saying no because the lives we save may be our own children and grandchildren.