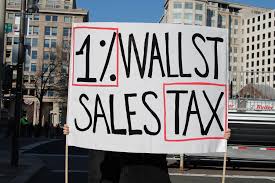 The story said, "With renewed progressive scrutiny of the financial sector after the GameStop saga, House Republicans just introduced legislation to protect against the introduction of a damaging financial transaction tax.
"Such a tax has been proposed by legislators such as Rep. Ilhan Omar, who wants to impose a 0.1% tax on all financial transactions. A 0.1% tax sounds small, but it's not: This tax would be applied to tens of millions of trades happening every day.
"What this tax would mean is that every time an asset worth $1,000 were sold, a $1 tax would be owed, and so on. Omar projects it would raise $1 trillion in revenue and says it would curb Wall Street's supposedly malicious behavior."
Put the buckets down. Republicans should not be carrying the water for Wall Street because
Wall Street backed Biden
. Be practical. Let Biden bail them out.
And the transaction tax is nothing. The sales tax on a burger in parts of West Virginia is 7%. That's 70 times the proposed tax on transactions. If I have to pay a sales tax on hiring someone to fix my furnace, then millionaire stock brokers can pay a sales tax on their trades.
Stock brokers would gladly pay such a fee if it generates that much churn.
You would think a foundation that promotes economics education would have someone who can do simple arithmetic instead of relying on the math of some crazy congresswoman who married her brother.
Wall Street sold out Republicans in the last election. Nevertheless, Republicans line up as Wall Street's Waterboys, eager to please those who helped cost their party the presidency.
Many readers are probably thinking, Don, he wears a bowtie so he must know what he is talking about when it comes to money.
But looks often are deceiving. He believes that a fee of 0.1% is economic ruin. I have news for him. If a tax of 0.1% can bring your economy down, you have no economy.
And yet he persisted, saying, "These FTTs would penalize Americans saving for retirement, their first home, or their child's education, all at a time when they can least afford it."
If you cannot afford a $1 fee on a purchase of $1,000 in stock, you should stay on the porch and let the Big Dogs run.
McHenry continued. "As we come out of the COVID-19 crisis, we should be expanding everyday investors' access to our markets, not holding them back from investing in their future. Republicans will continue to fight for savers and everyday investors, while Democrats push progressive policies to hurt these hardworking Americans."
That last argument is a laugh. You know what really hurts hardworking Americans?
Having Joe Biden as president.
And you know who helped elect him?
Wall Street.
Republicans need to pay Wall Street back by pouring that water down the drain.
Wall Street wanted Biden. Let Wall Street have him.