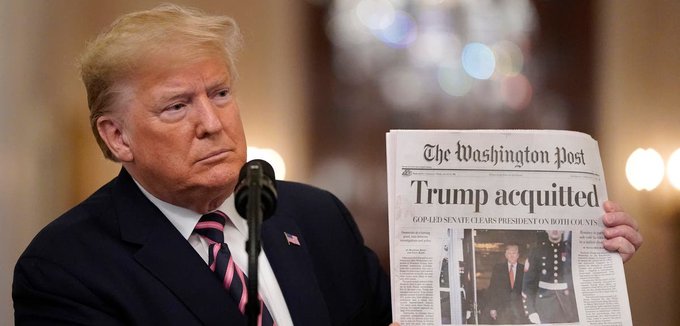 Much has been written about the drop in cable ratings now that Donald John Trump no longer is president. But the nation's two biggest purveyors of Fake News -- the Washington Post and the New York Times -- also suffer a collapse in their online traffic as well as the inevitable loss of print subscribers.
Fox reported that
CNN lost 47% of its audience since the election. Fox did not report its own loss of 13% of its audience.
But the online newspaper drop in traffic is a less publicized development.
The Washington Post (links to a 3rd party) reported its online traffic fell 26% last month from January, which was President Trump's final month in office. Traffic was also down 7% from February 2020.
The Post said the Times traffic fell 17% from January and 16% from February 2020.
That is not how news works. Sorry. News comes in cycles, and the beginning of a new administration should attract readers who are interested in what the new guys will do.
While I get that Donald Trump is a tough act to follow and Biden has the personality of a tub of lard, I also get that both the Post and the Times are not doing their job. They are not reporting anything interesting about this new administration. They are not even bothering with the fellating feature stories about how Dr. Jill is such a fashion plate and feminist icon.
I am serious. In 2016, the Post ran a story, "Hillary Clinton, style icon? The unexpected inspiration for women's spring fashion."
(And now it's springtime for fashion and Hillary. Winter for ev'ry one else.)
Democracy dies in darkness and the Post and Times are covering this administration with a blanket. It is like the White House does not exist.
I believe this is part of the plan. Let the peasants worry about LeBron James's knee and Cardi B's WAP (and if you don't know what a WAP is by now, you are one of the fortunate few). This provides cover for an administration that works against the nation's best interests because that is where the bribes are.
There is an old saying at the Legislature in Charleston, West Virginia. Fat possums cross at midnight. The marsupials in charge of government get fat.
While the drop in online traffic and circulation hurt the bottom line, Jeff Bezos did not buy the Post to make money. He already has $90 billion, $150 billion, $200 billion, or whatever the number is today. He bought it for influence. The ability to cover up the news greatly enhances his power and hence his authority.