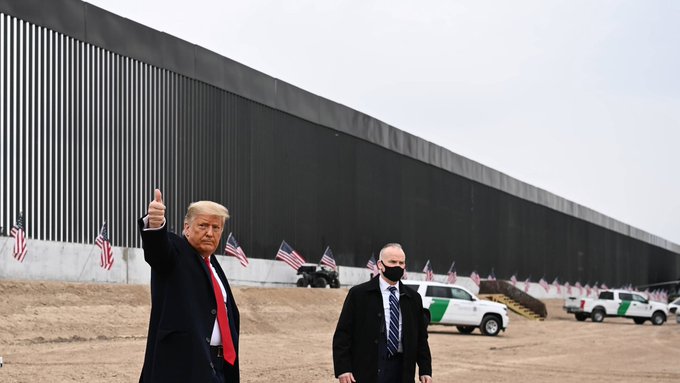 The other side of buyer's remorse is seller's remorse. That happens when you sell or even give away something that you miss after its gone.
Rich Lowry, editor of the Never Trump Review, has a variant called sellout's remorse. He sold out his once-conservative magazine's reputation to gain brownie points among the elitists. His Against Trump issue was a political and intellectual failure because 1. Trump won the presidency, and 2. Trump was the most successful conservative president in decades.
Opposition from Fake Conservatives helped Democrats stymie President Trump's completion of the wall. As hundreds of thousands of illegal aliens gather at our border, Lowry realizes the price paid for selling out.
He wrote
, "How Trump Got Control of the Border. And how Biden created a crisis by throwing it all away."
The column stopped short of a confession of error on his part, but he did admit Donald Trump was a great president.
Lowry wrote, "Many of Trump's policy successes — tax cuts, deregulation, judges — came from adopting standard, off-the-shelf GOP policy. There is another category, though, of intractable issues or unexpected crises that were addressed by innovative problem-solving by officials unwilling to accept the conventional wisdom about what was possible.
"The Abraham Accords and Operation Warp Speed, as well as other aspects of the pandemic response, fall into this category. So does the border, even if has been largely unappreciated."
The editor mentioned that President Trump got Mexico's cooperation in sealing off the border and taking in people who claimed to seek asylum in the USA while American courts reviewed their cases.
What he did not mention was the tariff President Trump said he would impose if Mexico did not cooperate.
National Review (the real name of Lowry's publication) vehemently opposed the tariff because for some reason Fake Conservatives have abandoned the protective tariffs championed by every Republican president not named Bush.
But Lowry was nice to give Donald Trump credit for bringing new thoughts, new ideas, and new approaches to Washington.
Jeb! and Rubio opposed the wall, and Ted Cruz would never have imagined the things The Donald did to seal off that border.
Of course, all of them would have lost to Hillary.
Lowry should be glad that his publication was ineffectual, insignificant, and irrelevant in 2016 because conservatives elected Donald Trump president.
We re-elected him too, but that is a story for another day.