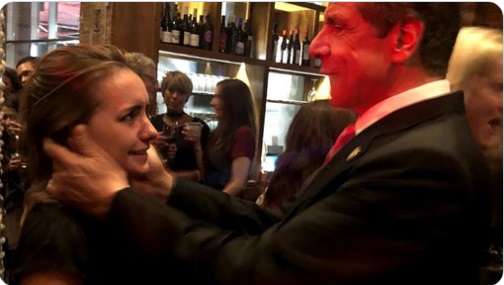 The sudden Puritanism of the left over Democrat Andrew Cuomo's advances on women hides the real scandal.
Cuomo's bungled response to covid 19 turned New York state into the world's epicenter of the virus last spring. His decision to place covid 19 patients in nursing homes killed 15,000 people.
Nearly a year later, this creates a problem. Having promoted Cuomo's policy (which the governors of California, Michigan, New Jersey, and Pennsylvania dutifully copied) Democrats now are stuck to the policy like that woman who used Gorilla Glue as a hair spray.
To separate the party from its covid 19 policies, Cuomo needs to go. But an impeachment for killing 15,000 people would be a messy thing. Enter Me Too. Suddenly, women are accusing the governor of making advances on them.
My guess is Democrats knew about this all along and were saving it as insurance should he prove to be too much of a liability.
So now we are clutching the pearls over his creepiness.
Democrats are trying to defuse their covid 19 bomb.
Fox reported
, "New York Gov. Andrew Cuomo's emergency powers would be limited by state legislators under new legislation, the leaders of the state's Democratic legislative majorities announced Tuesday.
"They said they had finalized a deal to strip Cuomo of his emergency coronavirus powers. It comes amid growing uproar surrounding his alleged treatment of women and his handling of the deadly coronavirus outbreak in the state's nursing homes."
Wait a second. What gives? America's liberal media now equates unwanted advances with the deaths of 15,000 people?
I get that legalized abortion has numbed us to the sanctity of life, but come on. One death alone is worse than 3 gals complaining about Cuomo's behavior years after the fact.
Don't get me wrong. I delight in watching this weasel sweat. He is a bully who is getting paid back.
But I would like it more if there were a criminal investigation into his role in the deaths of 15,000 people.

The sex scandal is entertaining, and a way for Democrats to punish Cuomo without dealing with the real problem of how state after state bungled the covid 19 response. Root for his removal, but hope voters punish Democrats this year and next for their bad policy.