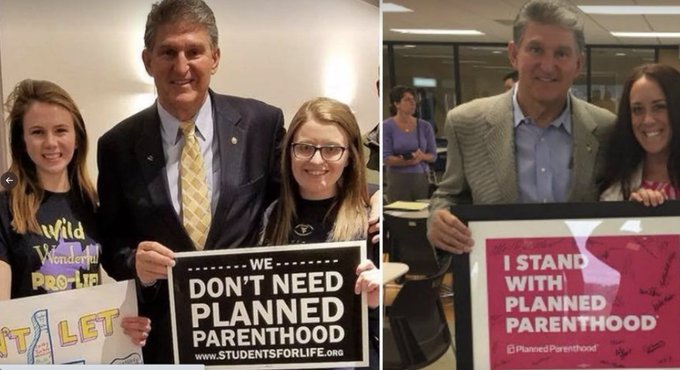 As a West Virginian, for years I have told readers that Joe Manchin will not flip parties and become a Republican. I am not really sure why readers believe that. Nothing in his record shows a fondness for the truth or limited government. People must have him confused with John McCain.
West Virginia voted for Donald John Trump twice? Manchin could not care less.
What part of Manchin saying "I don't give a shit" do you not understand?
The will of the people means nothing to him.
That is the opposite of the representative democracy contained in the Constitution. A senator who defies the will of the people is no hero. He is a coward. A real hero would resign the Senate rather than vote against his conscience.
Manchin is a lifer. Manchin has no conscience. How convenient.
This weekend, the media hailed Manchin as a great compromiser who worked with Democrats on their $1.9 trillion pork barrel. He said he would not vote for it if no Republican voted for it. No Republican did. He voted for it anyway.
When Republicans did this, the media condemned it as anti-democratic.
Manchin got to do all the Sunday morning news shows. The only thing of interest he said came when he called Jake Tapper "Chuck." That amused me.
But Manchin's word is worthless. He said he would vote to repeal Obamacare. He never did. He just tells people what they wish to hear. He does not care. His motto is "I don't give a shit."
Despite my warnings, many conservatives fell in love with Manchin. The NRA gave him an A. He will reward them by voting for a draconian gun control measure that makes the 1968 law seem tame. Gun owners will need insurance and certification from a psychiatrist in order to exercise their Second Amendment rights.
West Virginians almost ousted him in 2018. He was re-elected with less than half the vote, something odd for a man elected governor twice and to the Senate twice before.
My warning to conservatives is be careful to whom you give your heart. For every Donald Trump there are 20 Joe Manchins.