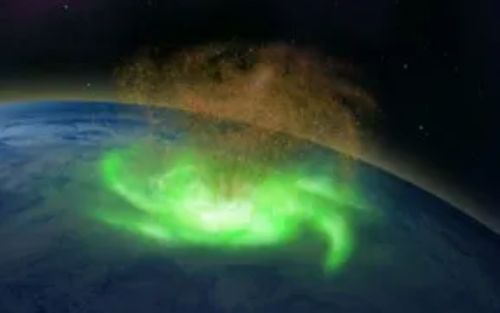 Zero Hedge reported, "For the first time, a team of researchers from China, the US, Norway, and the UK, have spotted an eye-catching phenomenon above the North Pole, in what they're calling a space hurricane.
"The new study said a 600-mile-wide swirling mass of plasma 'rained' electrons down on the North Pole. It was only until now that the existence of space hurricanes has been confirmed. "
It looks like Slimer from Ghostbusters.
ITEM 1
:
United Press International reported
, "Former Transportation Secretary Elaine Chao used her office to boost the reputation of her family's shipping business, the agency's internal watchdog said in a report released Wednesday.
"The Department of Transportation Office of Inspector General's report states that Chao took part in four kinds of ethics violations including planning to bring relatives on an official trip to Red China, requiring Department of Transportation public affairs staff to promote her father's book and using agency staff and resources to complete personal tasks."
This is the same person who quit 2 weeks before the job ended saying President Trump did not meet her standards.
I hope Chairman Xiden prosecutes her, and then himself for taking his son Hunter to Red China to pick up a bribe.
ITEM 2: Post Millennial reported, "Biden calls Texas and Mississippi opening up their states, rejecting mask mandates 'Neanderthal thinking.' "
Chairman Xiden said, "The last, uh, the last thing we need is Neanderthal thinking that, in the meantime, everything is fine, take off your mask. Forget it. It still matters."
He wore a mask.
Why?
He's been vaccinated.
ITEM 3: The National File reported, "The White House abruptly cut off the live feed for an event President Joe Biden was hosting with the House Democratic Caucus after the commander-in-chief appeared to venture off-script by saying he would be willing to answer questions from the audience."
You can almost hear the control room director telling his staff: "The elephant has gone rogue. Repeat: the elephant has gone rogue. This is not a drill."
The White House is now a nursing home serving one patient who suffers dementia.
ITEM 4: The Daily Caller reported, "Louis Farrakhan, the influential leader of the Nation of Islam, continued his crusade against the coronavirus vaccines over the weekend, calling the vaccine a 'vial of death' during remarks at the extremist group's convention, where other speakers falsely claimed that the vaccines have caused more than 900 deaths.
"Videos of the convention, which was held for the Nation of Islam's annual Saviors' Day, are posted on the group's Twitter, Facebook and YouTube pages, despite the social media companies' policies against vaccine-related misinformation."
White anti-vaxxers get banned.
This anti-Semitic racist doesn't because he's black.
Lecture me again about white privilege. I could use a good laugh this morning.
ITEM 5: Forbes reported, "$350 Billion Covid Bailout To States, Cities, And Counties – Here's What You Need To Know."
The story said, "The four biggest winners were Democratic strongholds: California—which reaped an extra $6.7 billion; New York—which added another $6 billion; Illinois — increased by $2.1 billion; and New Jersey — a $2 billion increase."
All botched their covid 19 response.
The story said, "The biggest losers were Florida (-$2.3 billion), Vermont (-$2.1 billion); and Wyoming (-$2 billion). The funding change rewarded Gov. Andrew Cuomo (D) in New York ($23.5 billion) over Gov. Ron DeSantis (R) in Florida ($17.3 billion), even though Florida has a larger population and a lower COVID-19 death rate."
That is how the government operates, rewarding failure and taxing success.
ITEM 6
:
NBC reported
, "The NBC Bay Area Investigative unit has learned that over the last year, more than a dozen crimes – including at least three homicides – have been tied to a high-powered handgun that authorities say has an especially lethal capability.
" 'When you get this type of a firearm, it really raises everybody's antenna of concern and fear,' said San Mateo County District Attorney Steve Wagstaffe about the FN Five-seveN pistol, which can fire both conventional and illegal armor-piercing 5.7 mm rounds."
What really should raise everyone's fear is Wagstaffe refusing to seek the death penalty in any case, including the murder of a baby.
No death penalty, no reason to just wound.
ITEM 7: Valerie Richardson reported, "Canceled: Conservative comic strip 'Mallard Fillmore' dropped in 'unprecedented' move."
Her story said, "Bruce Tinsley, creator of the 27-year-old cartoon, said he was told this week by his syndication company that Gannett newspapers across the country simultaneously dropped the comic over two strips critical of President Biden and transgender participation in women's sports.
" 'It was a big shock,' Mr. Tinsley told The Washington Times. 'From what I'm hearing, it was unprecedented. My syndicate had never seen anything like it.'
"He said officials at King Features, which syndicates the cartoon, said that 'a decision was made at the [Gannett] corporate level, and they weren't sure exactly why, except that they were sure it was about those two cartoons.'
"The two comics ran Feb. 19-20. The first depicts Mr. Biden musing: 'For too long, segregation sullied women's sports … They were restricted to women! Thank goodness those dark days are over.'
"In the second cartoon, Mr. Biden says, 'I hear what you, the American people, want me to do … kill fossil-fuel jobs … devalue Americans' labor … and help more transgender athletes beat the *@!# out of biological females.' "
The move will save the average Gannett newspaper $5 a week.
I remember how journalist panties got in a wad if anyone failed to run a Doonesbury strip an editor did not like.
Suddenly it no longer is censorship because the government is not involved.
And if you believe the Biden administration isn't involved, I have some seafront property in Poca that may interest you.
ITEM 8: The Guardian urged having a covid 19 lockdown worldwide every 2 years.
It argued, "Carbon dioxide emissions must fall by the equivalent of a global lockdown roughly every two years for the next decade for the world to keep within safe limits of global heating, research has shown.
"Lockdowns around the world led to an unprecedented fall in emissions of about 7% in 2020, or about 2.6bn tons of CO2, but reductions of between 1bn and 2bn tons are needed every year of the next decade to have a good chance of holding temperature rises to within 1.5C or 2C of pre-industrial levels, as required by the Paris agreement.
"Research published on Wednesday shows that countries were beginning to slow their rates of greenhouse gas emissions before the Covid-19 pandemic struck, but not to the levels needed to avert climate breakdown. Since lockdowns were eased in many countries last year, there have been strong signs that emissions will rise again to above 2019 levels, severely damaging the prospects of fulfilling the Paris goals."
Of course, Red China would not cease production. It is all part of promoting the world to be even more dependent upon Red China.
From his cockroach nest in hell, Chairman Mao laughs at us.
ITEM 9: The National Pulse reported, "Massive 78% Of Mail-In Ballots Proved Fraudulent, Judge Orders Election Do-Over."
The story said, "The race in question – a Democratic primary – occurred in Ward 1 or Aberdeen, Mississippi, for the position of alderman between candidates Robert Devaull and Nicholas Holliday."
The courts reviewed a city council primary race but would not touch a presidential race.
The American justice system is a joke.
ITEM 10: Politico reported, "The Centers for Disease Control and Prevention will not be releasing its guidance for vaccinated Americans on Thursday as originally planned, according to two senior administration officials with knowledge of the situation.
"After a series of meetings and calls with senior officials on the White House's Covid-19 task force and the Department of Health and Human Services over the last two days, the CDC was told to 'hold off on releasing' the recommendations, one of those sources said. The reason is still unclear but one senior administration official said the guidelines were still being finalized.
"Another official said the CDC had put together the guidelines over the last several weeks and was preparing to go through the final clearance process before the stop was put in place. A new draft of the guidelines was circulated last Friday and then again early this week. Top health officials originally were supposed to sign off on the language Wednesday."
They won't release the guidelines because the guidelines would say do whatever you want. You are vaccinated. You won't get covid 19 or give it to others. That is the whole point of vaccination.
ITEM 11: Just the News reported, "Throughout his presidential campaign and continuing since taking the White House, Joe Biden has promised a transparent approach to press and public relations. Yet in recent weeks, his administration has closed off — at least for now — several key avenues via which the press and public have for years gained a modicum of transparency, accessibility and accountability from the White House.
"These moves to curb press and public access come as President Joe Biden himself has at times appeared to be struggling with the public demands of his job.
"Notably, the White House has said that while it will divulge records of individuals who physically visit the White House, it will not be sharing virtual visitor logs. The Biden administration has relied heavily on virtual meetings out of concerns that covid-19 might spread in face-to-face gatherings."
That makes no sense. Why would virtual meetings mean they could not release who physically visited the Oval Office?
A docile press simply accepts at face value the bland propaganda handed out by Jen Psaki.
Corporate owners prefer things that way. Attack Republicans, protect Democrats. It is literally the Disney-fication of the news.
ITEM 12: Breitbart reported, "Foreign nationals gathered at the United States-Mexico border this week to demand President Joe Biden's administration release them into the interior of the country, as they have done with thousands of other border crossers.
"On March 2, about a hundred foreign nationals from Mexico, Central America, Haiti, and Cuba protested near San Ysidro, California in Tijuana, Mexico where they requested the Biden administration allow them into the U.S.
"Wearing T-shirts with Biden's 2020 presidential campaign logo and the words 'Please let us in!' the group of foreign nationals held signs that read 'Biden — please let me enter.' In interviews with AFP, some of the foreign nationals said Biden ought to allow them to enter the U.S. while they await their asylum claims as the Department of Homeland Security (DHS) has done with others."
By foreign nationals, they mean future Democrat voters.
They already have the T-shirts.
ITEM 13
:
Vox reported
, "The House of Representatives has passed the George Floyd Justice in Policing Bill of 2021 — legislation Democratic lawmakers believe will reduce police violence against people of color, particularly black Americans, while also improving policing for everyone."
Hobbling the police has increased the nation's murder rate in the past year. Most of the victims are black Americans.
That the officer who placed Floyd in custody stands trial for murder proves this law is unnecessary and has an ulterior motive.
It read, "The New York Times is looking for a proactive, creative, digitally-experienced editor to shape its Opinion report and help lead the department. Responsibilities will include helping set a strategy for the department's signature coverage and then directing day-to-day implementation of that strategy, directing a team of editors and visual and audio journalists. The deputy editor has excellent news judgment and takes ownership of, and pride in what we publish. You will help recruit and edit new team members and Opinion columnists and contributors. You will represent Times Opinion in conversation with journalistic and business leaders across the Times.
"We're looking for an editor with a sense of humor and a spine of steel, a confident point of view and an open mind, an appetite for risk and exacting standards for excellence in writing and visual presentation. We're looking for someone who wants to grow big ideas to make the world a better place, and to have fun doing it.
"The Times Opinion team aims to promote the most important and provocative debate across a range of subjects – including politics, global affairs, technology, culture, and business – and is passionate about including a vast array of diverse voices and perspectives. You have curiosity and an understanding of the opinion ecology of the Web and of how to interpret and apply digital metrics. And this editor must be a sensitive and deft manager who is committed to advancing a workplace and culture that is inclusive, open and fair. Experience managing a multi-layered team of journalists required. This is a masthead position, with the title of Deputy Opinion Editor, reporting to the Opinion Editor."
This would be the Times third Deputy Opinion Editor in 9 months.
No one on the staff wants the job because while management is cool with "important and provocative debate," the Times staff is not. No one wants to be ridden out of the newsroom on a rail.
ITEM 15
:
Just the News reported
, "No firearms were recovered on the U.S. Capitol grounds on Jan. 6 during the riot, and no shots were fired by the demonstrators, an FBI official on Wednesday told Congress."
The rest of the media calls it an armed insurrection because the nation has no libel laws.
ITEM 16: Breitbart reported, "The majority of Americans appear to disagree with the left's vehement pursuit of overhauling school sports, rejecting the prospect of allowing transgender students to participate on sports teams of the gender they identify with rather than their biological gender, a Rasmussen Reports survey released Tuesday found.
" 'Do you favor or oppose allowing transgender students to participate on the sports teams of the gender they identify with?' the survey asked 1,000 American respondents.
"A majority, or 54%, opposed the idea, followed by 32% who favored it and 14% who indicated they remained unsure."
I am cool with it because I enjoy watching the woke women in women's sports have the liberal mob turn on them. Put a wig on Kyrie Irving and send him to the WNBA.
Better yet, have one of those 15-year-old boys who beat the USA women's soccer team replace Megan Rapinoe.
ITEM 17: RTÉ News reported, "A large mural of climate activist Greta Thunberg in Dublin has been vandalized a little over 24 hours after it was finished.
"The work, by acclaimed artist Emmalene Blake, spans the side of a building on Chancery Street next to the Luas Red Line."
I would care but after they tried to tear down the statue of Lincoln freeing a slave -- paid for by the slaves he freed -- I am all out of fornications to give.
ITEM 18: Nation and State reported 9 of the 10 top-selling books on Amazon are by Dr. Seuss.
The Cat in the Hat is really, really back to No. 1.
Censorship is a great marketing tool.
ITEM 19: The Wall Street Journal reported, "The man in charge of Jeep said he is open to dropping the Cherokee name from vehicles after recent criticism from the Native American tribe's leader."
Keep the name. Pay a royalty.
By the way, Jeep got its name from a Popeye cartoon character, Eugene the Jeep.
ITEM 20: The Blaze reported, "The father of Michael Brown Jr., whose death sparked nationwide protest in 2014, is accusing the Black Lives Matter movement of abandoning Ferguson activists and demanding $20 million for community improvement projects.
"Michael Brown Sr. released a joint statement with Tory Russell, the director of the International Black Freedom Alliance (IBFA), on Tuesday demanding some of the millions raised by BLM be handed over to activists in Ferguson, Missouri, where 18-year-old Brown Jr. was killed."
The Browns sued the city of Ferguson and settled for $1.5 million.
But he wants more.
ITEM 21: The Detroit News reported, "Soldiers with the Michigan National Guard are complaining about bad food they've been served while providing security at the U.S. Capitol, ranging from undercooked meat to contaminated food.
"The complaints reached members of the Michigan congressional delegation and Gov. Gretchen Whitmer, whose office said she called Acting Secretary of the Army John E. Whitley about the problem on Feb. 17 — nearly two weeks ago — as soon as the first reports of the food were received.
"The governor was assured the problem would be corrected, and guard officials last week told lawmakers the issue had been resolved. That was followed by another round of complaints over the weekend — again of poorly prepared and undercooked food, Whitmer's office said."
A caring governor would have pulled the troops to protect them.
The woman is completely heartless.
Which is to say she is a Democrat.
ITEM 22
:
United Press International reported
, "Ten rockets were fired Wednesday at a military base in Iraq that hosts U.S. forces, the Defense Department said, ahead of a visit this week from Pope Francis.
Pentagon press secretary John Kirby said the rockets landed at the Ain al-Asad air base early Wednesday. The base, which is located just north of Baghdad, hosts U.S., Iraqi and coalition troops.
"No U.S. service members died or sustained injuries in the attack, but a U.S. civilian contractor had a cardiac episode while sheltering and died, Kirby added."
I know how to stop the rocket attacks: bring the troops home.
ITEM 23: NBC reported, "After Border Patrol release, asylum-seekers test positive for covid in Brownsville, Texas
"A number of migrants seeking asylum and released by Border Patrol have tested positive to covid-19 tests in Brownsville, Texas. Some plan to continue their journey to other cities and states."
Cuomo: I sent covid 19 patients into nursing homes and killed 15,000 people.
Chairman Xiden: Hold my drool cup.
ITEM 24: Breitbart reported, "Former Ohio State Treasurer Josh Mandel, a GOP candidate for U.S. Senate next year, told Breitbart News exclusively he is calling on Ohio Gov. Mike DeWine to cut the nonsense, end his state's mask mandate, and reopen Ohio entirely right now. What's more, Breitbart News can also exclusively reveal a lengthy statement from DeWine's office responding to Mandel's criticisms and defending the mask mandate and continued restrictions in Ohio."
Forget the Senate.
Run for governor.