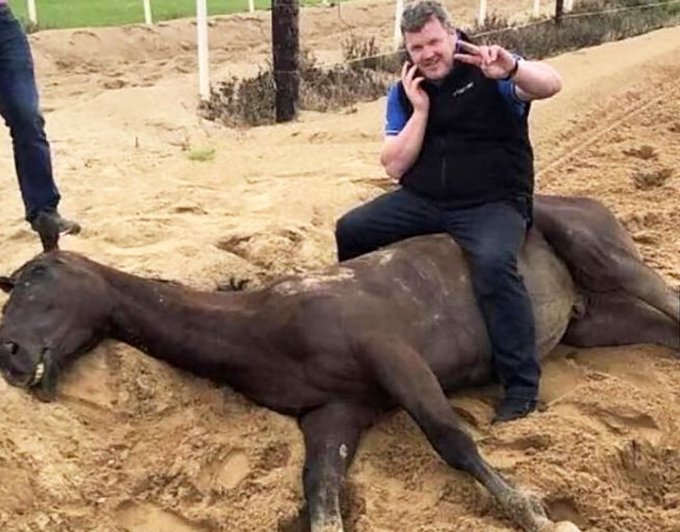 Twitter headline, "Trainer who was photographed sitting on a dead horse cannot run horses in Britain."
It looks like the man's weight killed the horse.
ITEM 1
:
The Associated Press reported
, "President Joe Biden's pick to head the Office of Management and Budget, Neera Tanden, has withdrawn her nomination after she faced opposition from key Democrat and Republican senators for her controversial tweets."
It is great to see a highly skilled executive use his decades in the Senate and his experience as vice president to guide the nation.
But LBJ is dead and we are stuck with Biden.
ITEM 2
:
Politico reported
, "The Twitter-driven furor over Tanden is a new media twist on a practice that goes back decades: digging up nominees' old college newspaper clippings, law review articles or other writings in an effort to damage their nominations. The only difference is that senators no longer need to dispatch staffers to sift through reels of microfilm. They just need to understand how to work Twitter's advanced search function.
"In Tanden's case, her tweets comparing Sen. Ted Cruz (R-Texas) to a vampire and bashing other Republican senators were both well-known and publicly available.
"That said, Tanden took some steps to hide her tracks. Shortly before she was tapped as Biden's Office of Management and Budget director, hundreds of offending tweets disappeared. It was a decision that came up repeatedly in her confirmation hearings, and one that future Cabinet nominees and their lawyers will struggle with."
Liberals created the cancel culture. Now they complain.
Perhaps this will be the demise of Twitter when liberals finally realize the Internet never forgets.
Or forgives.
ITEM 3
: Chris Cuomo told his audience at the top of his show, "Obviously I am aware of what is going on with my brother. And obviously I cannot cover it because he is my brother. Now, of course CNN has to cover it. They have covered it extensively and they will continue to do so."
What?

Someone on cable TV showed a little ethics?
Is this permissible?
Yes, Fredo should not have given incestuous interviews to his governor brother during the covid 19 scare, but better late than never. Wouldn't want things to be awkward at Thanksgiving when he is the ex-governor,
However, I am curious, which scandal was Fredo talking about? Killing 15,000 grannies or forcing a kiss upon a girl half his age?
ITEM 4
:
The Daily Caller reported
, "Rapper T.I. and his wife Tiny denied allegations of rape, kidnapping and drugging brought against them by roughly 30 women.
"The attorney representing the accusers, Tyrone A. Blackburn, called for California and Georgia to investigate the allegations against Clifford 'T.I.' Harris and Tameka 'Tiny; Harris, which ranged from forced drugging and kidnapping, to rape and intimidation, Page Six reported.
"T.I. was most famous for his rap music including hit songs such as 'Live Your Life' and 'Whatever You Like.' The Grammy award-winning rapper has released 11 studio albums. His wife Tiny, with whom he shares two children, was a famous R&B singer.
"One of the accusers reportedly claimed she was hired to do a private dance for the couple in 2018. The unidentified woman alleged that the couple forced her to take drugs and engage in sexual acts with other women. Another woman accused T.I. and Tiny of drugging a teenager who was working as an assistant for the couple in 2015, according to Page Six."
The Decades TV channel shows old Ed Sullivan shows. Last night, Elvis was on. He sang "Don't Be Cruel" and "Too Much." The camera shot him from the chest up because Sullivan did not want Americans to see Elvis gyrating his hips.
Keep that pelvis far from me
We mock the decency we lost, not realizing how valuable it was.
ITEM 5
:
Zero Hedge reported
, "Shortly after the cancel mob came for Dr. Seuss, several recently banned books began selling for hundreds of dollars on Ebay."
Now what sort of monster would read such racist literature to schoolchildren?
Zero Hedge had the answer.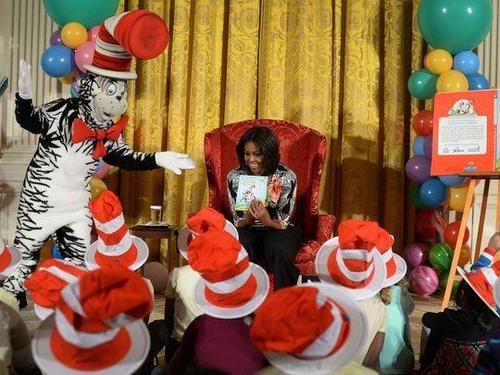 We have gone from Reading Is Fundamental to Reading Is Racist in just a few years.
ITEM 6
:
Breitbart reported
, "President Joe Biden's amnesty plan, which also expands legal immigration levels, would import a foreign population close to the size of California, new analysis reveals.
"Last month, House and Senate Democrats introduced the Biden plan — known as H.R. 1177 & S. 348 — which would give amnesty to the roughly 11 to 22 million illegal aliens living in the United States while doubling annual legal immigration to the country, flooding the labor market with more foreign competition for the nation's more than 17 million jobless Americans.
"Analysis conducted by NumbersUSA, which advocates on behalf of American workers for less foreign competition in the labor market, finds that by 2031, Biden's amnesty will have imported a foreign-born population nearly the size of California."
Democrats look upon this plan as gaining another 51 House seats.
They could easily use these warm bodies to flip Western states in presidential elections. Democrats open the gates of the city to the invaders.
ITEM 7
:
The National File reported
, "Kadence Kristine Pinder, 24, born Nelson Christopher Pinder, a popular YouTube star and daycare worker who cares for children from their home, has been arrested and charged with possessing child pornography and child abuse images. Police also arrested Pinder's boyfriend, 29-year-old Marcus Strebel, for the same charges.
"Pinder was initially questioned by police after Google filed a CyberTip claiming the transgendered individual used their services to host child pornography. Initially, Pinder claimed that they did not have child pornography in their possession, and blamed her boyfriend, Strebel, who Pinder says had access to the Google account. Police say the investigation into Pinder began in 2019 with Google's complaint.
"After being confronted, Pinder told police that while the couple found individuals who appeared to be young while browsing for pornography on the popular social media site Tumblr – which allegedly banned pornography from the site years ago – they would only have accidentally downloaded images of underage individuals.
"When police initially contacted the couple, they voluntarily offered to let police examine their cell phones to determine if they contained child pornography. The couple went inside their home, from which they offer daycare services to small children, but after 30 minutes reappeared and declined to show police their phones. After police obtained a warrant, they say they found 125 images depicting child pornography on Pinder's phone."
Pinder is not a woman. He is a pervert who apparently belongs in prison.
ITEM 8
:
Just the News reported
, "Texas GOP Gov. Gregg Abbott said Tuesday that he will reverse the mask order and many of the other covid-19 mandates he put in place last year.
"Abbott made these statements exactly eight months after issuing the mask and other covid-19 mandates in a statewide address."
Kristi Noem would open up South Dakota except she never closed her state.
I can see closing cities for a few weeks, but farms and ranches? Between this and his frozen windmills, he may want to find another line of work. Voters may make the decision for him.
ITEM 9
:
Breitbart reported
, "During an interview that aired Monday on Mobile, AL radio's FM Talk 106.5, Rep. Kat Cammack (R-FL) explained why it was important for conservatives and Republicans to look beyond identity politics, especially when it comes to wooing younger voters to support the cause.
"The Florida GOP lawmaker argued against falling into the identity politics trap."
Cammack said, "We're conservatives. We don't do identity politics. That is a tactic of the left. This whole mentality that you need to check a box in order to make sure something gets done or can be done is ridiculous. It is so infuriating to me when people come and talk to me and say, 'Oh, as a woman, you're going to fight for this. You're going to fight for that.' No, as a representative, I'm going to fight for 710,000 constituents that I have in my district that sent me to Washington. I don't care if they're black or white, young or old, Republican or Democrat. A representative is an advocate, a voice in Washington, D.C."
We don't do identity politics?
Maybe we should because it works for Democrats.
The purpose of an election is to get elected, not to signal virtue. I mean, virtue is nice and all but defeating the party of the devil is the true goal.
We also should learn to ballot harvest.
ITEM 10
:
The Epoch Times reported
, "The FBI cannot disclose the cause of death of U.S. Capitol Police officer Brian Sicknick, after the New York Times and other news outlets either retracted or updated reports claiming he was killed by being hit with a fire extinguisher during the Capitol riots on Jan. 6. FBI Director Christopher Wray responded to a question from Sen. Chuck Grassley (R-Iowa) during a Senate hearing on Tuesday about whether the agency has determined Sicknick's cause of death."
How about disclosing which Capitol Police officer shot and killed Ashli Babbitt, an unarmed peaceful protester at the event?
ITEM 11
:
The New York Post reported
, "Funding for a rail project near House Speaker Nancy Pelosi's California district that Republicans denounced as wasteful was removed Tuesday from President Biden's $1.9 trillion covid-19 stimulus bill.
"The Senate parliamentarian ruled the $140 million appropriation wasn't allowed under the so-called Byrd rule that polices unrelated items in budget reconciliation bills."
The Byrd rule stopped her! What do you know? Bobby Byrd did one thing right.
And they can find them in Texas, where California companies are moving.
ITEM 13
:
Via the Washington Examiner
, Cook Political Report editor Dave Wasserman tweeted, "FLORIDA: if you thought things couldn't get worse for Dems...it can. FL could be the GOP's biggest redistricting weapon of 2021.
"FL is poised to gain two seats. At a minimum, Rs could easily add two new safe R seats to the current 16R-11D map).
"Because the FL Sup Ct has turned sharply right since 2015, Rs could be even more aggressive - in defiance of FL's Fair Districts amendments.
"At the extreme end, Rs could attempt a 21R-8D gerrymander, which could cost Dems almost their entire House majority."
Let's get something straight. Not only is gerrymandering constitutional, the Constitution requires it. State legislatures divide their states into congressional districts (except the 7 states that have but one representative).
Cook calls itself nonpartisan but instead of presenting this as good news for Republicans, it was presented as bad news for Democrats. Rooting interest?
ITEM 14
:
Newsweek reported
, "A new app called Euphoria has been garnering attention on social media thanks to the recent announcement that Chelsea Clinton has come on board as one of its biggest investors. Of course, the former First Daughter's involvement has also made the app a target for criticism—and that's in addition to the issues that have been raised about the app's actual content, which doesn't sit right with some members of the transgender community.
"Many of the opposing comments about the app on Twitter can be categorized as transphobia—hate speech coming from people upset that an app exists for transgender people in any form. However, there are also plenty of transgender people who are upset about the Euphoria app, and who are sharing their complaints widely on Twitter. Some of the app's transgender critics worry that it benefits cisgender heteronormative millionaires like Clinton, while others claim it tries to define the gender transition process in too clear-cut of a manner."
Newsweek just cannot bring itself to admit Chelsea's app is terrible idea.
ITEM 15
:
NPR reported
, "President Biden said on Tuesday that the U.S. will produce enough vaccines for every adult in the U.S. by the end of May, while making a fresh push to vaccinate school staff over the next month."
Thank you, President Trump. Your Operation Warp Speed made this possible.