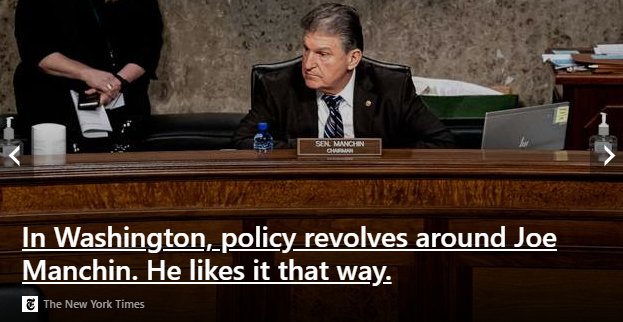 Byrd for 50+ years, now Manchin. These two senators did nothing for West Virginia, but they had personal power.
ITEM 1
:
The Daily Mail reported
, "An Amish community in Pennsylvania has become 'the first in the US to achieve herd immunity to COVID-19' after 90 per cent of their households became infected with the virus when they resumed church services late last spring.
"The administrator of a medical center in the heart of the Amish community in New Holland Borough estimates as many as 90% of Plain families have since had at least one family member infected, and that this religious enclave achieved what no other community in the country has: herd immunity.
" 'So, you would think if COVID was as contagious as they say, it would go through like a tsunami; and it did,' said Allen Hoover, an Old Order Mennonite and administrator of the Parochial Medical Center, a clinic that primarily serves the Plain community.
"Public health officials and epidemiologists did not dispute the widespread outbreak Hoover described. But they voiced concern that a misplaced perception of herd immunity in a population that makes up 8% of Lancaster County may compromise the effort to turn the tide on the pandemic.
"As Hoover observed, faith in herd immunity has prompted members of the Plain community to relax on key mitigation efforts such as masking and social distancing, and they may see little reason to be vaccinated."
Yep.
But the rules are not about stopping the virus.
The rules are about stopping people from enjoying life.
ITEM 2: Lynching in the 21st century. They kill for joy.
THIS IS THE REAL AMERICA
pic.twitter.com/TT6U5OaP2I

— INVESTMENT HULK (@INVESTMENTSHULK) March 27, 2021
There are more police officers per capita there than anywhere else. Thousands of National Guardsmen patrol the streets. They did not stop this carjacking.
And none of the National Guardsmen tended the victim, who died alone.
These were teenage girls, 13 and 15.
Red State reported a GoFundMe raised $315,000, for the victim, Mohammad Anwar, 66, of Springfield, Virginia.
It is only Islamophobia and a hate crime when a white person is the perp
ITEM 3: The New York Post reported, "The devil is taking advantage of the pandemic, Pope Francis said during Palm Sunday Mass.
"Leading services witnessed by only about 120 people in a side wing of St. Peter's Basilica, rather than the throngs who normally gather outside the cathedral for the start of Holy Week, the pope said after a year under the virus, the pressure is growing.
" 'Last year we were shocked,' he said. 'This year we are more under pressure and the economic crisis has become heavy.'
"During both his homily and in comments afterward in his traditional Sunday address, Francis said the pandemic made it more important to take care of the poor and suffering."
For once I agree with the Red Pope.
ITEM 4: Fox reported, "Officials unveiled the San Diego Convention Center's new migrant shelter Saturday, where 500 teen girls seeking asylum in the U.S. were expected to have arrived by the end of the day.
"A handful of supporters with signs greeted one bus carrying a group of girls as it arrived at the convention center around 10 p.m. Mayor Todd Gloria said officials are expecting 250 additional young women to arrive Monday, then hundreds more in the days to come. The shelter will exclusively serve girls ages 13 to 17, according to Gloria, and will eventually house as many as 1,450."
How many were raped?
Amnesty International said 2 years ago, "Rape is widespread. It is believed that as many as six out of every 10 migrant women and girls experience sexual violence during the journey.
"Killings are frequent. Nobody knows how many migrants die on the journey."
The inhumanity of open borders is stunning.
ITEM 5: Newsweek reported, "It started with a nice gesture. Adam Anderson, the CEO of Innovex Downhole Solutions, wanted to buy his employees a Christmas gift. So he ordered 400 North Face jackets and asked that their corporate logo be included.
"Then came the bad news. The North Face company would sell Innovex the jackets but wouldn't include the energy company's logo. The reason? Innovex was an oil and gas company, and it would be a bad thing for North Face's public image to associate itself with the industry.
"Not happy with that answer, Anderson struck back with some public relations of his own. It turns out the vast majority of North Face's apparel—its hoodies, snow pants, coats and many other items in its product line, like backpacks and tents—are made with polyester, polyurethane and nylon, all of which come from petroleum. Even its fancy fleece jackets are made of polyester."
The story also detailed the corporate jets the liberal apparel maker has.
But there are no hard feelings. The Colorado Oil and Gas Association just honored the two-faced North Face company with its first customer of the year award.
ITEM 6: The Washington Free Beacon reported, "As the federal response to Chinese influence at American universities falters, Tennessee is determined to pick up the slack by becoming the first state to ban the Chinese government-funded Confucius Institute from public universities.
"After President Joe Biden scrapped a Trump-era proposal that would have required universities to disclose their foreign monetary ties, Governor Bill Lee realized that he needed to act quickly to protect the state's universities from Chinese influence. The Tennessee Republican introduced a bill in the state legislature that would require the public universities to sever ties with the Confucius Institute."
Liberals were quick to dox the teenager who posted a video mocking CNN, but my how they oppose disclosing which universities are on Red China's payroll.
ITEM 7: Via Twitchy, this conversation.
REPORTER: "Would you mind putting on a mask for us?"
CRUZ: "Yeah, when I'm talking to the TV camera, I'm not going to wear a mask. All of us have been immunized."
REPORTER: "It'd make us feel better."
CRUZ: "You're welcome to step away if you'd like."
The whole point of vaccines is to not have to wear a mask. We have a nation where 25% of the people have a college degree, and less than 1% have any common sense.
ITEM 8: United Press International reported, "The U.S. Army plans to allow the wearing of ponytails by female soldiers, regardless of uniform, U.S. Army Sgt. Maj. Michael Grinston announced.
"In a Twitter question-and-answer session on Thursday, Grinston said that the wearing of ponytails, currently restricted to physical training exercises and allowed while wearing the Army Combat Uniform, will be extended to Army service and dress uniforms.
"He did not announce an official date for the change in policy, which is part of an all-branches push to re-evaluate practices which could put women and black service members at a disadvantage."
Will they wear Chantilly lace? Because Chantilly lace and a pretty face and a ponytail hangin' down, a wiggle in her walk and a giggle in her talk make the world go 'round.
Speaking of service members at a disadvantage, they finally did away with those ugly, black, birth-control glasses.
ITEM 9: The New York Post reported, "Long Island police chief due for million-dollar payday."
The story said, "The police chief of tiny, low-crime Southampton Village — population 3,307, with 30 sworn officers — makes more than NYPD Commissioner Dermot Shea.
"That would be the top cop of New York City, pop. 8,300,000, with about 36,000 sworn officers.
"Chief Thomas Cummings was compensated $441,945.82 last year, according to village documents. His annual base pay was $263,829, easily topping Shea's $239,092.
"The village is not exactly a hotbed of crime. It has not had a murder since 2008, and last year reported no homicides, rapes, robberies or aggravated assaults. It did have two car thefts, one burglary, and 42 non-violent larcenies, according to state Division of Criminal Justice Services data."
There are 2 ways of looking at this.
The first is that the Southampton police are overstaffed and overpaid.
The other way is the Southampton police are doing their job. Given the precipitous rise in violent crime in New York, maybe Commissioner Shea deserves a pay cut.
Think not?
The New York Post also reported, "A man was shot dead by two gunman while sitting in his parked car Saturday afternoon, sources said.
"Brentley Morgan, 31, was inside his vehicle in front of a building on Milford Street in East New York just before 1 p.m. when two unidentified shooters approached the car and opened fire, according to sources.
"Morgan was struck with bullets in his head and chest, and died at Brookdale Hospital, sources said."
In broad daylight.
ITEM 10: No Q Report reported, "Another Fauci prediction blows up: Since lifting lockdown, Covid cases in Texas have DROPPED 36%."
We put the economy in the hands of man who could not cut it as a doctor, and who should have retired 20 years ago after failing to contain AIDS, which was his original purpose when hired in the mid-1980s.
The government should never have that much control where it can order citizens to wear masks and shelter in place in areas where there was little or no threat of infection. Rural areas had no reason to shut down.
ITEM 11: The Daily Mail reported, "Chris Wallace accused Joe Biden's administration of being 'less transparent' than Donald Trump as he hammered White House Press Secretary Jen Psaki on Sunday for refusing to allow media access to holding facilities at the border.
" 'At this point, in terms of allowing access to border patrol facilities for reporters, you are being less transparent than the Trump administration,' the 'Fox News Sunday' host said in an interview with Psaki Sunday morning.
"Wallace is one of the hosts on the right-leaning network who is critical of Trump's time in office."
Boo, hoo, hoo.
Democrats treat the press like the condoms they are, to be disposed of after use.
ITEM 12: Newsweek reported, "Social media site Parler clarified the reasons behind its decision to refer violent content to the FBI in a Saturday post, but some of the platform's users were less than impressed.
"Parler, which faced significant backlash in the wake of the January 6 attack on the U.S. Capitol by former President Donald Trump's supporters, referred violent content to the FBI at least 50 times prior to the pro-Trump riot, The Wall Street Journal reported on Thursday. The social media site shared a link to the article, drawing backlash from some members of the online platform. Parler has built its platform by positioning itself as being opposed to censorship and staunchly in favor of free speech."
Nothing online is private.
ITEM 13: The New York Times reported, "When the pandemic began, the nation's governors suited up for a new role as state bodyguards, issuing emergency orders to shutter schools, close cinemas and ban indoor dining in an effort to curb a mushrooming threat.
"But not everyone likes killjoys, no matter how well-intentioned."
Killjoys?
What if we shut down the Times for a year and let them see how it feels?
Legislatures are working to put back in its bottle this genie power to shut down a state simply because the drag queen health director likes the attention it brings.
ITEM 14: The New York Post reported, "Dolphins spotted in East River — a great sign of NYC's environmental progress."
The story began, "Perhaps sensing that the spirits of New Yorkers needed some uplifting after more than a year in isolation, a trio of dolphins were spotted swimming in the East River on Tuesday."
Great.
They'll get mugged.
ITEM 15: Hot Air reported, "While Congress was grilling some Big Tech CEOs this week, Democratic leaders were busy in the background, working on proposals to change how Section 230 of the Communications Decency Act is written.
"Sadly, there are plenty of people on both sides of the ideological divide who have become so angered by the actions of Twitter and Facebook, along with the other social media heavyweights, that support for this sort of action seems to be growing.
"But what House Energy and Commerce Committee Chairman Frank Pallone (D-N.J.) and his cronies are planning to do won't stop some of the worst abuses of Jack Dorsey and company. Instead, it will open the door to unofficial censorship of anyone with insufficiently woke views and could lead to endless lawsuits, not just against the social media platforms, but all publishers of online content."
Republicans had their chance last year.
They refused to lift a finger to help President Trump.
Now there is no one to save them,
FINALLY, my wife and I got our first shots of the Moderna vaccine at the Civic Center in Charleston, West Virginia, on Saturday. The National Guard and the volunteers did a stellar job.
My body, my choice.*
We went home, ate, and crashed, so I guess the vaccine is working.
Shot 2 in 28 days. They will let us know when and where to get it.
*OK, my mean wife who won't let me get a Bentley's choice.