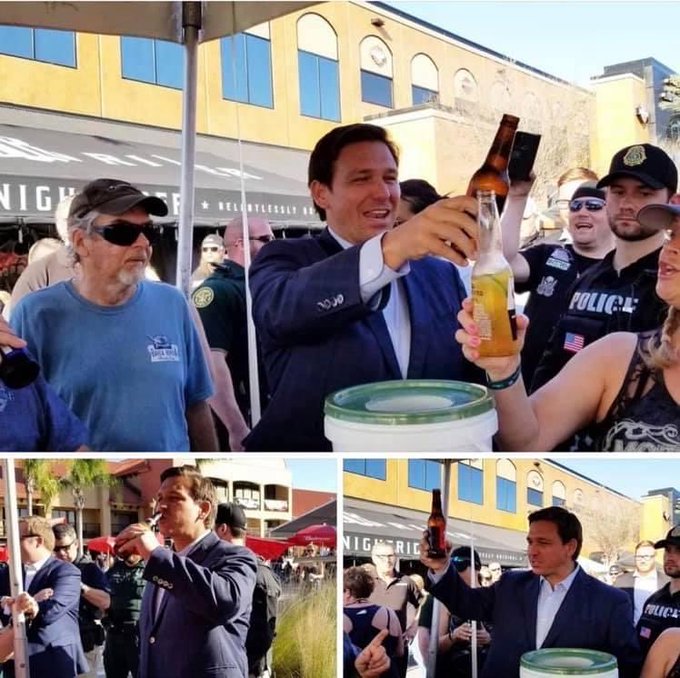 Ron DeSantis drinks a beer. Florida is open for business living.
ITEM 1
: The New York Times is upset that they're out there having fun, in that warm Florida sun.
It scolded, "Other than New York, no big city in the United States has been struggling with more coronavirus cases in recent weeks than Miami. But you would hardly know that if you lived here.
"Spring breakers flock to the beaches. Cars cram the highways. Weekend restaurant reservations have almost become necessary again. Banners on Miami Beach read 'Vacation responsibly,' the subtext being, Of course you're going to vacation."
What happened to my body, my choice?
Locked down New York City has suffered 48,370 covid deaths.
Miami-Dade has suffered 5,651 covid deaths.
The entire state of Florida -- with three times the population of NYC -- has suffered 32,224 covid deaths.
If Florida were led by Cuomo, its death toll would triple.
If Miami were led by De Blasio, its death toll would double.
But go on, NYT, and lecture Florida on how to handle a pandemic.
ITEM 2: Just the News reported, "The former lead investigator at the State Department who oversaw the Task Force into the origin of the COVID-19 virus told Fox News that he believes the virus escaped from the Wuhan Institute of Virology in China, and that it may have been the result of research that the Chinese military was doing on a bioweapon.
" 'The Wuhan Institute of Virology is not the National Institute of Health,' said David Asher, a senior fellow at the Hudson Institute. 'It was operating a secret, classified program. In my view, and I'm just one person, my view is it was a biological weapons program.'
"Asher previously led the team that uncovered Pakistan's nuclear program, headed up by AQ Khan. He told Fox that he believes the Chinese Communist Party has engaged in a massive cover-up during the past 14 months."
And Asher said, "And if you believe, as I do, that this might have been a weapons vector gone awry, not deliberately released, but in development and then somehow leaked, this has turned out to be the greatest weapon in history.
"You've taken out 15 to 20 percent of global GDP. You've killed millions of people. The Chinese population has been barely affected. Their economies roared back to being number one in the entire G20."
We just had World War 3. It was a biomedical war. Red China won and installed Biden as its figurehead leader.
ITEM 3: WESH reported, "Gov. Ron DeSantis has filed an executive order that cancels any fines related to local government COVID-19 restrictions on people and business.
"The order states any fines imposed between March 1, 2020, and March 10, 2021, fines imposed by any political subdivision of Florida related to local government COVID-19 restrictions are canceled.
"The order goes on to say it can serve as a defense to the collection of those fines.
"The order only applies to local government and not any enforcement or COVID-19 related orders taken by the state.
"It also does not cancel fines imposed on assisted living facilities, hospitals or health care providers."
He serves the people.
The lockdown bullies believe the people serve them.
ITEM 4: NPR reported, "The Biden administration is mobilizing the Federal Emergency Management Agency, which is known for responding to natural disasters and other crises, to support an effort over the next 90 days to process the growing number of unaccompanied migrant children arriving at the U.S. southern border."
Wait a second. Didn't Chairman Xiden tell us on his first day in office that there is no emergency along the border?
How can you send in the emergency management team when there is no emergency? It is as if our government were lying to us.
ITEM 5: The Daily Mail reported, "Boxing was in mourning on Saturday night after the shock death of one its all-time greats, Marvin Hagler, at just 66, after he reportedly suffered side effects of the COVID-19 vaccine.
"The American boxer -- born in Newark, New Jersey -- dominated the sport's middleweight scene, which he was champion of between 1980 and 1987."
And they wonder why people are skeptical of the vaccine.
ITEM 6: Just the News reported, "A group of Democratic committee chairs want Congress to repeal the authorizations for use of military force (AUMF) passed in 2001 for the War in Afghanistan after the September 11, 2001 attacks and in 2002 for the War in Iraq.
"The lawmakers argue that an AUMF takes war powers away from Congress. Former President Trump often said he wanted to end forever wars. No new wars began during his tenure, but Congress did not formally repeal the 2001 and 2002 AUMFs while he was in office.
"The Democratic House members said President Biden supports war powers reform so Congress should repeal the AUMFs."
The AUMFs don't matter. The military does what it wants. Where is the AUMF for the War on Tucker Carlson?
Right now the only reason we are in Iraq or Afghanistan is to make it appear like we won something. The Taliban might take over, they say. So what, I ask.
Terrorism subsided. Osama bin Laden is dead. But these wars continue.
75 years after World War II, we still have boots on the ground in Germany, Italy, and Japan because generals like living there.
These wars continue long after the mission is accomplished, just as the covid restrictions will last long after everyone is vaccinated.
ITEM 7: Red State reported, "Oregon Eyes Giving $123,000 to Black Residents Who Can Prove Ancestral Slavery."
That's racist.
That is totally in violation of the 14th Amendment and subsequent civil rights laws.
Is anyone willing to stand up and oppose this injustice?
No, we have a nation of cowards who fear being called racist.
ITEM 8: Cleveland.com reported, "Cleveland State basketball seeded No. 15, will play No. 2 Houston in 2021 NCAA Tournament."
This is the college's third NCAA tournament appearance.
In 1986, it knocked off Bobby Knight's Indiana Hoosiers in the first round, and made it to the Sweet 16.
In 2009, it knocked off Wake Forest in the first round.
Houston, you have a problem.
ITEM 9: Zero Hedge asked, "When's The Last Time You B*tches Won A War?"
The story said, "Fox News anchor Tucker Carlson's segment last week contrasting the current feminization of the U.S. military (exemplified by maternity flight suits for pregnant fighter pilots), struck a nerve with those who run the now fully woke U.S. armed forces.
"Senior U.S. military officers' and NCOs' increasingly strident responses to that criticism appear to have struck a nerve with a number of Americans. Here is a selection of responses to official military accounts via Twitter."
The Sergeant Major of the Army whined on Twitter, "Women lead our most lethal units with character. They will dominate ANY future battlefield we're called to fight on. Tucker Carlson's words are divisive, don't reflect our values. We have THE MOST professional, educated, agile, and strongest NCO Corps in the world."
Who the hell is this sergeant to dictate what Our Values are?
You work for us, boy.
The Penta-clowns have succeeded in turning every conservative against them.
Defund the military.
ITEM 10: CBS reported, "Ruth Bader Ginsburg statue unveiled in Brooklyn to 'ensure her legacy lives on for generations.' "
It is the Statue of Lost Liberty.
Lives on for generations? Her support of abortion killed 50 million people in the last two generations.
ITEM 11: The New York Post reported, "A Brooklyn homeowner unable to evict an allegedly deadbeat tenant because of new state housing laws claims she has been forced to live in her car for weeks.
"Shawna Eccles, 30, says in court papers she sleeps on the couches of friends and relatives whenever she can, and in her four-door Toyota when she can't, after fighting and failing for months to evict Sharita Patterson, 33, from the two-family home in Carnarsie."
They are using covid 19 to end private property rights.
ITEM 12: The Washington Examiner reported, "The mayor of Portland, Oregon, has submitted a request for $2 million in funding for the police months after the city slashed the budget in a move he advocated for.
"Mayor Ted Wheeler, a Democrat, asked the Portland City Council for the additional funds, citing a surge in gun violence throughout the city, according to the Oregonian.
"The city has had 208 shootings so far this year to go along with 20 homicides, compared to only one homicide at the same point last year."
The story also said, "On Thursday, a federal courthouse was burned and American flags were torched as leftist antifa agitators stormed through Portland, clashing with police.
"The violent riots have become commonplace in the city and occurred on 100 consecutive nights at one point last year."
I know it takes 4 months to go from St. Louis to Portland by Conestoga wagon along the Oregon Trail, but don't they have telegraphs? Shouldn't they know by now that Donald Trump is no longer president?
Looks like the Democrats have a genie that won't get back in the bottle.
ITEM 13: United Press International reported, "The Alabama House of Representatives voted Thursday to end its prohibition on teaching yoga in public schools, a step that could end a nearly 30-year ban.
"Rep. Jeremy Gray, who has been trying to lift the ban for the past three years, said he was introduced to yoga while playing college football at North Carolina State and said it can benefit young people.
"The state banned yoga from K-12 public schools in 1993 because some conservative groups were concerned about its connection to eastern religions."
Liberal groups meanwhile won't let a cheerleader pray at a football game because that somehow would establish a state religion.
ITEM 14: The New York Post reported, "Cuomo staffers have stopped showing up to work as scandals mount."
The story said, "A former aide said many staffers are not coming into the executive offices, but choosing to work remotely or at vaccine sites instead. They are increasingly worried their careers are in jeopardy, just as they were beginning to see light at the end of the tunnel after working around the clock for months during the pandemic."
Meanwhile, Lieutenant Governor Kathy Hochul is measuring the windows of the governor's office for drapes.
ITEM 15: The Foundation for Economic Education reported, "Target Corporation, the eighth largest retailer in the United States, announced in an email to employees on Thursday that it will be leaving the City Center, its primary downtown Minneapolis location.
"Company officials cited improved remote work opportunities and less need for space as the drivers for the decision."
Plus you can avoid rioters.