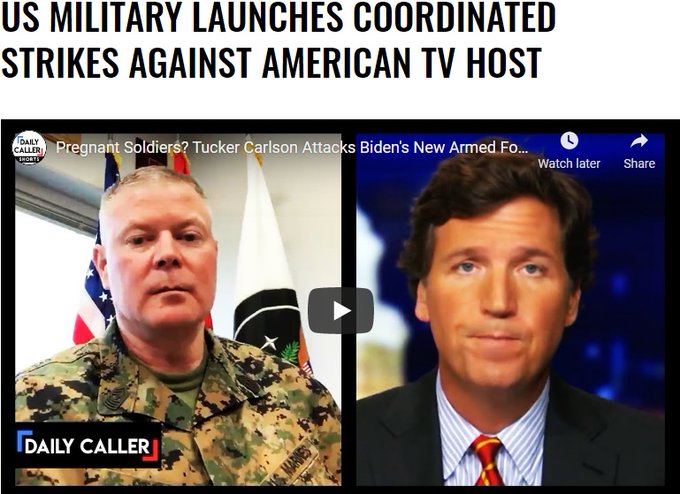 Oliver Hazard Perry in the Battle of Lake Erie, 1813: "We have met the enemy and they are ours."
American military today: "We have met the enemy but we are attacking our own."
ITEM 1
: On Friday, a Democrat finally spoke out against the cancel culture.
To save his own neck.
Via PJ Media, Cuomo the Lesser said, "Politicians who don't know a single fact but yet form a conclusion and an opinion are in my opinion reckless and dangerous.
"The people of New York should not have confidence in a politician who takes an opinion without knowing the facts and substance. People know the difference between playing politics, bowing to cancel culture, and the truth. Let the review proceed, I'm not going to resign, I was not elected by the politicians, I was elected by the people."
11 months ago, he was the Hero of Never Trump.
But with the president gone, Cuomo is disposable. I wave goodbye to him. His sin was not in killing 15,000 grannies but in being a cad around young women.
A reader emailed, "Based on recent past scandal history, the NY luv gov just needs to hide behind black face... then he won't have to resign."
ITEM 2
:
The Daily Caller won the headline of the day
with "U.S. military launches coordinated strikes against American TV host."
The story cited a headline at the Official Taxpayer-Paid DOD web site, "Press Secretary Smites Fox Host That Dissed Diversity in U.S. Military."
Smites?
Unless Tucker Carlson (the host in question) made a factual error, the Pentagon press secretary should shut his trap.
But our military is politicized and part of this anti-American cabal of Washington politicians, the media, the deep state, and corporate America that are hellbent on destroying everything that made America great.
We the people are allowed to call out the American military -- indeed, the entire government -- without fear of being attacked.
The spokesman in question, retired Admiral John Kirby, is a former CNN commentator, which raises questions of ethics.
The new Marine Hymn: "From the Halls of Tucker Carlson, to the shores of New Jersey. We will fight the P.C. battles, for the L, G, B, and T."
"The definitive answer if the U.S. military doesn't change course is that we're going to lose fast. In that case, an American president would likely be presented with almost a fait accompli.
"At that point the trend in our war games was not just that we were losing, but we were losing faster."
I don't care about Taiwan. Taiwanese companies use slave labor in Red China. They made their bed.
The purpose of the military is to defend the country. If it can't, then why bother having one?
Ethics?
CREW has said not a word about Obama using the FBI as a KGB to lie and spy on Donald Trump.
"The reports come amid growing fears that the Taliban could be regaining power in Afghanistan as the group negotiates a peace deal with the United States."
DW is a German news site.
How about worrying about German women who are gangraped by Muslim migrants and leave fighting this ban on the Spice Girls to the Afghanistan press?
The German press is just as pro-war as the American one.
Chairman Xi is the real Hitler. None dare call it that in the United States because his Uighur slaves provide cheap tennis shoes. It's the free market, according to National Review.
"Those states were, and continue to be, a drag on the national overall economic recovery. What you're seeing now with Governors Cuomo and Newsom is even more evidence of that, because as they are under ever more fire for a variety of reasons, they're opening their states because they believe or at least hope that will relieve some of the political pressure on themselves. I think it's a totally transparent move that's unlikely to save their political skins, but it will have the happy consequence of improving those states' economic conditions and the overall national economic recovery."
Political pressure works.
Good.
He won't be announcing any more games.
He issued a statement, which said, "I will state that I suffer Type 1 Diabetes and during the game my sugar was spiking. While not excusing my remarks it is not unusual when my sugar spikes that I become disoriented and often say things that are not appropriate as well as hurtful. I do not believe that I would have made such horrible statement absent my sugar spiking."
What a scientific breakthrough. No need for testing to see if your sugar level is spiking. Just wait till you say the N-word.
Who knew so many rappers were diabetic?
"The poll's margin of error is 2.88 percent, which Walker is within, making the potential race a virtual tie."
All his life, people have told Walker to run.
We shall see.
"Marc Elias and other lawyers with Perkins Coie LLP were ordered Friday by the U.S. Court of Appeals in New Orleans to pay legal fees and double costs to Texas. The order was issued in a suit Elias filed in August on behalf of the Democrats' Senate and congressional campaign committees."
Good for Texas for seeking reimbursement of legal fees for a frivolous case.
Good for the Kavasutra. Instead of getting on the bar's case, the unions should back the ban because it will protect teachers from covid.
I wonder how many people will watch Biden's impeachment.
There are a lot of charts. CNN is hardest hit, followed by MSNBC, and finally Fox.
I don't care. I had my fill of the cable news war when on Election Night, Fox proved to be as despicable as the rest. The truth matters not to them. Why would my viewership matter to them?
"A new YouGov poll, released on Friday, revealed that following the couple's Oprah Winfrey interview, the couple has fallen very much out of favor with the British public.
"It showed that 45% of Britons have a positive opinion of Prince Harry, while 48% regard him negatively, giving a net score -3.
"This represents a drop of 15 points from March 2 and marks the first time attitudes have been more negative than positive towards the prince.
"Meghan's scores have also fallen considerably. Only three in ten people said they had a positive opinion of her, while six in ten viewed her negatively. This gave her a net rating of -27, down from -14 a week ago."
She threw mud and wound up with dirty hands.
Drakefield should go first. Let him volunteer to be home before the streetlights come on. It is for the good of society, and all that rubbish.
"The Vatican published its 2021 budget in its latest effort at greater transparency. It seeks to reassure donors that money is being well spent after mismanagement.
"However, the Vatican warned it has nearly depleted its reserves from donations. It is now urging the faithful to continue giving to cover its budget deficit.
"Francis' economy minister, Reverend Juan Antonio Guerrero Alves, said the pandemic reduced donations as well as revenue from shuttered museums. He said this would contribute to a projected 30 percent reduction in revenue.
"The reduction will be 213 million euros in 2021, from 307 million euros in 2019."
Get woke, go broke.