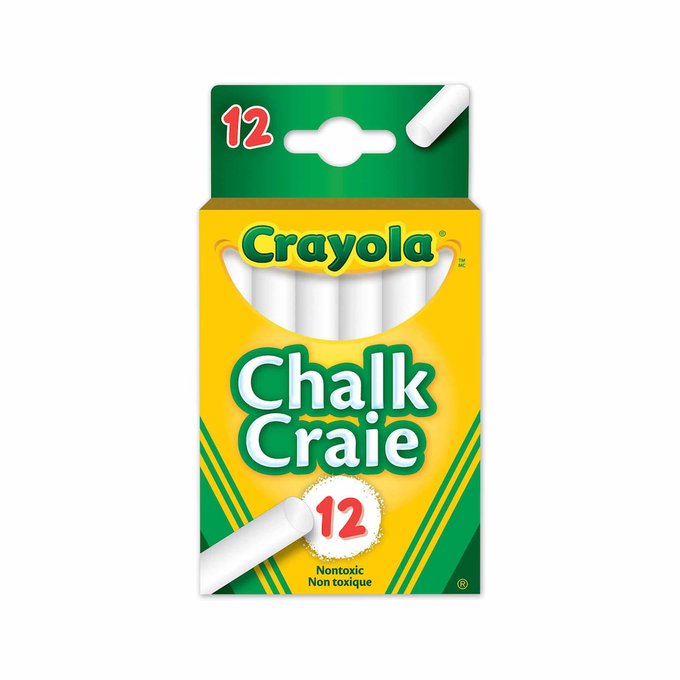 Live Science reported earlier that mathematicians are hoarding Fulltouch chalk, which was manufactured by Hagoromo Stationery in Nagoya, Japan. The original factory closed in 2015. Its equipment was sent to South Korea. Perhaps they can make chalk that is as revered.
Live Science reported in 2019
, "What is so special about this chalk? Mathematicians in the video described Fulltouch in glowing terms. The chalk is long-lasting, virtually unbreakable, bright and easy to read on a chalkboard, smooth as butter to write with, and practically dustless, Jeremy Kun, a Google engineer with a Ph.D. in mathematics, wrote in a 2015 blog post bidding farewell to Fulltouch.
"So renowned is the chalk among mathematics professionals that it is accompanied by its own legend: It is impossible to write a false theorem with it, David Eisenbud, director of the Mathematical Sciences Research Institute in Oakland, California, said in the video.
"When the news broke that Fulltouch's maker was ceasing production and closing its doors, it launched a Chalkapocalypse among mathematicians, said Brian Conrad, a professor at Stanford University in California. In the video, Conrad and others recounted their responses to the chalk emergency, stocking up on enough to carry them through as much as 15 years in a chalk desert."
A decline in demand led to the end of the supply. Some fear all chalk will be gone as whiteboards and the like reduce demand.
Chalk poses two threats to society. The most obvious threat was unveiled 5 years ago during the Great Chalkening.
Remember?
Newsweek reported
, "When the words Trump 2016 and other chalked messages supporting the Republican presidential front-runner appeared Monday around the Emory University campus in Atlanta, students say they immediately felt threatened. Within hours, they launched a protest.
" 'We are in pain,' one student said at a rally, according to The Emory Wheel, a student newspaper. 'I don't deserve to feel afraid at my school,' a second student reportedly said.
"Photographs of the chalkings show the words Trump, Trump 2016, and Vote Trump. Student government leaders said in a statement that 'Accept the inevitable, Trump 2016' and 'Build the Wall' also appeared in chalk. But photographs of those messages do not appear to have surfaced online, and people involved in the protests were unable to provide them to Newsweek.
"Nowmee Shehab, an Emory senior and a co-leader of Freedom at Emory University, a student coalition that was involved in the protests, says students on Monday used the group texting app GroupMe to organize a rally. They met outside of an administration building."
Eventually rain and the college president's refusal to cave in to the anti-chalk protesters ended the story.
But chalk poses a second more dangerous threat to totalitarianism. Chalk accommodates the education (not indoctrination) of students.
A reader explained this to me in an email, "I was very fortunate to have had black slate and white chalk in every teaching and learning situation I have ever been in, as student and teacher.
"From my first day of First Grade (1950) until I taught my final class (2019), including teaching situations from Pittsburgh Public Schools to Carnegie Mellon University College of Fine Arts, all slate and chalk, hard as that may be to believe.
"There was a skill to writing without squeaking. I loved having a new, long piece of chalk that had not been dropped and broken on the floor. I snapped new pieces in half before letting the children use them, to prevent their holding the long pieces as they would a pencil, guaranteeing the dreaded squeak.
"No Teflon boards with dry erase markers or Smartboards were part of my life. I detested the look of an unwashed board at the beginning of a new day, and hated the grit and dust of an unwashed chalk tray. Toward the end, I used dry washcloths in place of erasers and laundered them weekly.
"There was an art to washing a chalk board properly. Clear water in a bucket and a proper yellowish sponge (approximately 5" x 7" x 1.5") was required. Those sponges were part of the standard issue of classroom supplies at the beginning of the year.
"Washing a board without first erasing it left shadows. Too much water on the sponge left running drips which showed when the board had dried. Starting at the upper left of the panel, the proper procedure was to go left to right, slide down, then right to left. Deviation from this protocol was usually evident when the board had dried. The sponge had to be rinsed often enough to avoid leaving a chalky residue behind when the board had dried.
"Washing the boards used to be part of the teacher's protocol for the end of day, along with properly aligning the roller-mounted window shades for a uniform appearance from outside.
"At this moment, I can remember the smell of a newly washed board as it dried. It has no equivalent.
"Was this ever a part of formal teacher training, or even verbalized? Not that I know of. It was a part of the culture, caught rather than taught, now disappearing, if not already gone, much like the rules for playing Hide-and-go-seek or hopscotch or taking turns at jump rope.
"They were not perfect days, but there was a framework that held many less important things together and provided a kind of security we might benefit from today."
***
Of course, the magic was not in the chalk, but in the discipline chalk required and the concern the teacher had for her pupils. The care for the chalkboard was one of her gifts to the students. Each day began with a clean board and ended with a dusty one that had to be cleaned. That gave her a sense of accomplishment, of achievement and of progress, a satisfaction that perhaps eludes today's teachers.
Her loyalty was to her students, not her school.
Education is important because it teaches us to think for ourselves, unlike indoctrination. We who think for ourselves are dangerously deplorable people to the totalitarian elitists.