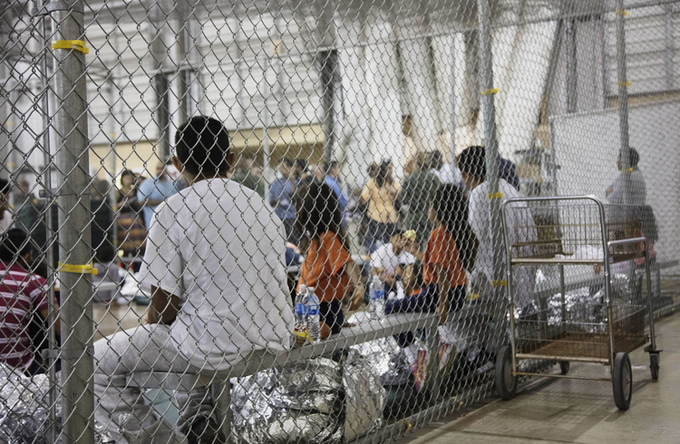 President Trump closed a kids-in-cages facility in July 2019.
Biden just opened it back up.
Jonathan Blitzer of New Yorker tried to eviscerate President Donald John Trump over putting kids in cages.
Now Blitzer says Chairman Xiden has no choice but to continue to keep kids in cages that were built under Obama.
Blitzer wrote on January 18, 2019
, "The Uncounted Families Torn Apart at the Border by the Trump Administration." The story said, "When Mino González, his younger brother, Erick, and their mother, Mabel, were apprehended by U.S. Border Patrol agents, in September, 2017, the Trump Administration was quietly testing a program that would become a precursor to its family-separation policy. Mino and his family, who are from northern Honduras, walked directly into the new dragnet. 'We crossed the border wanting to get apprehended,' Mabel told me. 'We were looking for an immigration agent so we could request asylum." Instead, they were separated without explanation. Mabel was transferred to an ICE detention center in El Paso, where she remains and expects to be deported. The boys, who were fifteen and fourteen years old at the time, went to a children's shelter overseen by the Office of Refugee Resettlement. A month later, they were released to live with their aunt, in Philadelphia; by November, they were enrolled in a local high school. 'My mother's still in Texas,' Mino said on Thursday. 'She's fighting for her freedom.' "
Be careful of what you wish for.
Of course, Blitzer only told one side of the story. He made it sound as if President Trump were personally separating families when, in fact, it was the parents who did this. In most cases, the children are unaccompanied, and in the first month of the new administration, the number of unaccompanied children crossing the border tripled to 3,200.
The best option would be to shut the border down. But gangbangers, drug smugglers, and Corporate America bought off the RINOs and Democrats a long time ago. So we are stuck with this misery.
Blitzer wrote, "Two hours west of San Antonio, in an isolated patch of South Texas near the U.S.-Mexico border, is a federal facility made up of trailers, tents, and dormitory buildings, called Carrizo Springs. For the past year and a half, the complex was vacant. The Trump Administration closed it in July 2019, a month after opening it as a temporary shelter for children who had crossed the border without their parents."
They did not cross the border without their parents.
Their parents sent them across the border on their own.
Their choice, not mine.
With the mad run for the border, ICE is overwhelmed. Blitzer wrote, "The Biden Administration's decision to reopen the Carrizo Springs facility, to hold migrant children, was met with swift backlash."
The press no longer calls it kids in cages as if infants are in the facility. Now they are "migrant teens."
The Biden administration says it is temporary.
Just like the 15 days-to-bend-the-curve lockdown was.
And just like the 2 weeks of the National Guard tour was in DC.