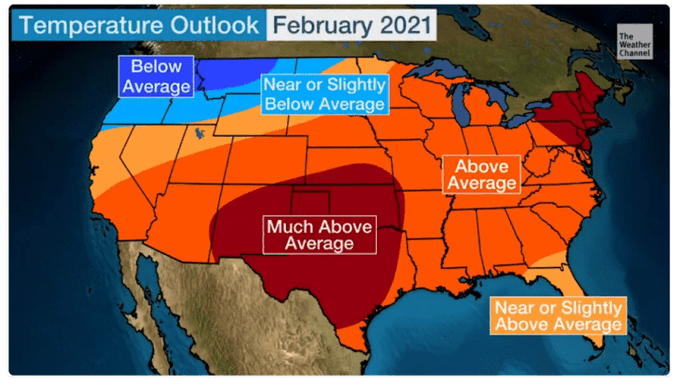 One month ago, the Weather Channel predicted, "February could be warmer than average in the Southern Plains and parts of the East."
Now I have done a lot of foolish things in life. My mistakes are many. Regrets, frankly I have quite a few. But I have never, ever been owned by a groundhog.
The Weather Channel on the other hand, well, its forecast speaks for itself.
On January 21, it said
, "February 2021 may be warmer than average across much of the United States from the South to the Northeast, according to the latest outlook from The Weather Company, an IBM Business."
The Weather Channel forecast was chock full of science and computer-driven data.
It said, "February's forecast shows far-above-average temperatures are possible across most of the Northeast, as well as the Southern Plains. Above-average temperatures are also expected in parts of the Midwest, Southeast and Southwest."
The channel's map showed most of Texas, Oklahoma, and New Mexico in deep red as things would get hot, hot, hot.
Its forecast said, "Winter, so far, has been a relative non-event in parts of the northern U.S.
"A persistently strong Pacific jet stream has spread warmer-than-average air into much of Canada and the northern states from the Northwest to the Plains, Great Lakes and New England.
"Some cities from Seattle to Caribou, Maine, have had a record-warm start to winter."
Break out the suntan lotion. Who needs Cancun when it is bikini weather in Dallas and Houston?
Todd Crawford, chief meteorologist with The Weather Company, said, "Lingering La Niña conditions are typically associated with hotter spring and summer outcomes. We think that spring and early summer will be unusually warm and dry across the western and central U.S."
Armed with all these maps and data, the Weather Channel blew its February
With only a shadow and a German legend to go by, the groundhog got it right.
But don't sad. Things are looking up. The Weather Channel predicted on January 21 a much warmer March.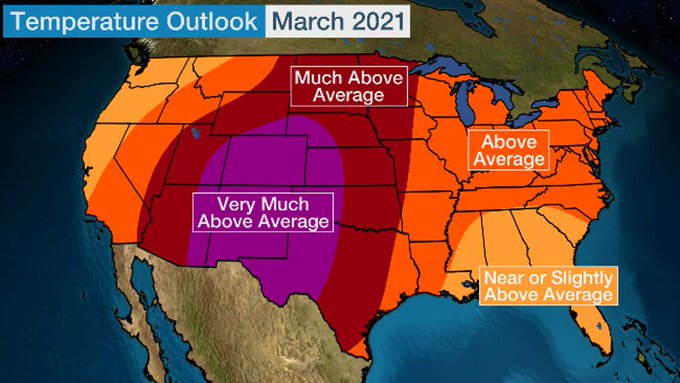 I mean the meteorologists cannot be wrong again.
Can they?