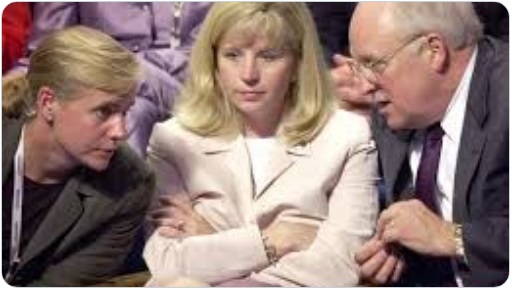 Princess Liz Cheney signaled her virtue in a speech at the Reagan Institute. She used the storming of Her Castle on January 6 as an excuse to label all supporters of President Donald John Trump as white supremacists.
White supremacy is the bogey man in Washington. It is as imaginary as global warming. But like global warming, it serves the purpose of giving more power to the powerful Merrick Garland, the attorney general in waiting, vowed to prosecute Trump supporters as domestic terrorists.
This is based on a false report in the New York Times that a Capitol Police officer died after he was hit in the head with a fire extinguisher in the January 6 melee. His family now says he had a stroke. It counts as an officer dying in the line of duty but it does not as an act of violence.
A Capitol Police officer shooting and killing an unarmed Ashli Babbitt, an Air Force veteran, was an act of violence. But as WLDM -- White Lives Don't Matter -- neither Liz the Daughter nor anyone else in Washington cares.
In her speech, Liz said, "It's very important for us to ignore the temptation to look away and it's very important, especially for us as Republicans, to make clear that we aren't the party of white supremacy.
"You certainly saw anti-Semitism. You saw the symbols of Holocaust denial... you saw a Confederate flag being carried through the rotunda. We, as Republicans in particular, have a duty and an obligation to stand against that, to stand against insurrection."
Daddy's Little Drama Queen carried Wyoming with 68% of the vote.
President Trump carried Wyoming by 70%.
I would venture to say that all her voters voted for Trump, but not all of Trump's voters voted for her.
She is a down-market Meghan McCain who plans to be in Congress long enough to work up a nice clientele for her lobbying business. It is the Paul Ryan plan.
She does not represent Wyoming. Instead she represents Washington, D.C. Why would the town need statehood when it has a 100 congressmen and dozens of senators doing its bidding?
She is redundant. Democrats beat Republicans up all the livelong day. She just tries to pile on.
What we need is a Republican who calls out actual anti-Semitism. But that would mean criticizing Democrats and Republicans in Washington never want to upset the Democrats.
Little Lizzie is worried about 2024, and with good reason. Mittens her mentor said if Trump seeks Term II, "I'm pretty sure he will win the nomination."
Their plan for 2024 is not to defeat the Democrat nominee. No, no, no. Washington Republicans do quite well when a Democrat is in the Oval Office because it helps their fund-raising by demonizing Democrats.
Liz and Mittens and their cohort want to deny Donald Trump the 2024 nomination, and if that means attacking his supporters and driving them out of the party, so be it.
'Tis better for the Washington Republicans to serve in the minority than have Donald Trump as president. They profit more from losing.
Wasn't making a lot of cash with a failure the premise of The Producers film and Broadway show?
Springtime for Cheney and Washington. Winter for Ev'ry One else.
In 2022, Republicans must make it clear they are not the Party of Liz Cheney.