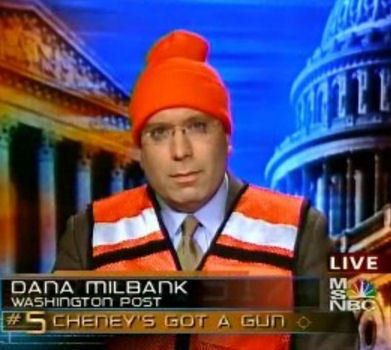 Dana Milbank of the Washington Post posted a column encouraging a riot if Donald Trump is acquitted in the impeachment malarkey. The headline said it all, "If Republican senators acquit Trump, they will own the violence that follows."
The headline is not political rhetoric. It is an invitation for Democrats to riot because the media will blame Republicans.
The column ended, "The Washington Post's Karoun Demirjian, in the Senate chamber during the opening of the COVID-restricted trial, reported that several of Trump's fiercest defenders in the Senate didn't watch the video Raskin played of the Jan. 6 insurrection. Sens. Rand Paul of Kentucky, Rick Scott and Marco Rubio of Florida, and Tom Cotton of Arkansas were suddenly immersed in paperwork. (Forty-four of 50 Republicans voted to declare the trial unconstitutional, and 11 even voted against the bipartisan trial rules.)
"They could avert their gaze, but could they shut their ears to the bloodcurdling shouts and chants of the mob as they rampaged through the seat of American democracy?
Take the Capitol!

F—- the blue!

Traitor Pence!

Treason!
"And can they really exonerate Trump, who, after fomenting a siege that injured 140 officers and ultimately claimed seven lives, sided with the attackers?
" 'These are the things and events that happen when a sacred landslide election victory is so unceremoniously & viciously stripped away from great patriots who have been badly & unfairly treated for so long,' he tweeted after the attack. 'Go home with love & peace. Remember this day forever!'
"Oh, yes. We will remember."
***
That is because the media is not just in the Democrat Party. The media is in the by-any-means-necessary wing of the Democrat Party. And by any means necessary is a cry for violence.
And that is exactly what the Washington Post headline means. This is not a emotional reaction in the heat of the moment. Milbank wrote the column 5 weeks after mostly peaceful protesters stormed the Capitol.
He blames Republicans for that violence, and now uses that as an excuse for a violent retaliation by Democrats if they do not get their way.
His is not a threat, but a promise. Newspapers in this country have a history of demanding violence, often getting it.
The Boston Gazette is credited for starting the Revolution.
The Chicago Tribune championed the Civil War.
Hearst newspapers encouraged the Spanish-American War.
Guys like Milbank are chairborne rangers. Their motto is Et tu ne pugna eum.
Translation: You and him should fight.
In a just world, the Secret Service would pay Jeff Bezos a little visit, and explain to him the penalties for inciting violence. There are lines even a free press ought not cross.
UPDATE: The Senate acquitted Donald Trump.
Any violence now is on the Washington Post.
2-0

— Eric Trump (@EricTrump) February 13, 2021