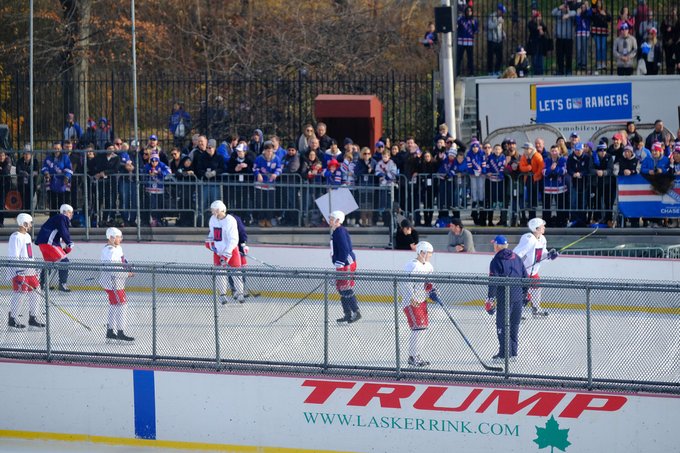 In 1986, Donald John Trump took over the city's messed up plan to rebuild the ice rink in Central Park and made it happen. He did so under budget and ahead of schedule.
All he asked for in return were concession stand rights.
My critics are shaking their heads an saying, oh Surber, that's just an extremist right-wing conspiracy myth.
The New York Times reported on November 15, 1986, "Pssst, Here's a Secret: Trump Rebuilds Ice Rink."
The story said, "Donald J. Trump refurbished the Central Park -skating rink two and a half months ahead of his own speedy six-month schedule and $750,000 below his own projected $3 million budget, having taken over the project after the city spent six years and $12 million unsuccessfully trying to get the job done."
That's right.
He did in less than 4 months for $2.3 million what the city failed to do in 6 years for $12 million.
And he had to goad the mayor into letting him do it.
30 years later, Robert Davi of the Orange County Register recalled how The Donald got it done.
Davi wrote, "Let me turn the clock back to the 1980. Mayor Ed Koch of New York City had closed down the Wollman Rink in Central Park for renovations."
Thus a boondoggle began.
He wrote, "Donald Trump, seeing the incompetence and frustrated because his young daughter was upset she couldn't ice skate looked into the matter. In May of 1986, Trump made an offer to Mayor Koch. Let Trump take over construction and operation of the rink for no profit and he would have it up and running by the Christmas season. There was a battle between Trump and Koch mostly because if Trump succeeded it would be an embarrassment to the government.
"Trump won this battle with the caveat of finishing the rink in less than 6 months for no more than $3 million. He rolled up his sleeves. What he found was the person commissioned to build the rink was a gentleman from Florida who worked in refrigeration. Trump thought, what could a guy from Florida really know about ice rinks. Next was a call to his friend who owned the NHL Montreal Canadiens. Trump asked him who was the best builder of ice rinks. Getting this gentleman's name, Trump brought him in to help analyze the situation. He found copper tubing was being used. Now imagine the snaking miles of copper tubing needed to fill an ice rink. Then imagine as this tubing was laid the next day it was found missing. Copper laid, copper stolen. Costs increase."
The ice rink man told him to use rubber tubing. It is cheaper and better.
The Times report in 1986 pointed out, "Finishing far under budget meant he had enough money left for burnished teak railings, lots of ornamental wrought iron, massive renovation of the skate house and landscaping."
In other words, the ice rink met Central Park standards.
But all good deeds must be punished. Mayor de Blasio wants to flush this accomplishment down the memory hole.
The New York Post reported, "Skaters arriving at Central Park's two ice rinks are in for a cold awakening next week — the rinks, which are both managed by the Trump Organization, are being shuttered by City Hall to punish the former president for the deadly Jan. 6 Capitol riot, The Post has learned.
"The Trump Organization says its last day of operating the iconic Wollman Rink and the smaller Lasker Rink at the park's northern end will be Sunday.
"The rink contracts had been set to expire in April, but Mayor de Blasio has moved to ice Trump out a month early, effective Feb. 26.
"The Trump Organization is closing its doors after close of business on Sunday, so it will have time to pack up its belongings — including some 1,700 pairs of ice skates — and move out.
"The city is terminating all four of its Trump Organization concession contracts."
In the middle of winter when people most want to ice skate, the city shut the rink down. The city does not have a replacement to take the rink over. Bids won't be opened for another month.
Some punk in de Blasio's administration told the Post, "Trump has been impeached from operating the ice rink."
Ingrates.
Screw New York.