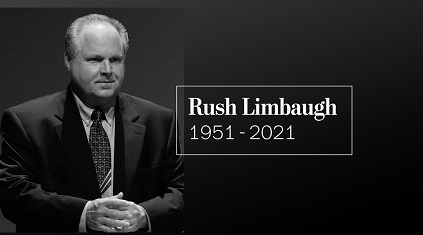 Fiction writer Sarah Hoyt's tribute to Rush Limbaugh presented a brief and plausible problem that Rush Limbaugh may have faced in 1987.
He had talent on loan from God. He said it many, many times. The phrase was a boastful humility. On the one hand, God gave him this talent. On the other hand, it was a loan, which meant The Lord still owned that talent and He expected it to be used properly. The loan agreement meant Limbaugh submitted to The Lord.
That does not mean that every word he uttered came from God. Far from it. His voice was all God gave him.
She wrote, "Well, Limbaugh took the talent on a loan from God, and ran with it. Ran with it as fast and as hard as he could, even if what he was handed to work with were opinions that at the time NO ONE VOICED IN PUBLIC much less over the airwaves, and an outmoded means of mass communication, because AM had been a joke for decades."
What if Limbaugh told God no?
What if he said, I am moving into PR. What if he said, I don't want to talk to 12 little old ladies in tennis shoes listening on a scratchy old radio band that is dying. What if he said, broadcasting sucks. My future is in newspapers.
The idea that Limbaugh would turn God down is not meant to disrespect him or Him. It is just a reminder that man has free choice and we usually make the worst decisions possible. We are rather vain and foolish creatures. I am at the age (67) when I look back at all the opportunities I have had that I blew. I coulda been a contenduh. We all could. The only decisions I got right were marriage and blogging. That's enough, though.
Limbaugh likely was not The Lord's first choice, but who knows? Maybe he was. The point is, the offer was made and the loan accepted. Limbaugh put in the hard work and effort to hone that talent. It truly is a world that is 1% inspiration and 99% perspiration.
So what exactly were the terms and conditions of this loan from God?
I am going to put it in terms that every Cleveland Indians fan understands.
Garfield 1-2323. Garfield 1-2323.
That was the jingle from the Home Corp. that Clevelanders heard over and over again on every radio broadcast of the Indians. Often that phone number was the highlight of the game. That was the sole purpose of the ad. The company wanted everyone in town to know their phone number. It worked. That phone number became so famous that the company changed its name to Garfield 1-2323.
That is how AM radio works.
If it works for a home improvement company, why would this not work for The Lord?
If you view the Rush Limbaugh broadcasts as a baseball game, and at 3 hours daily they were about as long as a game takes, you quickly realize that his sponsor who loaned him his talent had his own Garfield 1-2323.
And that message was "Talent On Loan From God."
It was a reminder that our lives are precious, that we have a purpose, and that we have a debt to settle some day. The game itself was as important to The Lord as the outcome of any baseball game was to the home improvement company. Oh sure, He wanted Limbaugh to win. The company roots for the Indians. But the main thing was He wanted the message to get out: your talent is on loan from God.
He called Limbaugh home after 3 score and 10, the biblical life expectancy, which underscored that message.