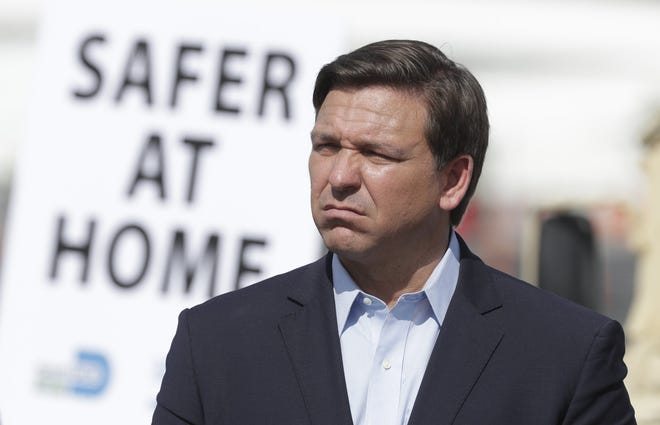 Rich Lowry had a nice I'm-rubber-you're-glue column under a perfect New York Post headline, "Every slander media flung at Florida's DeSantis was true of Cuomo."
I like when the copydesk nails a story in the headline.
And if you read the column without looking at the byline, it is a terrific takedown of Cuomo.
But then Lowry had to show why he is editor of the Never Trump rag, National Review. he just had to get a dig in on The Donald.
Lowry wrote, "Finally, the media loved the way Cuomo talked about the pandemic at his take-charge news conferences. This was taken as the opposite of Trump's approach, which it was — Cuomo talked a good game, while utterly botching the substance of the response, while Trump talked irresponsibly about the pandemic, while handling the substance pretty well (or, certainly, not as badly as advertised)."
Certainly not as badly as advertised?
The passive-aggressive pansy wrote, certainly not as badly as advertised?
Unbelievable.
President Donald Trump only moved heaven and Earth to get ventilators when Cuomo demanded them. (It turned out they did not need them.) And the president sent a Navy hospital ship to New York City quickly. (It was barely used.) And the president launched Operation Warp Speed to get a vaccine by year's end.
Ah yes, the vaccine.
On May 15, NBC reported, "Fact check: Coronavirus vaccine could come this year, Trump says. Experts say he needs a 'miracle' to be right."
Donald Trump gets things done -- on time and under budget.
But this is not about Donald Trump. This is about Ron DeSantis, the Republican governor of Florida who faced constant heckling from a state media that preferred to have as governor a family man whose fondness for drugs and male escorts became public knowledge only after the election.
The Miami Herald called DeSantis the Floriduh Man when he kept beaches open. The newspaper's prediction of covidgeddon was wrong, to the relief of normal people and to the dismay of the editorial board.
But Trump supporters in Florida likely scored the editorials as a sign that DeSantis is doing the right thing. They know he must be over the target if he is catching flak.
So what do we make of a Never Trumper praising DeSantis?
I mean, the second-to-last thing we want in 2024 is another Establishment-approved nominee.
(The last thing we want is 4 more years of Chairman Xiden or Madame K.)
Lowry thankfully signaled that his support of DeSantis is strictly transactional. Whew. What a relief. Lowry is just joining the rest of the liberals in jumping on Cuomo for killing grannies by the thousands and then lying about it.
The column said, "And so the media's anointed hero of the pandemic — who wrote a book on his own exemplary pandemic response, who won an Emmy, who was elevated to an authority with the standing to comment on how the country was handling the novel coronavirus — is facing calls to resign or face impeachment and is the subject of multiple investigations, while his routine bullying of critics is now out in the open.
"Not only are none of these things happening to DeSantis, his policy of avoiding strict lockdowns, which occasioned so much criticism, has avoided the educational and economic downsides of Cuomo's approach. According to Florida data, the state offers more in-person education than any other in the nation, and it has a lower unemployment rate than the national average and other populous states. This matters greatly to the well-being of Floridians."
Gee, a governor who actually got things right. He's not a Florida Man; he is a Florida Noem.
I hope once Lowry and his like tire of chasing Cuomo they will go back to disdaining DeSantis because their support is the kiss of death to Trump supporters. We do not want Jeb!, Romney, or another McCain.