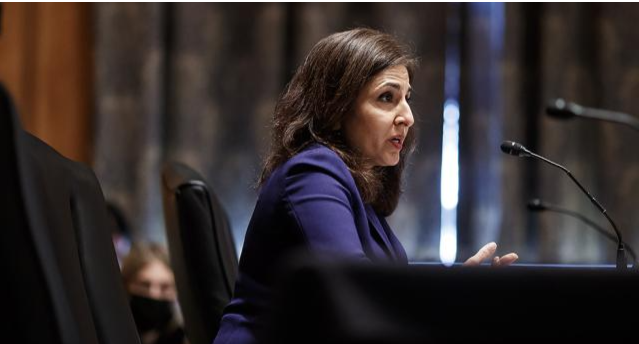 Washington is engaged in a game of insider baseball over a looming rejection by the Senate of Neera Tanden as director of the Office of Management and Budget.
The mini-soap opera is amusing and illuminating.
Officially, Tanden stands accused of mean tweeting. In Washington, your son can collect bribes from foreign governments and spend the loot on hookers and cocaine, and no one believes that disqualifies you as president.
Ah, but mean tweets are an impeachable offense.
But the Tanden story gives a sneak peek at the Coalition of Kooks now running the show.
Politico called the pending rejection "The Neera-gate conspiracy" because we all know the Senate is supposed to rubber-stamp all of a Democrat president's nominees for public office.
The White House stands by Tanden 1000%.
Reuters reported, "The White House said it was not prepared to withdraw President Joe Biden's pick for budget director, Neera Tanden, whose nomination stalled on Capitol Hill on Wednesday after controversy over tweets that upset lawmakers."
And the sex and race cards have been played.
Anita Kunar reported, "President Joe Biden's aides are urging Asian American groups to mount a last-minute campaign to try to rescue his budget chief nominee, Neera Tanden, as her prospects for Senate confirmation dwindle.
"Those groups are calling and sending letters to Senate offices and advocating for Tanden on social media to try to combat what they are calling 'structural racism' and 'institutional racism.' "
Yes the racism is so structured and institutional that we have an Asian-American vice president.
Eyeroll.
Maybe this crap-ioca pudding will work.
But the damage is done.
Politico reported, "conspiracy theories about the Biden administration's first major political stumble began flying around Washington."
Hmm. I thought conspiracy theories were banned as fake news by the Internet Oligarchs. But then again, the Russian collusion conspiracy hoax won Pulitzers, so maybe I am wrong.
Politico said, "This wasn't a loss, one Democrat on the Hill insisted. It was part of the three-dimensional chess game being played by Biden's inner sanctum, with chief of staff Ron Klain leading the way."
Ron Klain? I thought Biden was president.
Politico also said, "Another hypothesis floating around Democratic circles: It was Clinton-world who pushed Tanden, the former head of the Center for American Progress who is close to John Podesta. She was an offering to the Clintons, who were grasping for power and wanted someone more loyal to them than Biden.
"The Biden White House played along, knowing that she'd never win enough votes, given how she rattled both the left and the right. That's why she was nominated when Democrats hadn't even won the Senate."
So this fellow Klain is playing three-dimensional chess by nominating a Hillaryan who was doomed to fail.
To its credit Politico rejected that horse manure. The failure to get a budget director approved on the first go-round has exposed the Myth of Joe Biden, rising after 44 years of public office from a dullard and a sleazeball to this Mount Rushmore-level role model of the presidency.
This is a charade. Democrats fervently believe they can prop up this demented and creepy old man for 2 years and 1 day (to allow Harris to get two more terms after she takes over) like they propped up Bernie in the movie Weekend At Bernie's.
But reality called. Flesh rots. Rigor mortis sets in. Bruises show.
We had 4 years of a president actually in charge of his own administration who made his own decisions. He took responsibility for his decisions and was held accountable.
This presidency by committee looks doomed. No one knows who these people are, who makes the decisions, and who to hold responsible. This is a bureaucrat's dream. They do as they please. But this also empowers internal division. You have competing interests within the Democrat Party with old scores to settle and sharp knives to plunge.
Say what you may about Republican Party in-fighting, but the battle hinges on only one question: Are you with Donald Trump or not?
Biden is an afterthought for Democrats. The Ron Klains matter. They battle it out. They give you Neera Tanden, whose qualifications boil down to her sex and race. The Kennedy administration bragged that they were the best and the brightest. Here is a chilling thought, what if the Biden staffers are the best and the brightest Washington has to offer?