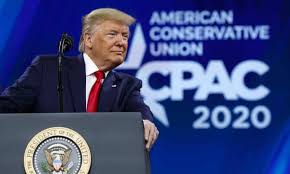 CPAC's convention began today in Orlando rather than Washington, which remains locked down by Chairman Xiden's Praetorian Guard. NBC pointed out that President Emeritus Donald Trump skipped the 2016 CPAC but will keynote this one.
NBC falsely reported
, "Trump was once a CPAC pariah. Now he's the confab's king."
That is a lie. He was never a pariah. In fact, CPAC organizers were disappointed when he did not speak at the 2016 CPAC.
Politico reported on March 4, 2016, "Donald Trump has pulled out of the Conservative Political Action Conference on Saturday, opting to campaign in Kansas and Florida instead."
The campaign said, "He will also be speaking at the Kansas Caucus and then departing for Orlando, Florida and a crowd of approximately 20,000 people or more. Because of this, he will not be able to speak at CPAC as he has done for many consecutive years."
American Conservative Union Chairman Matt Schlapp was disappointed by the news.
Schlapp said, "I think this is a whiff, I think it's a mistake, it's a missed opportunity. The people in this hall, this packed hall behind me are going to be very disappointed."
But NBC is to the truth what rain is to a desert. Occasionally it rains and occasionally NBC tells the truth.
The NBC story, said, "Look at the lineup of speakers at this year's CPAC: Gov. Ron DeSantis, R-Fla., Sen. Ted Cruz, R-Texas, Sen. Josh Hawley, R-Mo., Rep. Mo Brooks, R-Ala., (who spoke at that Trump rally on Jan. 6), Rep. Matt Gaetz, R-Fla., Rep. Devin Nunes, R-Calif., Rep. Lauren Boebert, R-Colo., Rep. Ronny Jackson, R-Texas (who was Trump's presidential doctor), former Ambassador Rick Grenell and Gov. Kristi Noem, R-S.D.
"Compare that with the CPAC lineup from 2013 — the last time the gathering took place after a GOP presidential loss: While you had Cruz and Trump, there also was Pat Toomey (who voted guilty in Trump's impeachment trial), Paul Ryan, Mitt Romney, Bobby Jindal, Eric Cantor and Jeb Bush.
"Eight years ago, all of those Republicans were considered prominent conservatives."
Yes they were.
We were wrong.
Jeb! turned out to be an open borders Republican. Paul Ryan bugged out of the House, knowing this would mean Nancy Pelosi was speaker. Romney is to Ryan's left. Jindal may still be conservative but he is on a sabbatical from his political career.
And notice how NBC glossed over the fact that Donald Trump, who never held a public office or hosted a conservative broadcast, was among those invited to the CPAC. His conservatism was never questioned.
I suggest NBC's staff look up pariah in a real dictionary, not an online one subject to politically correct revision without warning.
Our president emeritus clarified who is a conservative and who is faking it.
By the way, Dr. Ronny Jackson was the White House physician under Obama and during the Trump administration. Well, at least NBC got a half-truth in there.
And NBC gave online readers a warning that the article was Fake News because Chuck Todd's name was included in the byline.