Ted Cruz took his family to Cancun for a midwinter vacation. The media wants people to believe this is a sin.
Fox got this great big huge scoop, and went with it. This proves again that post-Roger Ailes the network is trans-conservative with the same liberal DNA the rest have.
The headline said, "Ted Cruz flew to Cancun with his family amid power crisis in Texas: source."
The subheadline said, "Millions in Texas without power, at least 20 dead."
The story said, "A Republican source told Fox News that the allegations Cruz was traveling to the Mexican city are true. "
Allegations of what? Taking a vacation is now a crime? Is it obstruction of Congress because he is not in Washington?
Why he should not go to Cancun was never explained. Fox just assumed he should not go because the power was out in parts of his state. The media believes in an omnipotent Senate that can just pass a joint resolution that restores power to Texas.
Fox is nuts, as is the rest of the media.
The media argument is that Cruz is responsible for the power going out in parts of Texas and 20 deaths, all 20 may or may not be related to power problems.
Now if he were the governor or a mayor, taking a vacation in the middle of a crisis like this should be a don't-bother-coming-back end to his career.
But he is a senator, one vote among a hundred in a chamber thousands of miles from the downed powerlines. Sorry, Texas, but Ted Cruz cannot fix your furnace.
The Dallas Morning News was downright psycho in its reporting.
It said, "As 3 million Texans shivered in the dark, Sen. Ted Cruz jetted off to Cancun with his family, outed instantly by fellow vacationers and berated by critics for abandoning constituents during an epic statewide power crisis.
"Social media photos from Houston's Bush Intercontinental Airport and aboard the flight to the sun-drenched beach resort sprouted Wednesday evening. By Thursday, when temperatures along the Mexico's Caribbean coast were on track to hit 83 degrees, the pile-on was at full boil.
"Detractors dusted off vintage Cruz comments denying the existence of climate change and decrying Democrats coastal elites who care not a whit for the plight of ordinary Americans."
The story should have carried the tagline: I'm Beto O'Rourke and I approve this message.
Where would the media be if not for Twitter? What a marvelous invention. You no longer have to talk to people or verify anything. All a reporter has to day is diddle the day away on Twitter.
But if it is wrong for Cruz to take his family to Cancun, why would it be OK for these tattle-tales to vacation while people in Texas shiver? This is warmth inequity because studies show that people in poverty suffer from the cold more than everyone else does because their furnaces are older and they live in areas where the powerlines are older.
No one should be warm until everyone is.
This is the Silly Century.
How Cruz deals with this will determine whether he is ready for prime time. He tweeted a statement: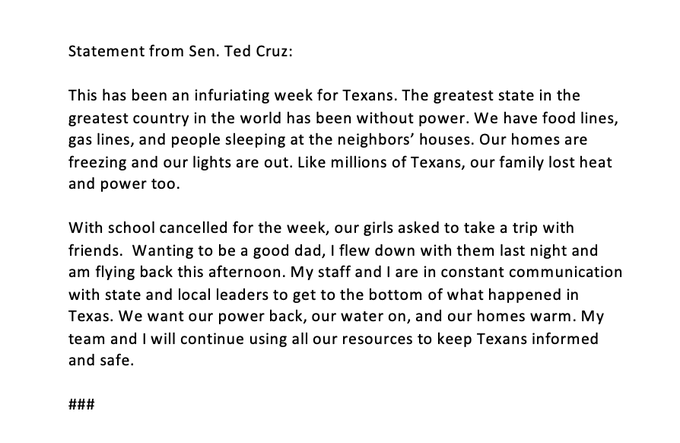 Pedestrian but effective. He showed empathy. His supporters are freezing, but they realize it is not his fault. His critics will continue to screech and throw their feces at the cage bars.