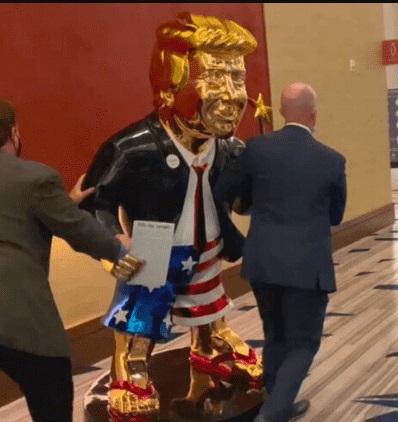 ITEM 1
: Phil Mushnick of the New York Post wrote, "Coverage of Tiger Woods' 'accident' ignores reality in favor of reverence."
"On Friday, five Supreme Court justices unanimously turned down her request to be able to return to the UK to fight for her citizenship to be restored.
"Their judgment came six years after the then 15-year-old left east London with friends to join the Islamic State group."
Good.
Her body, her choice.
Herd immunity is achieved when the herd hits 70% having been infected or immunized.
Zero Hedge reported, "So far, South Dakota, North Dakota, Rhode Island, Arizona, Oklahoma, Utah, and Tennessee are the nearest."
Make of it what you will.
A calmer and saner approach a year ago would have kept the economy going without trillion-dollar stimuluses every few months. But the media, deep state, and Never Trumpers wanted to use covid 19 to dethrone the president.
500,000 dead Americans meant nothing to them.
That should scare sense into everyone.
"Biden said the United States is ahead of schedule to meet his goal of reaching 100 million doses administered in his first 100 days in office. Thursday was Biden's 39th day in office, which puts him 11 days ahead of schedule."
President Trump got the vaccine. Democrats take the credit.
" 'Despite their differences, the reality is that they've had multiple conversations. The president thanked the vice president for his service, told him he did a great job, and they've even had conversations since then, including even this week,' Short said.
"Trump thanked the vice president and told him he did a great job while in office, he continued."
Don't give up on Pence. Without second slates of electors, he had to accept the Electoral College vote. The failure was on state legislatures, not him.
Black history does not refer to black people but rather the darkening of American history to remove any and all things that are positive.
"Beginning Monday, the restaurant will be using artificial intelligence to take orders of customers passing through the drive-thru.
"The Hi Auto technology will be used after it was developed with speech enhancement software that eliminates background noise and is able to accurately recognize a person's voice."
It is a scientific breakthrough. They have figured out how to get a robot to screw up your order just like any high school kid.
"The Senate Ethics Committee voted mostly along party lines to advance the bills, which could reach the full Senate next week.
"The voting limitations advanced Friday are the latest in a series of bills pushed by Republican legislators after record turnout led to Democrat Joe Biden's victory over Republican Donald Trump. Other legislation advancing in the General Assembly would add voter ID requirements for absentee voting, restrict ballot drop boxes and limit weekend early voting hours.
"Georgia has been a national leader in automatic voter registration since Republican Gov. Brian Kemp, who was secretary of the state at the time, implemented it in fall 2016. Since then, the state's number of registered voters has increased by about 1.5 million, to a total of 7.7 million."
There are 7.8 million Georgians 18 and older.
Learn to ballot harvest, Republicans. Fight fire with water.
ITEM 9
:
NBC reported
, "Past marijuana use won't automatically disqualify Biden White House staff."
Why should it? In fact, we should encourage these hyper-liberals to do more bong time and less running-the-government time.
"A woman brought the dogs to the LAPD's Olympic Community Police Station, just northwest of downtown, around 6 p.m, said Capt. Jonathan Tippett, commanding officer of the elite Robbery-Homicide Division.
"Lady Gaga's representative and detectives went to the station and confirmed that they were the dogs.
"The singer is currently in Rome to film a movie."
The dog walker, Ryan Fischer, took a bullet to the chest but was able to protect one of the dogs. Fischer is expected to recover. A little good news this morning.
"Hannah Minghella will serve as producer. No plot yet and no attachments despite the fact that we've heard how Henry Cavill is eager to get back into the cape."
Cavill?
No. It is time for a black lesbian Superman battling Lex Luthor in orange skin speaking with a slight outer borough accent.
Thy mandates make heroes assemble,

When Liberty's form stands in view;

Thy banners make tyranny tremble,

When borne by the red, white, and blue!
2022 cannot come soon enough.
Loan repaid.
Account closed.
He is with The Lord and watching over us.
Bongino is an ex-Secret Service agent.
He told Sean Hannity, "They call it the Secret Service for a reason, but I maintain a lot of contacts outside of even law enforcement. And I'm telling you from what I've heard from people in my network, everyone knows how bad it is. Everyone. It's not a mystery. It is the worst-kept secret in the White House and how they can—think about this. We are not only in the second month of this, how bad is this going to be four years from now? This is a serious problem. This is not a joke."
Pray for America.
"But it's more than just that. The bill authorizes the state legislature to recommend that the AG review any executive order, federal Congressional action, or any bureaucratic federal agency regulation in order to determine if the state should seek an exemption or simply declare it unconstitutional. If the AG or the state Legislature by concurrent resolution deems the order unconstitutional then all state and local officials, including any publicly funded organizations are barred from enforcing it."
If California can ignore immigration laws and be rewarded with 6 extra congressmen, Oklahoma can ignore edicts to make girls compete with boys in drag in sports.
"Former President Trump's eldest son mocked Cheney as Lincoln Project Liz, referring to the anti-Trump GOP group. Cheney was one of the House Republicans who voted to impeach his father.
"Trump Jr. also criticized Biden's decision to end construction on the Keystone XL pipeline, accused him of caving to [Red] China, and blasted the new administration's decision to launch airstrikes on Iran-backed militia targets in Syria on Thursday in retaliation for recent rocket attacks in Iraq."
The story also said, " 'Her family has a long history of friendly fire,' he quipped, alluding to the 2006 incident in which then-Vice President Dick Cheney, the congresswoman's father, accidentally shot a man during a Texas quail hunt."
Junior is a hunter, not a Hunter.