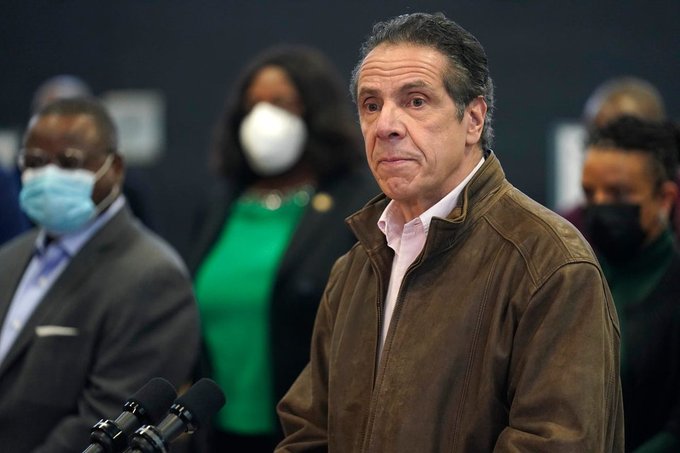 Guess what may finally cost Andrew Cuomo his job.
ITEM 1
: The New York Times reported, "A former aide to Gov. Andrew M. Cuomo published a lengthy essay on Wednesday morning accusing the governor of sexual harassment and outlining several unsettling episodes, including an unsolicited kiss in his Manhattan office.
"The aide, Lindsey Boylan, described several years of uncomfortable interactions with Mr. Cuomo, a third-term Democrat, including an invitation to play strip poker on a government airplane and an email from another top aide suggesting that the governor thought she was a better-looking sister of another woman.
"Ms. Boylan, who worked for the state's economic development agency at the time, published that email from December 2016, and said the governor began calling her the other woman's name in professional settings, an experience she described as degrading.
"Ms. Boylan, who is running for Manhattan borough president, first publicly accused the governor of sexual harassment in December, in a series of remarks on Twitter. At the time, Ms. Boylan did not speak to the media, offer details of the alleged harassment or provide corroboration."
Killing grannies won't cost him his job.
Lying about killing grannies won't cost him his job.
Maybe this will because she thinks telling this tale will win her election to queen of Manhattan.
It is Pass the Popcorn Time in Poca, West Virginia.
"Ryan Anderson, the president of the Ethics and Public Policy Center, revealed this week that Amazon removed his 2018 book When Harry Became Sally: Responding to the Transgender Movement, with no explanation and with no apparent recourse to have the book re-instated on Amazon's digital storefront.
"In a letter to Amazon on Wednesday, Florida Sen. Marco Rubio, along with three other GOP senators, demanded that Amazon explain its reasoning behind its removal of Anderson's book."
Amazon is more powerful than the United States government. It cannot be controlled.
The story also said, "The law requires medical professionals to provide the same means, medical skills, and treatment to every child born alive immediately following an attempted abortion as they would any other child."
Expect some ghouls to challenge this in federal court.
That means $1.7 trillion will go to pay off Chairman Xiden's supporters.
No wonder they do not want you to talk about The Eal-stay.
I wonder how much the Cheney family gets.
I guess she does not realize you can switch TV stations.
The media is now demanding censorship.
The next Republican president should deliver. In spades.
"Executives from Pfizer and Moderna, the only companies so far with vaccines approved for use in the United States, told lawmakers of the increase during a hearing before the House energy and commerce committee.
"Pfizer Chief Business Officer John Young said in prepared testimony that his company has made logistical improvements and plans to go from producing 5 million doses per week at the start of February to more than 13 million weekly doses by mid-March."
It was rather difficult for President Donald John Trump to distribute vaccines that did not exist.
"The move was widely expected and comes days after the government introduced some last-minute amendments to the proposed bill, which known officially as the News Media and Digital Platforms Mandatory Bargaining Code.
"Facebook announced Monday it will restore news pages in Australia, reversing an earlier decision to block access to news content in Australia in retaliation against the then proposed bill."
If Google and Facebook approve of the law, it is not regulation. It is a barrier to competition.
That is the whole point of the allegations.
Chairman Xiden does not want to fight drug trafficking. He wants a docile, doped-up America.
"U.S. District Judge Drew Tipton issued a preliminary injunction sought by Texas, which argued the moratorium violated federal law and risked imposing additional costs on the state.
"Biden proposed the 100-day pause on deportations during his campaign as part of a larger review of immigration enforcement and an attempt to reverse the priorities of former President Donald Trump. Biden has proposed a sweeping immigration bill that would allow the legalization of an estimated 11 million people living in the U.S. illegally. He has also instituted other guidelines on whom immigration and border agents should target for enforcement."
Trump appointed Tipton.
Now we know the difference between a Trump judge and an Obama judge. A Trump judge upholds federal law. An Obama judge makes the law up as he goes along.
"Supporters of the legislation cited fraud concerns as the reason early voting must be reined in. However, like in many other Republican-led states where similar steps are being considered, there historically haven't been widespread concerns about irregularities in the election system."
Not widespread concerns?
75 million people are concerned.
That's 10 times as many people as ABC's nightly news audience is.
Celebrity justice strikes again.
The Fourth Amendment says, The right of the people to be secure in their persons, houses, papers, and effects, against unreasonable searches and seizures, shall not be violated, and no Warrants shall issue, but upon probable cause, supported by Oath or affirmation, and particularly describing the place to be searched, and the persons or things to be seized."
Nice of the justices to weigh whether the Fourth Amendment still counts.
Is it just me, or have we over-lawyered the Constitution to the point where everything in it is now interpreted as meaning the opposite of what the Founding Fathers intended?
I used to be against censorship.
But then the Internet Oligarchs began censoring. Censor, Comcast, censor.
"The GOP legislators say that it's important to understand Swalwell's relationship with Fang, who seduced US politicians as part of her work, to protect themselves and national secrets."
The last time I ever heard of anyone named Fang was in a Phyllis Diller monologue.
ITEM 15
: From the crazy world of Arthur Tweet.
Your daily reminder that the unemployment rate in @AOC's Bronx sits at 15.1%.

That is more than DOUBLE the national average.

— Camryn Kinsey (@camrynbaylee) February 24, 2021
Amazon should open a headquarters there.
"Lawrence Anderson allegedly stabbed Andrea Lynn Blankenship, 41, to death in her Chickasha home on Feb. 9, The Oklahoman reported."
I can think of a dozen bad jokes to make but the fact is he killed someone.
He deserves to hang.
"Biden's administration recently cancelled Operation Talon, a Trump administration program aimed at removing convicted sex offenders living in the United States illegally.
"Though the program seems to be something everyone should support, it clearly isn't. Why would anyone want sex offenders to remain in the country?
"South Carolina Attorney General Alan Wilson joined a coalition of 18 state attorneys general to urge Biden to reverse the cancellation, according to ABC 4 News."
Chairman Xiden would not deport Hitler if he promised to vote Democrat.
"Although the mainstream press is issuing fact checks to dispute the claim Biden was supposed to have had one by February 20th, the AP earlier reported that he was supposed to have had one by… *checks calendar*… yesterday.
" 'US President Joe Biden is expected to deliver the annual State of the Union address on 23 February 2021 (date is still to be confirmed),' the Associated Press reported."
Give him time. He's looking for one to plagiarize.
Being president is tough. It's even tougher if you're demented.
File this under Today's Chuckle.