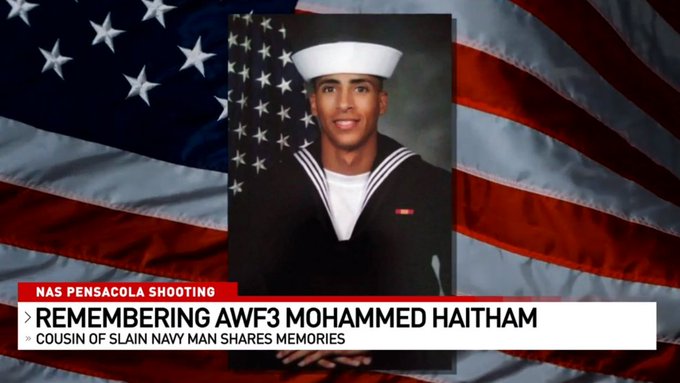 Justice is coming for Airman Apprentice Mohammed Haitham, 19, Ensign Joshua Kaleb Watson, 23, and Airman Apprentice Cameron Scott Walters, 21.
"Ahmed Mohammed al-Shamrani, a second lieutenant in the Royal Saudi Air Force, allegedly carried out the attack with the help from trainees in the Saudi military, according to court documents filed on Monday.
"Al-Shamrani was shot dead by Pensacola sheriff's deputies after he killed three US Navy students — and wounded several others."
I listed the three murdered men at the top of today's highlights.
This was a Muslim terrorist attack on U.S. soil.
The media will not tell you that.
I just did.
"Paul Mutchler, energy director of commercial operations at Mission Solar Energy in San Antonio, Texas, told Fox Business' Grady Trimble that being unable to compete with China on price has led the company to 'compete on quality.' Mission Solar Energy is one of the few companies that manufacturers solar panels in the U.S."
You cannot compete with slave labor, which is why the Surber branch of my ancestors left Virginia for Indiana.
End all trade with Red China.
You don't need Scooby-Doo to solve this mystery. A Democrat president, a Democrat governor, and a Democrat mayor did this. When minorities vote Democrat, the Democrats laugh. Minority Democrat politicians laugh hardest.
This was international news, of course, but this next paragraph wasn't and it was even bigger news.
Deputy Carlos Gonzalez, who arrived at the scene shortly after the rollover, said, "It was very fortunate that Mr. Woods was able to come out of this alive…. I think this also kind of speaks to the marvel of modern automobiles and they are much safer than they've ever been previously."
Think about that the next time someone complains because a minor accident totaled the car.
Yes, those old steel-and-chrome chariots of the 1950s survived being T-boned. Their drivers didn't.
Bedford wrote, "Elon Musk gets it, though. When a Washington Post reporter emailed him for comment on a story on how investors are worried he is stretched too thin — a story the reporter almost certainly finished writing before bothering to reach out — Musk replied, 'Give my regards to your puppet master.' "
Jeff Bezos owns the Washington Post. The reporters there don't realize that to him, they are no more than Amazon warehouse workers with bylines.
"Why wouldn't he be? The Santa Cruz Warriors guard and former NBA star is one of the most prominent Chinese Americans to ever play in the league, so the recent rise in hate crimes against Asians in the country naturally hits home.
"Yet each time he watches a new video of a seemingly random attack, Lin doesn't stay angry for long. Quickly, he just gets sad."
The attackers usually are black.
Everyone is too scared to admit there are black supremacists out there.
"Aleksandr Artemyev, the rights watchdog's media manager for Russia and Eurasia, confirmed the decision to Mediazona on February 23 after the news was first reported by U.S. journalist Aaron Mate."
Every foreigner the American press portrays as a martyr seems to turn out to be a poor choice for hero worship.
"According to the Office of Personnel Management, the highest pay grade for federal civil service employees is currently the GS-15 level, which goes up to $172,500.
"The Commission to Study and Develop Reparation Proposals for African Americans Act sets up the commission to 'address the fundamental injustice, cruelty, brutality, and inhumanity of slavery in the United States and the 13 American colonies between 1619 and 1865 and to establish a commission to study and consider a national apology and proposal for reparations for the institution of slavery.' The 13 colonies were under the control of Great Britain until the U.S. gained its independence in 1776.
"If passed and signed into law, the bill would require the commission to 'recommend appropriate remedies in consideration" of its findings after studying reparations and the history of slavery.' "
The first payments should go to the survivors of every Union soldier who fought to free the slaves.
But hey, give Oprah 40 acres in Alaska and a mule.
"Urooj Rahman and Colinford Mattis were facing potential life sentences for seven charges; among them use of explosives, arson, and conspiracy. On May 29, the pair allegedly made an incendiary device from a bottle of beer, then threw it into a squad car during one of many riots that occurred after the death of George Floyd.
"The two were caught on a surveillance camera, with Rahman purportedly holding the bottle in her hand just before the attack. Authorities later say they discovered another unused firebomb in the same vehicle on that video.
"The two lawyers were pursued and arrested but pled not guilty. Their plea was not based on innocence but an argument that they were wrongly charged and being used as an example by the same people they were protesting. The details of the February 11 plea deal have not been released."
Contrast and compare what happens to the people who stormed the Capitol.
"Carrie Lam said Tuesday a new law that would ban insulting Hong Kong officials and police is under review, citing the need to defend law enforcement, Hong Kong Free Press reported."
This is the 21st century.
It is 1984 repeating itself for a century..
"The system, which typically allows younger foreigners to stay with a family in a host country while they take care of their children, had continued in Britain unimpeded until the end of its transition from the EU at the end of 2020.
"However, since the UK's definitive break with the bloc, young people who want to come from the EU to immerse themselves in British culture and learn English now have to obtain a work visa."
Boo hoo hoo.
Our au pair system was I worked first shift, wife worked second.
Scholes implied that Woods was drunk. Police said there was no evidence of any alcohol or drugs.
That should cost the guy an unpaid week off.
We will see if AT&T (owner of CNN) has any standards.
"Mayor Pete, director Jesse Moss's documentary about former U.S. Democratic presidential candidate Pete Buttigieg, has landed at Amazon Studios.
"The former South Bend, Indiana mayor more recently became the U.S. Transportation Secretary. But during his presidential run, Buttigieg made history as the first openly gay candidate to seriously contend for the presidency."
Of course, the real insider story is not told. What was the offer that he couldn't refuse that led him to drop out of a race he was winning?
"At the time her nomination was announced, Democrats didn't even control the Senate and Tanden's history of sharp-elbowed politics and highly personal Twitter attacks had made her enemies on the left and right. But Biden and his team, headed by White House chief of staff Ron Klain, felt strongly that they could sway Republicans to back her. When Democrats won the runoffs in Georgia, their gamble looked more prescient.
"Today, the White House can't even get all Democrats on board. And Mitch McConnell is urging the GOP to band together to take Tanden down."
Merrick Garland said he will target conservatives as domestic terrorists. McConnell loves him.
Tanden sent mean tweets. Burn the witch!
Why is Washington so obsessed with tweets?
ITEM 15
:
If you go to the CNN app right now the first 6 top news stories w/ headlines & photos are all about Donald Trump-& many more if you scroll down the top stories. Biden-or Kamala for that matter-are NOT mentioned in ONE headline out of 55 in the top stories on CNN right now.

— Chastity🇺🇸 (@GuinnChastity) February 23, 2021
They can't quit him.
ITEM 16
:
Politico reported
, "For the past few weeks, Democrats have comforted themselves about the slow clip of Joe Biden's cabinet confirmations by noting he was on track to get all of his nominees confirmed. That solace now appears misplaced with Neera Tanden's prospects of heading the Office of Management and Budget looking increasingly bleak. Alongside that vacuum has come a new wave of anxiety over the pace at which Biden's presidency is going.
The Senate was too busy impeaching the man who really should be president.
(Wife: He mailed an $11 check to Exxon for last month's gasoline purchases.)