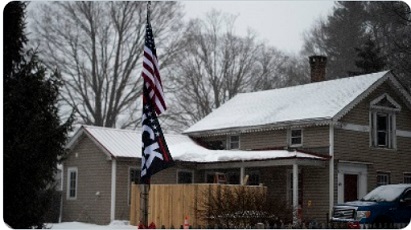 ITEM 1: The Hartford Courant reported, "Profane anti-Biden flag causing controversy in Connecticut, around the nation."
The flag says Fuck Biden.
The Hartford Courant blamed President Emeritus Donald John Trump.
I do not recall the media blaming Hillary for anti-Trump profanities and the riot on the day we inaugurated President Trump.
"But Benecchi said police consulted with the state's attorney's office in New Britain and found 'we are unable to intercede as it would violate (the residents') First Amendment right to free speech.' "
I suppose I should condemn it, but watching liberals go Church Lady about the flag amuses me. Besides, I recall De Niro and others saying Fuck Trump live on national TV.
Free speech is not always pleasant.
Obama judge. The ruling doesn't count.
"The Trump administration did its best to end this blatantly unconstitutional program that sought to discriminate against legal industries. In 2017, the Justice Department declared the program 'formally over.' At the end of Trump's term, the Office of the Comptroller of the Currency established the Fair Access rule to solidify its culmination.
"But on Jan. 28, the Office of the Comptroller of the Currency under President Biden announced it would pause the Trump-era rule intended to prevent another Operation Choke Point from happening again."
The next Republican president should target Planned Parenthood, its employees, its suppliers, and its donors.
Don't repeal Chairman Xiden's orders. Use them to retaliate instead.
"The hunt for red planet residents began close to four decades ago, when the agency sent two spacecraft — the Viking landers — to Mars. Their task was to prove that the planet, while red, is not dead.
"The landers initially sent back data that seemed consistent with bacteria-like organisms in the soil. But with further analysis, early optimism soured. Was there life on Mars? NASA concluded: Probably not.
"This wishy-washy answer was frustratingly ambiguous, especially for a $1 billion experiment."
We spend a trillion dollars a year on social welfare programs. That's 1,000 times a billion bucks.
If we reversed that spending, there would be far fewer poor people, and astronauts would be on their way to Alpha Centauri.
Leave.
Just leave.
19 years of pointless war is enough.
"The moderate Democrat's opposition imperils Tanden's confirmation with the Senate evenly divided between the parties."
He's as fake a moderate as National Review is fake conservative. Chairman Xiden should just buy a few million more EpiPens from Manchin's kid and get Tanden approved. Manchin is not for sale at any price, but he rents out pretty cheap.
The story said, "A group of Utah parents have prompted a review of an "equity book program" in their local school district after a teacher read a book favorable to transgenderism to a class of third-graders. The book, Call Me Max, written by transgender-identified author Kyle Lukoff, follows the story of a girl wanting to be seen as a boy."
We let Heather Has Two Mommies slide 30 years ago.
Big mistake.
In its lead paragraph, News Busters asked, "What's next? The Obama dogs getting their own late night talk show?"
No, but maybe Chelsea will.
Let's start with her home. I'm calling dibs on the couch.
Well, she certainly sent enough business to Indiana from Occupied Michigan to earn the honor.
Kellie Barker, a server at Red Arrow Restaurant in Fremont, told the TV station, "They're appreciative that we're open. And they also support the other businesses too, like the fishing places and just shopping."
Who's your daddy, Michigan? Hoosier Daddy.
At the South Texas Family Residential Center in Dilley, Texas, Adrian, a Honduran man who was seeking asylum in the US, said there hasn't been running water at the ICE detention facility since Monday."
Liberals worry more about illegal aliens than they do their fellow citizens.
Here's a thought, send all the illegal aliens AND all the liberals back to Mexico.
"But now a new crisis has hit for many residents: massive electric bills that some say they cannot possibly pay. The highest reported so far for one residential customer is at $17,000 — and that's just for the month to date as of yesterday."
Texas sits on more oil and natural gas reserves than any state, plus it has coal.
It takes a certain genius to convince someone to sit on all that and return to the 16th century when they relied on windmills.
"The new 30-day extension is the first announced under President Joe Biden and comes as the White House has been holding meetings about potentially tightening requirements for crossing at U.S. land borders in North America, officials said."
This restriction does not apply to illegal aliens, who now have more rights than American citizens do.
"On the heels of the recent speculation and slightly increased or renewed public interest in Syria, there are fresh reports out this week that the Pentagon is actually constructing a new US base in northeast Hasakah. Significantly, this allegation is also being featured in Syrian state media."
President Emeritus Donald Trump got us out of there. The press went wild with Fake News about genocide.
Chairman Xiden puts us back in there. The press went wild over Cruz's cruise to Cancun.
Obama lowered the flag for Bob Byrd and attended his funeral. I trust the governor will be at Limbaugh's.
"Acting U.S. Ambassador Richard Mills sent a letter to the U.N. Security Council on behalf of President Joe Biden saying the United States 'hereby withdraws' three letters from the Trump administration culminating in its Sept. 19 announcement that the United States had re-imposed U.N. sanctions on Tehran."
A vote for a Democrat is a vote for Death To America Iran.
"He has spoken at the event several times over the years so it wouldn't be surprising if he decided to do it again this year.
"The event is typically carried by TV news stations so it would be the first time a national audience has seen him in a while."
I hope he does speak.
Last year, CPAC disinvited Mitt over his vote to remove President Trump from office.
The story said, "A woman in Southeast Alaska said she never imagined having an issue with bears while winter camping near Haines last weekend, until one bit her on her bottom.
"Shannon Stevens was camping with her brother and his girlfriend at a yurt near Chilkat Lake on Saturday, when she left to use the outhouse after dinner."
Bears. They get you coming and going.
"GOP Rep. Braxton Mitchell, R, said that over the last several years of his teenage life, into adulthood, he has watched Antifa — short for Anti-Fascist — expand and gain a stronger presence."
The story said, "The measure originally had 53 co-sponsors, though following his explanation that additional groups could not be added to it, 31 Republican lawmakers removed their names."
The Party of Cowards.
Cool.
I am sorry they had to go through that but it is good that they were up to the task.
What music do you get from teens playing video games instead of driving cars?
No wonder today's music sucks. Even country music.