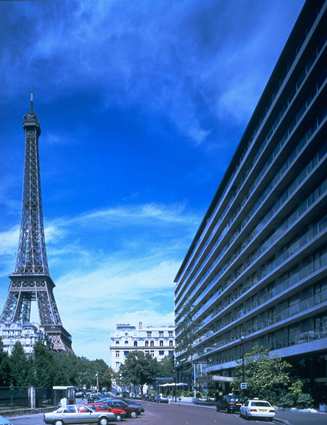 Happy 40th birthday, Paris Hilton. (Note to graphics department: I think you have the wrong Paris Hilton.)
ITEM 1
: The New York Times whined, "When Representative Peter Meijer voted to impeach Donald J. Trump in January, making him one of 10 House Republicans who bucked their party, he bluntly acknowledged that 'it may have been an act of political suicide.'
"This month, during Mr. Meijer's first town hall event since that impeachment vote, some of his constituents made clear to the newly elected congressman that they shared his assessment — not that Mr. Trump had committed an impeachable act by helping incite a riot at the Capitol, but that crossing him was an unforgivable sin.
" 'I went against people who told me not to vote for you, and I've lost that belief,' said Cindy Witke, who lives in Mr. Meijer's district, which is anchored by Grand Rapids and small communities like this one in Western Michigan.
"Nancy Eardley, who spoke next, urged Mr. Meijer to stop saying the election had not been stolen. She said he had betrayed his Republican base."
Oh stuff it.
Not a single Democrat senator had the intestinal fortitude to cross the party line to vote against this unconstitutional impeachment.
They never buck the party because they are Senate-bots.
ITEM 2: ABC reported, "The Biden administration said it is still assessing who is responsible for a rocket attack that injured five Americans and killed one foreign contractor working for the U.S. in Iraq.
"But it reserves "the right to respond at the time and place of our choosing," according to the White House and State Department, amid questions about Iran's role in another attack on U.S. forces in its neighboring country.
"Similar attacks during former President Donald Trump's term led to him ordering the strike that killed Iran's top military commander and pushed the region to the brink of war a little over one year ago — making the attack another key foreign policy test in President Joe Biden's earliest days in office."
Of course, there was no war.
But ABC sent Martha Raddatz to the terrorist general's funeral.
This is the same network that banned the wearing of American flag lapel pins after 9/11.
ITEM 3: Fact check: TRUE.
In honor of @BrookeBaldwin leaving @cnn, here is the most watched segment of her broadcasting career. Enjoy: pic.twitter.com/8x3zQusWyf

— Clay Travis (@ClayTravis) February 16, 2021
I would say he got the last laugh, but he got the first one and all the others in between as well.
ITEM 4: Newsweek reported, "Texans are seeking refuge in their cars after rolling blackouts caused by severe winter weather have cut off their electricity.
"The power outages came with little warning amidst an unprecedented winter storm that hit the state over the weekend. Heavy snowfall has frozen pipes and created dangerously icy driving conditions. On Sunday night, President Joe Biden responded to the call of state legislators and declared a state of emergency in Texas, prompting additional equipment and resources to aid the state.
"But as temperatures plunged on Monday, more Texans suffered bewildering blackouts that left their homes without heat. By midday Monday, NBC News reported that over 4 million people in Texas were without power. Temperatures yesterday were in the single digits, with subzero wind chill, according to FOX 4 Weather."
To stop the release of carbon dioxide, an imaginary problem, Texas decided to rely on wind power, even though it sits atop coal, natural gas, and oil. A big snowstorm knocked that out. People are releasing even more carbon dioxide in an inefficient but lifesaving attempt to stay warm.
This won't happen once we switch to electric cars only.
People will simply die in the cold and dark.
ITEM 5: The electric car symbolizes the tyranny of the left. Electric cars began as a choice and will soon be a mandate, to solve a Fake Problem.
The real goal is to stymie the economy and limit the right to travel for ordinary people.
ITEM 6: Zero Hedge reported, "How is it that California enacted draconian COVID lockdown measures, yet had nearly identical results to Florida - a state which went out of its way to avoid shackling residents with small business-killing prohibitions and mentally unhealthy isolation?
"According to an analysis by the Daily Mail, California Governor Gavin Newsom's (D) strict lockdowns resulted in 8,499 cases and 130 deaths per 100,000 residents, while Florida Gov. Ron DeSantis's hands-off approach - such as lifting an ordinance preventing people from operating businesses and restaurants - has resulted in 8,306 cases and 117 deaths per 100,000 residents.
"Not only that, both states followed roughly the same trajectories for various COVID-19 metrics - with Florida looking better by virtually every measure when adjusted for population, and California looking like Orwellian overlords save for multiple judges which have tossed Newsom's edicts because the state failed to provide a scientific basis for their decisions - and has concealed their 'methodology' that has driven business-killing decisions."
Florida has fewer deaths per capita than California. Most locked down states also have more deaths.
Perhaps locking people down makes covid 19 deadlier.
I don't know. I am not an epidemiologist. Neither are Newsom nor DeSantis.
For that matter, neither is Tony Fauci. He's an immunologist. He was brought to Washington to fight AIDS. 30-plus years later, AIDS kills 15,000 Americans each year.
ITEM 7: Donald Trump issued his reaction to the impeachment farce:
I want to first thank my team of dedicated lawyers and others for their tireless work upholding justice and defending truth.
My deepest thanks as well to all of the United States Senators and Members of Congress who stood proudly for the Constitution we all revere and for the sacred legal principles at the heart of our country.
Our cherished Constitutional Republic was founded on the impartial rule of law, the indispensable safeguard for our liberties, our rights and our freedoms.
It is a sad commentary on our times that one political party in America is given a free pass to denigrate the rule of law, defame law enforcement, cheer mobs, excuse rioters, and transform justice into a tool of political vengeance, and persecute, blacklist, cancel and suppress all people and viewpoints with whom or which they disagree. I always have, and always will, be a champion for the unwavering rule of law, the heroes of law enforcement, and the right of Americans to peacefully and honorably debate the issues of the day without malice and without hate.
This has been yet another phase of the greatest witch hunt in the history of our Country. No president has ever gone through anything like it, and it continues because our opponents cannot forget the almost 75 million people, the highest number ever for a sitting president, who voted for us just a few short months ago.
I also want to convey my gratitude to the millions of decent, hardworking, law-abiding, God-and-Country loving citizens who have bravely supported these important principles in these very difficult and challenging times.
Our historic, patriotic and beautiful movement to Make America Great Again has only just begun. In the months ahead I have much to share with you, and I look forward to continuing our incredible journey together to achieve American greatness for all of our people. There has never been anything like it!
We have so much work ahead of us, and soon we will emerge with a vision for a bright, radiant, and limitless American future.
Together there is nothing we cannot accomplish.
We remain one People, one family, and one glorious nation under God, and it's our responsibility to preserve this magnificent inheritance for our children and for generations of Americans to come.
May God bless all of you, and may God forever bless the United States of America.
Thank you, Mister President.
ITEM 8: Breitbart reported, "Toy industry giant Hasbro has ceased production on the Cara Dune action figure following Gina Carano's firing from Disney's streaming series The Mandalorian.
"On Monday, online retailer BigBadToyStore announced it would cancel all existing preorders of Cara Dune action figures in response to outrage over Carano's social media profiles — which prompted Lucasfilm, owned by Disney, to fire her from the popular show. Carano faced backlash after linking modern American cancel culture to the Holocaust in a since-deleted message."
Now they cancel culture dolls.
The Silly Century clanks on.
ITEM 9: CNBC reported, "Retailers trade Fifth Ave. for Worth Ave. as Palm Beach scene thrives with Americans heading South."
Manhattan merchants are merely following the money.
They must. 92% of restaurants in New York could not cover their rent in December. Many of them are escaping south, as well.
ITEM 10: The Daily Mail reported, "President Joe Biden will recalibrate American relations with Saudi Arabia and will communicate through Saudi King Salman bin Abdulaziz rather than Crown Prince Mohammed bin Salman, the White House said Tuesday.
" 'We've made clear from the beginning that we're going to recalibrate our relationship with Saudi Arabia,' White House press secretary Jen Psaki said at her briefing on Tuesday. She said part of that recalibration would include Biden speaking to the Saudi king, instead of Crown Prince Mohammed bin Salman - a marked change in policy from the Trump administration."
Chairman Xiden wants to punish anyone who was ever nice to Donald Trump.
ITEM 11: The Archbishop of Kansas City, Joseph F. Naumann, said, "The president should stop defining himself as a devout Catholic, and acknowledge that his view on abortion is contrary to Catholic moral teaching. It would be a more honest approach from him to say he disagreed with his Church on this important issue and that he was acting contrary to Church teaching.
"When he says he is a devout Catholic, we bishops have the responsibility to correct him. Although people have given this president power and authority, he cannot define what it is to be a Catholic and what Catholic moral teaching is.
"What he is doing now is usurping the role of the bishops and confusing people. He's declaring that he's Catholic, and is going to force people to support abortion through their tax dollars. The bishops need to correct him, as the president is acting contrary to the Catholic faith."
Yes they do.
I can see that and I am not a Catholic.
ITEM 12: Cosmopolitan reported, "Yes, There's a Safe Way to Have a Cannibalism Fetish. The Armie Hammer Story's Not It. As a fetish educator, I'm so tired of seeing the Armie Hammer allegations used against the BDSM community."
We keep seeing the world get weirder and weirder as a nation founded by Christians is taken over by hedonists who have to turn to ever weirder sex to get their jollies.
Cannibalism is wrong. Pedophilia is wrong. Bestiality is wrong. I am saying these things now, because next week such statements will be banned as hate speech.
ITEM 13: News Busters reported, "Snarky Chuck Todd to Texans: At Least the Cold Will Make You Want to Wear a Mask!"
Todd showed all the compassion of a dead ferret.
ITEM 14: CNS News reported, "Countries that are well-off economically should give up meat entirely, billionaire Microsoft Co-Founder Bill Gates says.
"Gates made the claim in an interview published Sunday in the MIT Technology Review, in which he touted his new book, How to Avoid a Climate Disaster."
Better yet, how about we seize all his money and redistribute it among the Third World people? They would each get about $1.98 but I would feel better.
ITEM 15: I present the tweet of the day.
It takes a special kind of stupidity to run out of energy in Texas. @TuckerCarlson does a great job here of exposing the green energy scam and how bad policy hurts people. pic.twitter.com/4AglREGJqH

— Lauren Boebert (@laurenboebert) February 16, 2021
Why switch to windmills when you don't have to? They ruin the vista, kill birds, and make a lot of noise.
FINALLY, a fellow named David launched a new conservative news aggregator site, Libertas Bella News. I like the clean graphics. I wish him success.