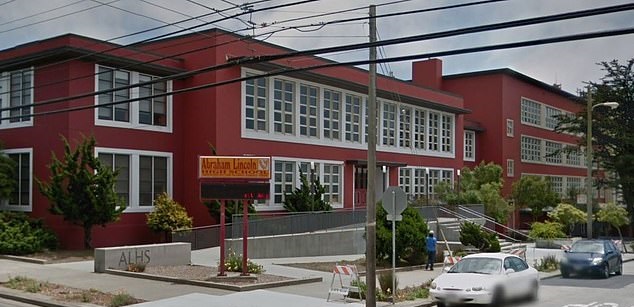 Abraham Lincoln High School is saved!
The ice rink Donald John Trump built in Central Park is open again!
A Treasury Department whistleblower is speaking out!
America may still be headed for hell in a handbasket, but conservatives are slowing the handbasket down.
The San Francisco Chronicle reported
, "The renaming of 44 schools in the San Francisco Unified School District is apparently being put on hold after intense local and national blowback.
"In a statement first released in the San Francisco Chronicle on Sunday, SF school board president Gabriela López said it would make reopening schools during the pandemic the only focus, and that renaming committee meetings will be cancelled for now."
Liberals tried to mock the blowback. That failed because the mob to rewrite history went too far in declaring Lincoln did nothing for black people.
The story said, "The school board approved three weeks ago the renaming of schools in seeking to exclude affiliations with racism, slavery, colonization and other troubled legacies. The namesakes included presidents Abraham Lincoln, George Washington and Thomas Jefferson; Democratic Sen. Dianne Feinstein and others. The historical explanations for removing their varied widely and were roundly judged as flawed."
Lincoln?
Really?
Then there was Mayor de Blasio's idiotic decision to close the ice skating rinks in Central Park in the middle of winter to get back at Donald Trump, who built them.
I wrote about that on Saturday
.
Once again, conservatives protested and won.
CBS reported
, "Two ice skating rinks in Central Park that are operated by the Trump Organization will remain open for the remainder of the season, CBS New York reports. The rinks were originally set to close Sunday at 4 p.m. because New York City is cutting ties with the Trump Organization due to the Capitol riot."
There was no riot and de Blasio planned to end the contract all along.
The problem is he has no one to take over the rinks.
CBS reported, "Families decried the move, with one skater pleading for more time."
De Blasio backed down.
"In a review of the Internal Revenue Service's use of a commercial platform that allowed the agency to track cellphones, the Treasury Department inspector general for tax administration said that a landmark 2018 Supreme Court case might preclude the warrantless tracking of criminal suspects through location data generated by weather, game and other apps. The report encouraged stricter controls on use of the data.
"Many government lawyers have concluded that the decision in Carpenter v. United States doesn't apply because it addresses data held by cellphone carriers that contain a subscriber's personally identifying information, rather than GPS location data drawn from apps, which doesn't."
The bad news is the government does not believe court rulings apply to it.
The good news is there are still people in government willing to risk their livelihood to stop this.
There still is hope for America, even in what Chairman Xiden calls a very dark winter.