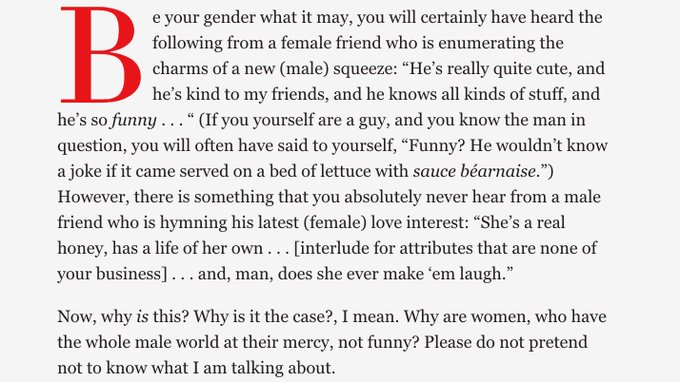 Bess Kalb, a comedy writer and author of "Nobody Will Tell You This But Me," proclaimed on Twitter that she got into comedy because she was angry.
She said, "In 2007 I was a college sophomore returning to campus from winter break and I picked up a Vanity Fair in Penn Station and read Christopher Hitchens' article 'Why Women Aren't Funny'" Here's how it began. This is a real article printed in a real magazine by a (formerly) real man."
(She posted the graphic I used above.)
Language warning because I am quoting a liberal.
She then said, "During the train ride from New York to Rhode Island, I became radicalized. I was a Poli Sci major who wanted to be a political speechwriter. By the time we got to Providence, I decided to drop out of college the following semester to intern for The Colbert Report. I did.
"Because I am an anxious Jew who is the daughter of two anxious Jews, I went back to college in the Spring of 2008 and finished my poli sci degree. But the entire arc of my career has been marching to the steady drumbeat of F*** That Guy. Fast forward to 2012.
"I got hired to write for Jimmy Kimmel Live. I was one of three women on a staff of over a dozen writers. At the time I was hired, there were more female supreme court justices than on every other major late night writers room combined (Letterman, Leno, Conan, Daily, Fallon)."
She went on and on about her career.
Her tweets proved Hitchens right because her tweets were all anger, no humor.
And Kimmel and Colbert just are not funny because they are too busy being politically correct. Their monologs are often diatribes. In the 1970s, we had one late night host. He was funny. Now we have 7 hosts. They aren't as funny because they make angry affirmative action hires.
But that is the plan, comrade, to replace humor with politics.
America is headed for Stalinism as the fascists remove fun from our lives. Consider Amendment 13 in Florida, in which 69% of the voters decided to ban greyhound racing beginning in 2021.
Chris Perkins of the Sun Sentinel attended the final races at the Palm Beach Kennel Club on New Year's Eve. 88 years of greyhound racing ended.
It was a beautiful report about people on the periphery of the entertainment industry losing their livelihood. The Florida vote was virtue signaling at its best because voters sacrificed someone else's fun to make themselves feel virtuous. They killed a sport that brought joy to a few thousand people.
His report began
, "Ewart Johnson, an 80-year-old West Palm Beach resident, was a bit melancholy Thursday afternoon as he scrutinized his racing form at the Palm Beach Kennel Club.
"It was the last day greyhound racing was legal in Florida, something that should represent a financial upturn for Johnson.
"'I lose my money every day,' he said with a smile.
"Still, Johnson, who has been going to the Palm Beach Kennel Club since 1987, couldn't shake his sense of loss.
"Although the mood was generally festive at the Kennel Club with live music, giveaways and plenty of racing, Johnson considered Thursday a sad day.
"And so did the 3,000 or so people who went to the venue on New Year's Eve. Regulars said it was the largest crowd in years. It figures it came on the final day the greyhounds were running."
***
Officially, the government killed the greyhound races for the sake of the dogs.
But the reality is people were having fun. And in the 21st century, fun is seen as a threat to the government. And so they close the bars, the comedy clubs, and the restaurants in the name of stopping a virus that relentlessly spread no matter what we did.