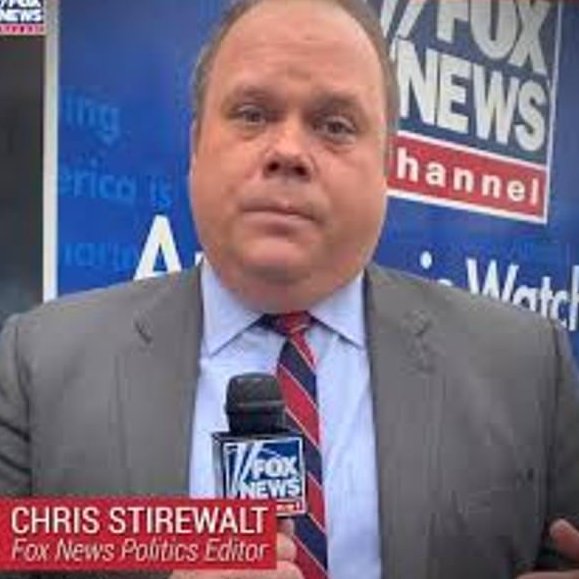 On Election Night, Fox was quick to call Arizona for Biden, which he barely, um, won, while not calling Ohio or Texas for President Trump, who won those states by 8 and 3 points respectively.
Fox viewers responded en masse by changing channels. Fox won Election Night bigly in the ratings, and has since fallen to third place ending a nearly 20-year run as the king of cable news.
Well, you diss The Donald, you suffer the consequences.
Business Insider reported
, "Fox News has reportedly laid off at least 16 staffers. They include political editor Chris Stirewalt, who defended the network's Arizona election call that angered Trump."
The man's a star!
Fox staffers screwed up because they wanted to impress their peers rather than inform their audience. The numbers at the time showed Donald Trump easily carried Ohio and Texas while it was close in Arizona. Fox should have just reported those facts.
But noooooooo. Fox had to be the first to call Arizona, a move that showed to many of us that the fix was in and Fox knew it. Democrats went on to take the election through mailed-in ballots that were in many cases not validated and delivered in the wee hours of the morning.
Viewers had every reason in the world to abandon Fox because Fox abandoned them. This was not the first time. Fox failed to recognize the damage to its credibility by Cavuto's caterwauling about President Trump's style, as well as Chris Wallace's sarcastically polite attacks on conservative guests.
Americans can get better sniping at Donald Trump on different channels that never tell the conservative side of the story.
So Fox is in trouble. Hahaha.
The Associated Press reported
, "Two of Fox News Channel's top news executives involved in the controversial — but correct — election night call of Arizona for Democrat Joe Biden are out at the network.
"Bill Sammon, senior vice president and managing editor at Fox's Washington bureau, announced his retirement to staff members on Monday. On Tuesday, as part of a restructuring of Fox's digital operations, politics editor Chris Stirewalt was let go.
"Fox's decision to call Arizona for Biden took the network's anchors by surprise and infuriated the White House, which believed the determination was premature.
"Stirewalt and Fox's decision desk chief, Arnon Mishkin, were the two most visible people defending the decision on the air amidst heat from President Donald Trump and his supporters. Mishkin, who worked the election on a contractual basis, is not a Fox employee."
***
Stirewalt will do OK. I worked with him at the Charleston Daily Mail. He is a smart if smarmy guy. He had a nice decade run at Fox, which sets him up for a big payday in public relations once the sting of being fired fades. Likely he already lined up something.
As for Fox, it is a mess. Roger Ailes set Murdoch up perfectly. Give viewers the conservatives spin on stories as a counter to the liberal spin offered by everyone else. It takes a certain suicidal striving to be stupid to screw that up.
But that is where Fox is.
And the de facto boycott leaves Fox unable to cut its biggest salaries because it would lose even more viewers.
The New York Times reported, "Prominent conservative pundits at Fox News who supported Mr. Trump, like Tucker Carlson and Sean Hannity, remain popular and are tied to the network under long-term contracts.
"Fox's corporate leadership has been scrutinizing the news division, which is led by Jay Wallace, the president and executive editor of Fox News Media, according to a person with knowledge of internal discussions. Fox News's daytime news programs, which often feature conservative guests but are helmed by anchors who do not report to the network's opinion side, have experienced a sharp loss in viewership."
The Times means the daytime anchors are liberals who are interchangeable with all the other news hosts on cable.
The only prime-time host changed was Martha MacCallum as her show was demoted from the 7 PM slot to 3 PM (Shep Smith's old hour). The Times rumored Maria Bartiromo will replace her. That likely would add a million or more viewers especially since the 7 PM slot's main competition has had to replace Alex Trebek.
Yes, Wheel of Fortune and Jeopardy own the 7 PM hour in most cities.
And that is what it boils down to. TV news is infotainment that treated the Trump presidency as if it were a rerun of The Apprentice. Legitimate doubts about the election were dismissed out of hand rather than investigated.
Viewers get the final say. And unlike politicians, networks cannot create viewership through the U.S. mail.