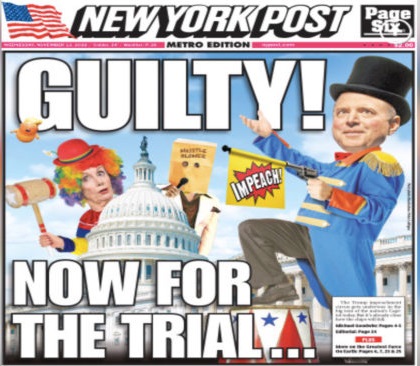 With toilet paper dragging from their shoes, Nancy and her band of grifters will walk to the Senate on Monday again to deliver their latest and final impeachment of President Donald John Trump.
Business Insider reported
, "The House will transmit the article of impeachment charging former President Donald Trump with incitement of an insurrection on the US Capitol to the US Senate on Monday, Senate Majority Leader Chuck Schumer announced on Friday. Importantly, as Axios pointed out, the Senate is constitutionally mandated to begin a trial for an impeached federal official by 1 p.m. on the day after the article is sent to them, meaning that Trump's trial will begin next week."
Schumer said, "I've heard some of my Republican colleagues argue that this trial would be unconstitutional because Donald Trump is no longer in office. An argument that has been roundly repudiated, debunked by hundreds of constitutional scholars — left, right, and center — and defies basic common sense."
His scholars should read the Constitution, which reserves impeachment for removing officials from public office.
Donald Trump holds no office.
What exactly does this impeachment mean?
Schumer said, "It makes no sense whatsoever that a president or any official could commit a heinous crime against our country and then be permitted to resign so as to avoid accountability and a vote to disbar them from future office. It makes no sense."
Crime?
What crime? He held a rally at the National Mall, just like Martin Luther King did.
And President Trump did not resign. His term ended. That is a big difference.
The impeachment makes no sense.
He has already left office. He won't seek office again because he does not want to go through the hassle again. He does not need the pension. Hell, he never spent his paychecks as president. He can get his own security without the Secret Service. History does not matter because nowadays history is written by liberal losers.
But this impeachment is not about Donald Trump.
This impeachment is about Biden, just like the last one was.
That first impeachment was to help coverup Biden's crime of withholding a billion dollars in aid for Ukraine unless they stopped prosecution of a company that paid his son a million bucks a year for a no-show job.
This impeachment is an attempt to legitimize the stolen election of Biden.
Everyone knows that the votes dumped at 3 AM the day after the election were bogus. Everyone knows Biden lost the election. Everyone knows the Supreme Court and Republicans in Congress chose to look the other way rather than risk provoking the Democrat mob of looters and rioters.
Hey, Barrett has 7 kids. She's not going to put their lives at risk just because someone wants to stop the biggest heist in American history.
Biden was installed as president, not elected.
Obama started at 67%.
Donald Trump started at 56%.
This loser starts at 48%.
Inauguration Day usually marks the highest approval rate as Americans accept the election results and rally behind their new leader.
Chairman Xiden cannot get half the country to acknowledge he won. He generates all the enthusiasm of Arbor Day.
To cover up the fact that few people would attend his inauguration, the military cordoned off the city. It was an eerie, dreary day when Chairman Xiden became president.
So now they go ahead with this impeachment, hoping once again to de-legitimize Donald Trump by putting him on double-secret probation. This is going on his permanent record, and Schumer will notify his draft board.
The nation struggles with an anemic economy, an insipid pandemic, and the depression that goes with a prolonged lockdown.
When the geriatrics from the House walk that impeachment to the Senate, they will signal to the American people that all Washington cares about is getting back at Donald Trump.
Phooey on everyone in Congress and Washington. Lock 'em all up in that swamp and don't let any of them out. Ever.