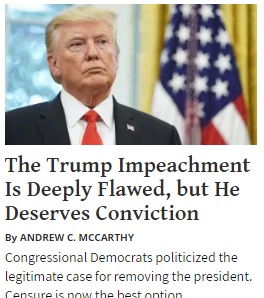 Five years ago, National Review divorced itself from conservatism with its conceited and self-absorbed Against Trump issue.
As Donald John Trump departs a presidency National Review tried to thwart, its staff is slowly recognizing that his successor is a bad guy. And so the staff protests.
In an editorial, National Review said
, "Joe Biden has not yet been sworn in, but already, he is at war with American energy — which is to say, at war with American prosperity. Biden has promised to sabotage the Keystone XL pipeline, a privately financed, multi-billion-dollar project already under way, and cancel it on his first day, according to a briefing document cited by the BBC.
"The Keystone pipeline would, if it were allowed to, carry crude from the oil sands of Alberta to Nebraska, where the pipeline would link up with the existing distribution network to send that oil on to refineries in the Gulf of Mexico. This would benefit Canadian producers and their investors, American refineries and their large, excellently paid work forces — those good, high-paying, blue-collar jobs Biden talks about — and, most important, American consumers, who would have access to yet another source of fuel at attractive prices from a nearby friendly country. This sort of thing is the point of international economic cooperation."
This is the price paid for opposing Donald Trump with a contempt and anger deeper than that held against Osama bin Laden.
Was there an Against Biden issue?
Compare the five years of constant rage against Donald Trump with the Keystone Cancellation editorial's admonition, "This is pure foolishness, and it will cost us."
As our liberties die to the applause of the media, Jim Geraghty of National Review is in denial.
He wrote
, "The Problem with Liberal Fantasies about Restricting Free Speech."
Note to Geraghty, the actual problem is those fantasies are becoming reality thanks in part to National Review's sellout of conservatism.
With no sense of irony, a subheadline in his column said, "Never Trump Columnist Forgets How the FCC and First Amendment Work." Geraghty referenced Max Boot.
Boot wrote in the Washington Post, "While we should expect better behavior from media executives, we shouldn't count on it. CNN (where I'm a global affairs analyst) notes that the United Kingdom doesn't have its own version of Fox News, because it has a government regulator that metes out hefty fines to broadcasters that violate minimal standards of impartiality and accuracy. The United States hasn't had that since the Federal Communications Commission stopped enforcing the fairness doctrine in the 1980s. As president, Biden needs to reinvigorate the FCC. Or else the terrorism we saw on Jan. 6 may be only the beginning, rather than the end, of the plot against America."
Geraghty's counterargument was nyah, nyah, nyah, the FCC does not regulate cable TV.
But Geraghty's factual error is minor. His big error is believing that after vigorously opposing Donald Trump's conservative presidency, National Review can now reclaim its previous role as a defender of conservatism.
Nope.
And opposing Biden once he is installed in office does not make National Review conservative again. They can no more regain their standing as the heirs to Reagan than Madonna can regain her virginity.
But they try.
Brad Palumbo wrote
, "A $15 Minimum Wage Doesn't Belong in a Covid Relief Plan."
He wrote, "There is little doubt that many of Biden's supporters earnestly believe a $15 minimum wage will help uplift struggling Americans. But as the Nobel Prize-winning economist Milton Friedman famously quipped, 'one of the great mistakes is to judge policies and programs by their intentions rather than their results.' And evaluated from this perspective, Biden's push to force through a $15 national minimum wage in the name of covid 19 relief fails woefully."
Well, Paul Krugman says it will work and he has a Nobel in economics, too.
Of course an economic policy change belongs in an economic policy plan. I am not arguing for a $15 an hour minimum wage. But its legality aside, the election decided the issue.
Never Trumping helped de-legitimize a conservative president. The refusal to ignore his style and embrace the substance of his accomplishments is one of the cruelest things anyone has done to conservatives in my lifetime.
It also is very dumb.
Democrats never give up on a candidate. They stood by Raphael Warnock even when it was revealed he was a wife-beating, anti-Semitic loony tune. He got elected to the Senate.
Meanwhile, Republicans toss senatorial candidates to the wolves at will. In the past decade, Republicans abandoned Christine O'Donnell, Todd Akin, and Roy Moore. I really do not want to hear Republicans whine about not controlling the Senate. They did this, not me.
National Review has not learned. It posted an editorial that defended Liz Cheney's vote to impeach a president whom the state she represents overwhelmingly re-elected two months ago.
Things will get worse without President Trump to take Washington on.
But at least National Review will provide comic relief with its continuing surprise to learn that Democrats are going to do what they said they were going to do. The Truth and Reconciliation Commission may eat National Reviewers last, but they will be eaten because you never trust a traitor.