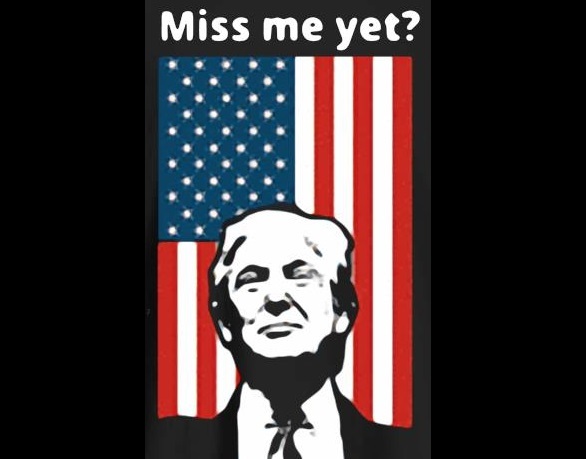 After obsessing over him in their every woken moment for the past 5 years, liberals face the terror of withdrawal as Donald John Trump has gone home to Florida.
He has lived rent-free in their heads for so long that they feel an emptiness.
She wrote
, "Post-Trump, what are you going to do with all of that freed-up space in your brain?"
Her subheadline read, "For five years an Orange Menace camped out in our brains. Now he's gone, what is possible? TV might have answers."
She pretended she was freed.
McFarland wrote, "Whether we wanted it or not, this person was squatting inside our brains. Now that he's gone, hallelujah, there's room up there. Glorious open square footage.
"What are you – what are we – going to do with that empty mind hole?
"Take time to think about that. Scratch that, take the weekend off from thinking about anything, since the guy who was living rent free inside your skull did a number on it, stomping on the upstairs floorboards morning, noon and night for five years, stealing your bandwidth."
He did nothing like that, of course.
He wouldn't know Melanie McFarland from Seth McFarland. She and millions of other liberals decided to devote their lives to thinking about him. There was a little bit of a stalker in them. Indeed, the president blocked McFarland from his Twitter feed because of her behavior.
But she wrote, "Even if you weren't on social media since he governed by tweet, he sneaked in to your thoughts by way of words tattooed on dead trees, radio waves, a friend's seething complaint. Predictably, he got worse, doing the equivalent of clogging up the plumbing and stripping the copper from the fixtures and wiring. He's gone now, but the place is a wreck."
Words tattooed on dead trees?
She is describing her brain and admitting that it is a wreck.
And she is calling for a brainwashing.
She wrote, "We all need a break.
"Once we've straightened out the place and taken scrub brushes and scouring powder to the corners, seriously, do come back to that question. What do we put in there? It is absolutely imperative that we come up with individual and collective answers. Recognize this is a multipronged question demanding creative responses on multiple fronts – sociopolitical, spiritual and cultural, for starters."
Ah, "individual and collective answers," comrade.
I had forgotten that communism is the opioid of the weak-minded.
She wrote, "Television has a way of touching all of these and impacting what we believe and the way we think, and sadly the fact that the previous administration happened at all proves this."
Ah, TV. The meth for the weak-minded.
Then she turned her column briefly into a unpaid ad for TV shows.
But she has decided to replace the Orange Menace with Trump supporters. She will obsess over them.
McFarland wrote, "However, to honestly answer the question of what to do with our mental penthouse requires thinking bravely and creatively not just about where we are, but how to positively stoke the possibility of where we can and should go from here.
"Lots of folks are suggesting what not to do again, advising well-meaning thinkers not to waste time digging for concrete data to explain why 74 million people voted for the hooligan who spent four years steadily beating reason and science to death and killing 400,000 Americans in the process. They don't want to acknowledge that the answer is obvious and ugly, and therefore very hard to solve and defeat in one or two swipes."
She wants to re-educate us with TV shows.
That's only been tried for 50 years when "All in the Family" debuted. Odd show. The only one who grew was Archie Bunker. Meathead and the rest kept their prejudices and biases.
And here we Archie Bunkers still are. We live and love and keep happy. We lost an election, which was stolen. None of us spend much time thinking about Chairman Xiden.
The Meatheads feel lonely. There is an emptiness inside them. They need something new to obsess about.
She ended her column by quoting Stephen Colbert who said, "How do you repair the past? Have we tried unplugging it and plugging it back in? Because that works with almost everything else.
"Rebooting is impossible. Repairing and redesigning, that we can do. For now, though, it's fine to know our mind space is ours again and blissfully sit with that. The keys to our attention have been returned. Please, let's not lose them again."
You know what would really work for Colbert?

If he tried telling jokes and stopped taking politics so seriously.
And you know what would work for McFarland and all the rest of her liberals?
Me neither.