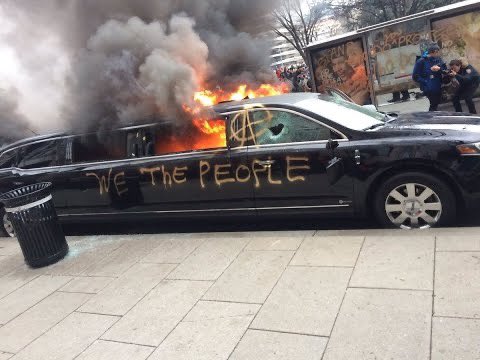 Donald John Trump is still our president. Just a reminder that while he was sworn in, Democrats actually rioted in Washington DC damaging stores and ruining Larry King's rented limo. The media promoted this as a Resistance.
Purported billionaire Jack Ma criticized Red China this fall and no one has seen him since. The Epoch Times said the official word is Ma went into "voluntary supervision."
Ma is not a billionaire because to be rich you have to be independent, and he cannot leave Red China and live elsewhere. This means he has all the independence of a Uighur slave.
His lot in life was to pose as a billionaire to foster the belief that Red China has converted from communism to capitalism.
"'We believe the risks of allowing the President to continue to use our service during this period are simply too great. Therefore, we are extending the block we have placed on his Facebook and Instagram accounts indefinitely and for at least the next two weeks until the peaceful transition of power is complete,' Facebook co-founder and CEO Mark Zuckerberg wrote."
If they can do this to Our President, no one is safe.
We are all Jack Ma now.
They need 1,495,709 signatures to trigger a special election.
The deadline is March 10.
" 'At 9:00 a.m. this morning we began erecting a seven-foot non-scalable fence' from Constitution Avenue to Independence Avenue and from First Street to somewhere near a pond in front of the Capitol. The fence will remain up the next 30 days at a minimum."
I thought Democrats said we should be building bridges, not walls.
I thought the media told us walls were racist.
I thought the federal courts told us you have a right to protest at the Capitol.
I know God gave you that right.
"Images of a mob scaling walls, breaking down fences, and storming the seat of the country's Democracy have led to criticism that the Capitol Police should have been better prepared for the possible assault."
That should raise serious questions, but the people in Washington are, by and large, unserious.
Which is why the nation is in serious trouble.
"Babbitt was shot in the neck at almost point blank range during yesterday's chaos in DC during the storming of the Capitol building.
"Footage of the shocking incident clearly shows that non-lethal measures could have been used against Babbitt, who served her country during a 14 year stint in the Air Force.
"The officer who shot Babbitt, who was wearing a suit and positioned inside the Senate chamber when he opened fire, has now been suspended pending an investigation."
The officer has the right to a presumption of innocence.
But we also must investigate this killing.
"The wild scene took place as lawmakers debated certifying the electoral votes from Pennsylvania."
The story also said, "Remarkably, this near-fight took place late into the night where lawmakers spent countless minutes preaching to the American people about unity and coming together."
Well, who would expect any different?
Our elected officials sound the alarm about climate change, and then fly across the globe.
Our elected officials preach lockdown, and then take their family to a French restaurant.
Now this.
Ross Douthat of the New York Times tweeted back, "Like I said earlier, it's hard for people caught up in it to acknowledge that political breakdown is an iterative, escalatory process, which is how the worst riots in decades get described as a broken window at a Jamba Juice."
Do we call them jillboots when a woman wears them?
"The resolution, which was introduced by Rep. Greg Steube (R., Fla.) late Thursday morning, condemned Floyd's killing at the hands of police, calling it 'inconsistent with the values and conduct expected of law enforcement officers.' The resolution also supported peaceful protesters, but it noted that protests have been "exploited by violent extremists' carrying out 'acts of violence, looting, destruction of business and personal property, and additional loss of life.'
"Rep. Jim Jordan (R., Ohio) spoke in favor of the resolution, arguing that while Floyd's death was 'wrong as wrong could be,' there is a 'big difference between peaceful protest and rioting.' Jordan also spoke against defunding the police, calling it 'one of the craziest public policy proposals I have ever seen.'
The story also said, "No House Democrats voted in favor of Steube's resolution. Rep. Justin Amash (I., Mich.) voted with Republicans to support the measure."
Republicans should have returned the favor on Wednesday and refused to condemn anyone because no Democrat has yet to condemn the riots they incited.
" '@AOC's Comms Director here. Right-wing accounts are taking the last tweet from this old thread on the 'defund' mvmnt & twisting it to imply AOC supports violence like what's happening at the Capitol. We asked @Twitter to stop the misinfo, but as we wait, you can help with a RT,' she wrote on Twitter."
How dare we quote her in full and in context!
4 years later, there are still Freaks of Nature who refuse to accept the results of the 2016 election.
"Tesla stock increased by 7.94% on Thursday pushing Musk's net worth above Amazon CEO Jeff Bezos, who had been the world's richest person since 2017 with a current net worth of about $184 billion.
"Acting as CEO and product architect of Tesla, and founder and CEO of SpaceX, Musk began 2020 with a net worth of about $27 billion, placing him barely among the 50 richest people in the world."
I vote for him to be the person most likely to be Jack Ma-ed under Xiden (as a reader calls him), right behind the Family Trump.
"The deferred prosecution agreement closes the DOJ's roughly two-year probe and drops all charges after three years if there aren't additional violations."
You kill 346 people and nobody goes to jail. That works out to just under $7.3 million a person.
Send a CEO to prison for a couple of years and you can just about guarantee no CEO in any company will risk anything like this ever again.
They are passing the buck, because the story also said, "More than 17.2 million doses of vaccine had been distributed as of Wednesday, according to the Centers for Disease Control and Prevention, but just over 5.3 million doses have actually been administered. That's far short of previously stated goals by federal officials of vaccinating 20 million people in December."
I don't expect instantaneous vaccinations, but if you have administered only one-third of the dosages received, you have no reason to complain about supply problems.
45% of Republicans supported the DC rally. 43% did not.
Screw everyone else. I am serious. We should not care what the monkeys in the media and other Democrats think.
Let us compare.
Cities where BLM protesters torched and looted stores: Albuquerque, Baltimore, Chicago, Minneapolis, New York, Portland, and Seattle.
Cities Trump supporters damaged: NONE.
The real threat to our constitutional republic is a press that calls a rally an insurrection, and riots "mostly peaceful protests."
Great line.
In this case Bluto is Bill Barr.
All the pearl clutching is aimed at virtue signaling. Democrats hope to incite an impeachment and removal for inciting a riot. That way, President Trump cannot run again.
Inspector Bluteau couldn't find voter fraud in a fraud house much the same way he couldn't find a whore in a whorehouse, but he is conflating a group from the public going inside a public building with a riot. He just wants to top Kellyanne Conway's $2 million advance for her tell-all book.