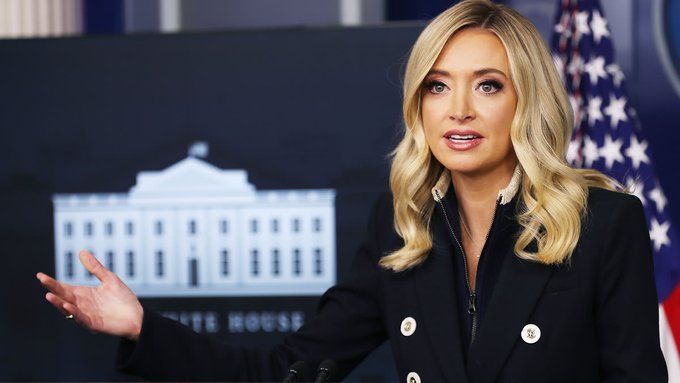 Foxy Lady may return to Fox.
ITEM 1
:
Hugh Hewitt said
, "A Salon story Friday tried to slander Senator Tom Cotton as claiming to be a Ranger when he isn't a Ranger. Senator Cotton is, in fact, a Ranger.
"Cotton, whom I have interviewed almost weekly since 2012, has often described himself as Ranger, a combat veteran deployed to Iraq with the 101st Division, to Afghanistan with a Provincial Reconstruction Team, and as a former member of The Old Guard at Arlington National Cemetery.
"I'm just a civilian but I know that while almost every member of the 75th Ranger Regiment is a Ranger, not every Ranger has served in the Ranger Regiment. You are a Ranger if you graduate from Ranger School. End of story."
Yep.
The same clowns who demand we call Jill Biden a doctor when she is not, are denying Cotton an honor he earned.
ITEM 2
:
Just the News reported
, "Larry Kudlow is going to host a weekday television program on the Fox Business Network.
"In addition to being signed by Fox News Media to do a television show, Kudlow, who during a portion of the Trump administration served as Director of the National Economic Council, has also been signed as a contributor."
The Hill reported
, "Former White House press secretary Kayleigh McEnany in financial disclosure documents published Tuesday indicated that she had an agreement in place to join Fox News this month, but a source familiar with the matter says those discussions are now paused."
Liberals are screaming foul because of ethics.
Clinton's press secretary is the morning anchor on ABC.
Fox should tell its critics to take a hike.
"The company announced that it is starting a new 'watchdog' group to combat 'misinformation' on its popular social media platform."
In the 1960s, Kraft bragged about its Kraft Kitchens where they developed new recipes for Velveeta.
Now we have Twitter Tower, which develops new ways to censor the truth.
ITEM 4
:
Bloomberg reported
, "Rupert Murdoch, the billionaire mogul behind Fox News, took issue with the silencing of debate on social media, saying censorship had hobbled discourse with 'awful woke orthodoxy.'
"Murdoch, 89, made the rare public remarks during a brief video to accept a lifetime achievement award from the Australia Day Foundation. The clip was posted online by the Herald Sun, owned by the media mogul's News Corp."
He said, "For those of us in media, there is a real challenge to confront. A wave of censorship that seeks to silence conversation, to stifle debate and ultimately stop individuals and societies from realizing their potential."
What is so challenging?

Tell the truth, and stand up to censors.
ITEM 6
:
Ace reported
, "Pat Leahy Presides Over First Step in Trump's Impeachment, Then Is Rushed to the Hospital."
Say a prayer for Leahy because even the most despicable people on Earth are worthy of God's love.
ITEM 7
:
Trending Politics reported
, "According to author, editor, writer, communications expert and former White House Press Office stenographer Mike McCormick, Biden's mental capacity is down by 50%.
"The comments from McCormick came during an interview with Steve Bannon on War Room Pandemic."
It's elder abuse.
And face it, this is common in Washington. Strom Thurmond, Bob Byrd, Daniel Inouye, Ted Kennedy, and Ruth Ginsburg all died in office long after they should have retired. They hung on while their staff did the work. It is pathetic and a sign of the decline of a great nation.
ITEM 8
:
Leah Barkoukis reported
, "Former Acting Director of National Intelligence Richard Grenell believes that the person calling the shots in the White House is not the president or vice president, but rather, Susan Rice."
Well, Rice surely meets all the Democrat qualifications for the job. She is proficient in lying, corrupt and willing to spy on opponents.
ITEM 9
:
NPR reported
, "Last year, an alarming increase in homicides left communities — often in lockdown — reeling as officials searched for answers. That was evident at lots of news conferences as police officials and mayors in Chicago, Los Angeles and New York City rolled out dire news.
"At the end of 2020, Chicago police reported more than 750 murders, a jump of more than 50% compared with 2019. By mid-December, Los Angeles saw a 30% increase over the previous year with 322 homicides. There were 437 homicides in New York City by Dec. 20, nearly 40% more than the previous year."
Not mentioned in the story were the BLM/Antifa riots which blew the lid off efforts to contain crime.
Just blame covid 19 because the truth can get you blackballed in the media..
And the number of people killed by sharks last year was (drumroll, please):
10.
That's worldwide.
ITEM 11
:
National Review reported
, "A federal judge in Texas has blocked President Biden's executive order halting deportations of some illegal immigrants.
Biden signed the order halting deportations for 100 days on January 20, several hours after his inauguration, as part of a blitz of executive orders aimed at undoing Trump administration policies. Texas Attorney General Ken Paxton subsequently sued the Biden administration to reverse the order, citing an agreement between the Department of Homeland Security and Texas requiring the state's approval to halt deportations.
Judge Drew Tipton of the Southern District of Texas blocked the implementation of Biden's order on Tuesday for a period of 14 days. Tipton said that the delay was appropriate according to the Administrative Procedure Act of 1946."
A Trump judge.
Their rules, our turn.
ITEM 12
:
Ace reported
, "Rand Paul Moves to Stop the Sham Impeachment Trial as Unconstitutional, but Five 'Republicans' Defect to the Democrats -- And It's Not the Ones You'd Guess
"Just pulling your leg -- it is exactly the ones you'd guess. Mitt Romney, Ben Sasse, the Abortion Twins, Susan Collins and Lisa Murkowski, and liberal Pat Toomey.
"Ron Paul moved to set aside the impeachment because the Constitution specifies that federal officers can be removed from office via impeachment -- obviously, private citizens cannot be removed from offices they do not hold.
"The National Review Five voted with the Democrats -- as usual -- to table the motion to end the sham."
If the Senate were 51-49, one of them would have flipped Democrat to give their real party the majority.
Kick them out of the caucus already.
ITEM 13
:
Newsweek reported
, "The president of a literary agency based in New York City said Monday on Twitter that one of the agency's employees was terminated after her use of conservative social media sites Parler and Gab was discovered.
"Colleen Oefelein, who identified herself on Twitter as an associate literary agent with the Jennifer De Chiara Literary Agency, appeared to confirm her termination in a tweet on Monday morning."
It's not censorship, they said. Start your own Twitter, they said.
Get a good lawyer, I say.
ITEM 14
:
Page Six reported
, "Actor Elliot Page has filed for divorce from wife Emma Portner, new court records show.
"The 33-year-old Juno star — who recently came out as transgender — filed for a contested divorce Tuesday in Manhattan Supreme Court."
For those of you keeping score at home: 1. Ellen Page came out as a lesbian and married Emma Portner. 2. Ellen Page then became Elliot Page. 3. Elliot Page then divorced his wife.
You know you have made it in Hollywood when your personal life is more entertaining than your movies.
ITEM 15
:
The Washington Times reported
, "The Pentagon is eyeing the possibility of using three sites in Saudi Arabia as key staging areas in the event of war in the Middle East, officials said Tuesday in another sign that the U.S. military expects tensions with Iran to remain high for the foreseeable future.
"U.S. Central Command (CENTCOM) officials said they have already conducted test runs at the Yanbu port, including the unloading and shipping of cargo from the facility. The military also is examining King Faisal Air Base in Tabuk and King Fahd Air Base in Taif.
"The Wall Street Journal and Defense News, which have reporters traveling with military officials in the region this week, first reported the Pentagon plan. Officials described it as an ongoing effort that began a year ago, and they said that Saudi Arabia already has paid for some upgrades to the facilities."
Iraq War III.
ITEM 16
:
The Decider reported
, "Meghan McCain is taking Katie Couric to task for suggesting that members of 'the cult of Trump' need to be 'deprogramed' after the insurrection at the U.S. Capitol. On Monday morning, The View's resident conservative railed against Democrats who have labeled the 74 million Americans who voted for Trump as 'irredeemable,' even as they campaign on a platform of unity. 'If we're all just deplorable and need to be deprogrammed,' said McCain, 'Then, honestly, they can go to hell!' "
What does she mean by we.
She never voted for Donald Trump.