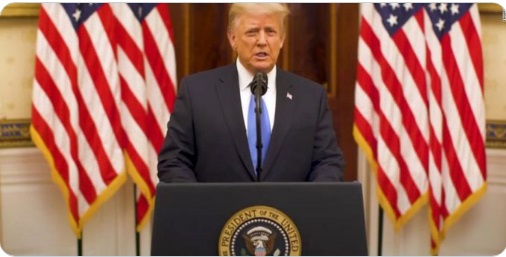 Only 11 months until Christmas. Maybe if you order them now, the presents will arrive by Christmas this time.
ITEM 1
:
KASW reported
, "Arizona Governor Doug Ducey, former Senator Jeff Flake, and Cindy McCain have all been censured by the Republican party during the party's annual GOP meeting on Saturday."
They supported the Democrat in the 2020 election.
Ducey's spokesdouche said, "These resolutions are of no consequence whatsoever, and the people behind them have lost whatever little moral authority they may have once had."
Don't wait for the primary. Recall.
Put the fear of the electorate in Ducey, and watch the rest fall in line.
The attorney general, acting or otherwise, serves at the will and pleasure of the president.
We have people who do not know this basic constitutional principle reporting the news.
The story said, "With President Joe Biden in the White House, progressives are pushing for universal student loan forgiveness. New data from the Department of Education provides an excellent snapshot of how badly targeted student loan forgiveness would be. This new data gives us the most detailed view into the roughly $86 billion in student loans taken out by students who graduated and started repaying their loans in 2016-17 and 2017-18.
"The data make clear that student loan forgiveness provides massive windfalls to the well-off. The field with the most loan forgiveness per borrower is dentistry, where the average borrower would offload $250,000 of debt onto taxpayers. Borrowers in the field of medicine would have an average of $174,000 forgiven. And borrowers in law would have an average of $119,000 forgiven.
"Progressives often portray themselves as fighting against attempts by the rich and powerful to hijack public policy to enrich themselves at taxpayers' expense. So why, in the name of fighting for the oppressed, are they trying to send well-compensated dentists, doctors, and lawyers six-figure checks? While there are certainly dentists, medical doctors, and lawyers who are struggling with debt, many others are lavishly compensated and can afford to repay their loans."
Of course, six-figure checks are not as common as people think, and the hours put in start at 60 per week.
This post-election story greases the skids for Chairman Xiden to renege on a promise to Bernie Bros.
But society is better served by $174,000 loans for medical school to doctors than $20,000 loans for college to BAs because most jobs BAs take really don't need someone with a college degree. Meanwhile, America does not have enough doctors to go around and must import them from Asia and elsewhere.
"The First Works Baptist Church in El Monte, California, just east of downtown Los Angeles, was shaken by a blast in the early morning hours Saturday, according to the FBI. When responding to the scene just after 1 a.m. local time there was smoke coming out of the windows and the outside of the church was covered with graffiti, the Los Angeles County Fire Department said."
Wow.
The story also said, "The Southern Poverty Law Center, which tracks hate groups, labeled First Works Baptist Church a hate group in 2019 for its anti-LGBT stance."
A defamation and RICO lawsuit against the SPLC may be in order. I await the completion of the investigation.
The state relies on melting snow packs to provide water in the summer.
It never rains in Southern California, but it snows. Man, it snows.
"But for the United States, the real value in this report is as an advisory that it need not join the Paris Climate Accord. This report is evidence that, instead, the U.S. should just keep doing what it is doing to cut its own emissions. The U.S. is the most successful major country at mitigating its own pollution, and the U.N. shows this."
The reduction is not due solely to the pandemic panic. The USA's production of carbon dioxide fell under President Trump, the best president for the environment since Richard Nixon.
"Bosses at Disney have blocked anyone under the age of seven from watching the 1953 animated classic on its streaming service over concerns that it portrays racial stereotypes, The Mail on Sunday can reveal.
"Three other long-standing family favorites – The Aristocats, Swiss Family Robinson and Dumbo – have also been removed from children's accounts for breaching 'content advisories' that were recently put in place."
The Mail-It-In presidency, just like his election theft.
"Other data on Friday showed an unexpected increase in sales of previously owned homes in December. Manufacturing and the housing market are helping to anchor the economy, which is being battered by a wave of coronavirus infections. But the pandemic is causing labor shortages at construction sites and factories, which could erode some of the strength in the manufacturing and housing sectors.
"Data firm IHS Markit said its flash U.S. manufacturing PMI accelerated to a reading of 59.1 in the first half of this month, the highest since May 2007, from 57.1 in December.
"Economists had forecast the index would slip to 56.5 in early January. A reading above 50 indicates growth in manufacturing, which accounts for 11.9% of the U.S. economy. Manufacturing is being supported by businesses rebuilding inventories and a shift in demand towards goods from services because of the pandemic."
President Trump left the Pretender a great economy.
We will see how Chairman Xiden screws it up.
"Well, that was then and this is now. It appears the e-commerce juggernaut's enthusiasm for the practice has cooled now that unionization is on the ballot.
"In a stunning reversal, the Washington Post's Jay Greene reports that Amazon is appealing the National Labor Relation Board's ruling to 'allow roughly 6,000 workers to take seven weeks, starting Feb. 8, to cast their ballots by mail to be represented by the Retail, Wholesale and Department Store Union.' The RWDSU filed their petition in November 'with the NLRB to hold the Amazon unionization vote.' "
Forget learning to code.
Republicans need to learn to ballot harvest.
"Lauren Wolfe, a freelance editor for The Times' Live page and a journalist who has written elsewhere about violence against women and girls, was reportedly terminated by the paper after she tweeted late last week 'I have chills,' accompanied by a photo of President Joe Biden's plane landing at Joint Base Andrews. Reporter and popular Twitter personality Yashar Ali late Friday broke the news on the platform, connecting Wolfe's firing to the tweets and the negative reaction to them by supporters of Donald Trump and right-wing ideologies."
I bit on this nonsense in Saturday's highlights (since updated) and I apologize.
The spin by Yashar Ali makes no sense. Who are these conservatives who would care about some feminist fashion writer tweets?
If it looks too good to be true, it is.
He wrote, "They have, after all, raised more than $87 million in their short existence, much of which has gone to their board members or their board members' firms. The firms of Ron Steslow and Reed Galen (the project's treasurer) alone appear to have received more than half of the money The Lincoln Project has ever raised. The NeverTrump schtick seems also to have saved co-founder Rick Wilson from dire financial straits. And their anemic political careers have been salvaged too, pulled from the wreckage of failed campaigns past (John McCain, Jon Huntsman, John Kasich, Evan McMullin)."
Of course they grift.
They are the liberal wing of the Republican Party. Liberals are only in it for the money.
"On his first day in office, Mr. Biden proposed a broad immigration bill that would create an eight-year path to citizenship for the 11 million immigrants living in the country without a permanent legal status. It would have an expedited pathway for farmworkers and the young immigrants known as Dreamers, along with changes to the legal immigration, refugee and asylum systems.
"It proposes adding more technology to monitor people and drugs at the border—though no new barriers—along with $4 billion in aid to Central American countries to help stem the extreme poverty and gang violence that has prompted so many migrants to leave.
"Unlike previous compromise bills, Mr. Biden's proposal lacks the countermeasures of increased security or deterrence at the border that Republicans have asked for in exchange for legalization.
"Some Democrats say they can rally around an immigration-reform package that makes no concessions. But the approach is likely to quickly run into opposition from Senate Republicans, at least 10 of whom would need to support a measure for it to clear the Senate's 60-vote hurdle for most legislation."
He will get his 10.
He has boatloads of greenbacks to spread around.
Their outreach program consisted of impeaching a Republican president twice, calling Republicans Nazis, and threatening to expel 2 Republican senators.
He's either going to nuke the San Andreas Fault and make Las Vegas a coastal city, or he's going to marry Eva Gabor and move to Hooterville.
But there are tax write-offs in them thar hills, too.
She said hold my beer.
Couric tried out for the opening to succeed the late Alex Trebek as host.
Then she went on the Bill Maher show and dumped on Jeopardy's main audience of old conservatives.
The only deprogramming will be when they air the shows she hosts on Jeopardy because we won't watch de program.
"Ms. Sanders will be running for a seat her father, Mike Huckabee, once held, and she is seen as the preferred candidate of Mr. Trump."
This is good news.
If true.
It's the Times, after all.
"Just one in five Americans have a great deal of confidence in President Biden's ability to make good on his goal to unify the country, according to a new poll released Sunday.
"While 22% said Biden will unify the country, 24% remained highly skeptical, saying that they have no confidence at all that he will be able to do so, the ABC News/Ipsos poll found."
But we are united on the question. Most of us believe Chairman Xiden cannot unite the country.
"The Biden Administration is actively searching for ways to fund its ambitious $1 trillion infrastructure plan.
"Buttigieg, the former mayor of South Bend, Ind., acknowledged "privacy concerns" related to implementing a vehicle miles traveled system but said it should be considered as a potential replacement for the gas tax. "
It is not about a tax.
Washington no longer needs taxes because it just prints up however much money it wants to spend.
This system is about monitoring where people drive and when.
Build on abortion?
The only way you build on abortion is by adding eugenics.
Trump supporters are the first on their list.
"Uncle Gary, 67, who pleaded guilty to drug conspiracy charges in 1984 but served no prison time, never expected to receive a pardon from Trump.
"For good reason: He never actually requested one from the 45th president.
"He did, however, send a nearly 90-page pardon application to the Obama Justice Department in 2016. But it seemed to have been all for naught."
Hendler is a radio talk host but of more importance, a former addict who has helped others recover over the last 30 years.
Oh, and Hendler voted for Chairman Xiden.
"Several companies have decided not to buy Super Bowl time, some for the first time in over a decade.
"The reason? According to the New York Post, the talk from insiders is that members of multiple boardrooms are finally coming to realize that they're going to infuriate half the country no matter what they do.
"In recent years, advertisers were thrilled to push the Black Lives Matter and Antifa ideologies or to push transgenderism and the #MeToo movement. But this year, not so much."
Offending half the country is OK, except in this case, they offended the half that actually buys their products.
Occasionally a liberal informs me that my opinion is in error. Well, that is clever, isn't it?
One reader confounded me with this email, "Washington Post made an error allowing you to post misinformation."
I wrote back, "OK, that went straight over my head. If you are going to insult me, dumb it down so I can understand it."
I want to thank readers for their help in pointing out my errors. Even this guy.