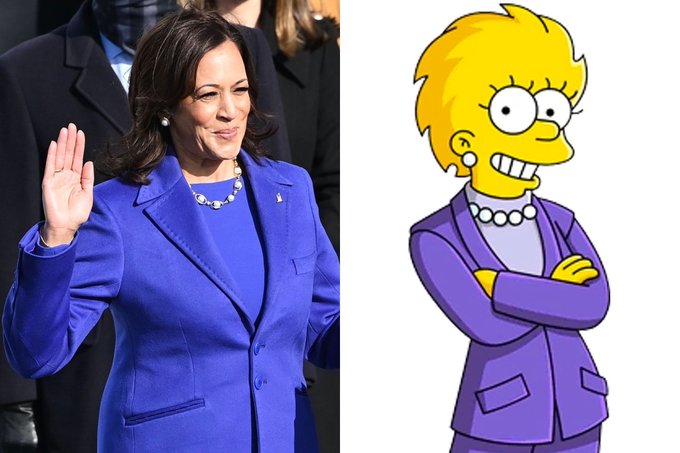 Who wore it better?
"Progressives portray Chavez as a heroic Latino who fought to win legal rights for foreign-born Latinos.
"But Chavez is a hero to American solidarity activists because he and his allies fought the farm industry's relentless campaign to import cheap labor instead of hiring Americans at decent wages."
Chavez was right.
By the way, can I start eating grapes again?
"Language in the order would allow transgender women to participate in women's sport leagues."
Progressives now place fake women above real women, dismissing the latter as trans-exclusionary radical feminists, or TERFs.
So after six decades, radical feminism has taken women from serfdom to TERFdom.
Don't tell me we confirmed President Trump's judges just so they can sit on the sidelines toasting marshmallows while the Constitution burns.
Attention Never Trumpers: You are not excluded from the punishment.
"And all I can say as I stand here now in the freezing cold with a handful of others is that I hope America never has to see anything like this again. Nothing is as it seems. It is just horrible, in every sense.
"There is no one here. And I am not saying that in the weird competitive way people talk about crowd sizes as a measure of popularity. Remember the endless quarrel over the size of Trump's inauguration crowd versus Obama's?
"What I mean is that there is literally no one here. Even pressed up to the gates within sight of the Capitol Building there is barely a handful of Biden supporters -- alongside a small gaggle of media, scratching about, trying to find something to film.
"Residents with the means to do so have moved out. Others stay locked in their homes. And visitors heeded the fear-mongering and stayed away. I was called 'a moron with a death wish' for traveling here to document this event. And even though it is perfectly safe, no one is here to bear witness to this event."
It is called martial law.
Soldiers patrol the streets as Washington becomes Pyongyang West.
He had video.
If they think that's bad, wait till her lawyers get hold of the story.
"One unit, which had been resting in the Dirksen Senate Office building, was abruptly told to vacate the facility on Thursday, according to one Guardsman. The group was forced to rest in a nearby parking garage without internet reception, with just one electrical outlet, and one bathroom with two stalls for 5,000 troops, the person said.
" 'Yesterday dozens of senators and congressmen walked down our lines taking photos, shaking our hands and thanking us for our service. Within 24 hours, they had no further use for us and banished us to the corner of a parking garage. We feel incredibly betrayed,' the Guardsman said.
"Politico obtained photos showing the guard members packed together in the parking garage, sleeping on the ground."
Pelosi and Leahy (president pro tem) should publicly apologize in a letter asking commanders to remind Guardsmen that legislators are not in their chain of command.
He is a good man whose loyalty was a bright spot these last 4 years. He's back home again in Indiana.
In the eyes of these loons, anyone who did not vote for Chairman Xiden is worse than Osama bin Laden. It would be funny if they did not have nukes.
"Psaki was asked at a White House press conference why Biden on Wednesday night was observed maskless while attending an event at the Lincoln Memorial, something that would appear forbidden under the mask mandate Biden himself had implemented via executive order just hours before."
So much for leading by example.
The minority leader said, "When the articles arrive, the House Managers would exhibit (read) the articles to the Senate, Senators would be sworn in as Members as the Court of Impeachment, and would issue a summons to former President Trump. While we do not know what day the Managers will choose, Leader McConnell has asked for this to occur on Thursday, January 28.
"Former President Trump would have one week from that day to answer the articles of impeachment (February 4). The House's pre-trial brief would also be due then.
"The President would then have one week from the day he submits his answer to submit his pre-trial brief (February 11). That means former president Trump has 14 total days from when we issue the summons to write his pre-trial brief. The House would also submit its replication on this date.
"The House would then have two days to submit their rebuttal pre-trial brief (February 13).
"This approach tracks the structure of the Clinton and Trump pre-trial processes.
"The periods between due dates are longer than in 1999 or 2020, but this is necessary because of the House's unprecedented timeline."
President Trump should demand more time for discovery, the interviewing of witnesses, and the filing of pre-trial motions. Unlike 1868, 1999, and 2020, there is no rush to convict the president because he already is out of office.
Also, there is the matter of who presides over the trial. The Constitution requires Chief Justice John Wayne Gacy Roberts to preside. He does not want to. Surely the president has the right to file a writ of mandamus to order Roberts to do his job.
Make the impeachment as uncomfortable and politically expensive to McConnell and Schumer as possible.
"As Australian legislators continue to debate the controversial law – which would compel internet platforms to hand over a cut of revenues to press agencies for sharing their content – Google stepped into the fray on Friday, insisting the move would make its operations unfeasible in the country."
Once upon a time, countries could ban companies.
Thanks to Tim Blair, I do have Australian readers.
The charges are lunacy and an attack on free speech.
Democrats are having a nervous breakdown. I believe they lost the election and know it.
"The employee, Tre Brown, 19, obtained more than 40 refunds on several credit cards for merchandise that he falsely claimed had been returned to a Kroger in Duluth, Ga., the police in Gwinnett County said.
"The transactions ranged in value from $75 to more than $87,000, according to the police, who said that the fraud scheme was carried out over two weeks in December and January while a supermarket compliance officer was away."
Didn't Richard Pryor already do this in Superman III?
"The country of 10 million people has this week been breaking daily records in virus death tolls, with 221 fatalities in 24 hours announced Thursday by the national health authorities.
"On Wednesday, Portugal hit a record 14,647 new cases in one day."
Fox has already declared the winner.
"According to a field report from northeastern Syria on Thursday, the U.S. military convoy entered the Al-Hasakah Governorate from neighboring Iraq, as they were observed entering the Arab Republic via the Al-Waleed Crossing."
Donald Trump was the first president in nearly half a century not to start a war.
This is the legacy the deep state most wants erased.
"It remains to be seen whether or not the bill will wind up receiving a vote when the Oklahoma legislature meets on February 1st as, similar to what happened with a Washington state bill aimed at putting Sasquatch on license plates, it could get stuck in the bureaucratic process. Be that as it may, should be resolution pass, it would go into effect on November 1st, 2021. As one might imagine, response to the bill has been mixed with some residents considering it an embarrassing waste of time and others recognizing it as a clever joke which could generate some tax dollars by way of people buying the novelty Bigfoot hunting licenses."