We used to call the Capitol the People's House.
Then again, we used to call America the land of the free.
Seasons change.
ITEM 1
:
CBS reported
, "President Trump signed an executive order Tuesday that recognizes veterans who served at a toxic military base in Uzbekistan and mandates a comprehensive study of any health consequences related to toxic exposure at the base.
"The move in the final hours of Trump's presidency comes after a six-month CBS News investigation prompted Acting Defense Secretary Chris Miller to draft an executive order for the president's consideration and a bipartisan Congressional investigation into the cases of sick service members who served at Karshi-Khanabad, or K2, after 9/11."
This happened in Bush 43's first term.
16 years later, we finally address the problem, thanks to Donald Trump who did more for veterans than Bush or Obama.
ITEM 2
:
The Daily Beast reported
, "Hours after Fox News anchor Chris Wallace heaped praise upon President Joe Biden's inaugural address, his network colleague Greg Gutfeld roundly mocked the Fox News Sunday moderator's remarks and, of course, tore apart the new president's speech.
"Immediately following Biden's speech, in which he called upon Americans to 'end this uncivil war,' Fox News viewers were greeted Wednesday afternoon with Wallace labeling it 'the best inaugural address I have ever heard.' "
Wallace is a liar because he was old enough to hear the JFK inauguration.
Gutfield calling him out comes on top of Tuesday's purge in which management dumped about a dozen people in the Washington bureau. Wallace is managing editor of that bureau. I would have shown him the door, too, and saved $7 million and my network's reputation.
ITEM 3
:
Clayton Keirns reported
, "While the media gushes over Joe Biden at an empty Inauguration in DC, hundreds of adoring supporters welcomed President Trump at his new home in Florida.
"As he drove by in the motorcade, Trump gave a huge thumbs up to the cheering crowd."
The Donald may never again seek public office, but he won't go away.
Thank goodness.
ITEM 4
: The New York Times reported, "More than 200 protesters wearing black apparel gathered in Portland, Ore., on Wednesday afternoon, marching against the government, the police and President Biden, and smashing windows at the local headquarters of the Democrat Party."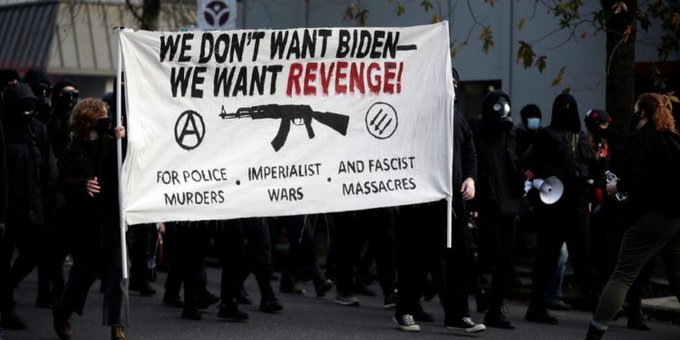 Bring the country together?
Chairman Xiden cannot bring his own party together.
However, the tanks will roll and Antifa will be first because they served their purpose.
Buh-bye.
ITEM 5
:
The Associated Press reported
, "A man accused of using an ax to smash windows at the entrance of Republican North Dakota Sen. John Hoeven's office in downtown Fargo has been indicted in federal court.
"Court documents unsealed Tuesday charge Thomas Starks with injury or depredation against government property for allegedly causing the damage discovered by staffers on Dec. 21. Starks, of Lisbon, about 75 miles southwest of Fargo, has also been charged in state court with criminal mischief."
Ax not what your country can do for you.
Ax what you can do to your country.
ITEM 6
: Jen Psaki held her first briefing as presidential press secretary.
REPORTER: "Will [Biden] keep Donald Trump's Air Force One color scheme change?
PSAKI: "This is such a good question!"
Then Psaki placed a Gold Star next to the reporter's name, and the reporter beamed.
The reporter virtually asked what's his favorite color?
ITEM 7
:
CNN reported
, "President-elect Joe Biden has nominated Dr. Rachel Levine to serve as assistant health secretary, and she would make history as the first out, transgender federal official to be confirmed by the United States Senate, according to a statement Tuesday."
The party of science? As a tranny, Levine does not believe in biology because if he did he would know that DNA determines one's sex, not one's attire.
Levine screwed up Pennsylvania's reaction to covid 19. This is his reward.
ITEM 8
:
Zero Hedge reported
, "NYC Delays 23K COVID Vaccinations As McKesson Logistical Error Leaves Moderna Jabs Too Cold."
The story said, "Following comments from a top Israeli public health official who said that Pfizer's vaccine hasn't been quite as effective as they hoped according to the initial data, with the efficacy rate closer to 50% than the 95% that had been advertised, we're now learning that NYC was forced to cancel 23K scheduled vaccinations after a McKesson logistical error forced them to recall 21 shipments of the Moderna jabs.
"Appointments at all 15 of the city's vaccination centers have been canceled on Wednesday."
Cuomo has gone out of his way to help covid 19 spread and kill people. Surely Red China should consider him for this year's Mao Zedong Hero of the Revolution award.
ITEM 9
:
PJ Media reported
, "On Monday, two days before Joe Biden became president of the United States, a federal court in North Dakota defended Roman Catholic health care providers from an Obamacare mandate forcing doctors and nurses to perform experimental transgender surgeries that violate Roman Catholic convictions. The court enjoined the Department of Health and Human Services (HHS) and the Equal Employment Opportunity Commission (EEOC) from forcing these Catholic physicians to perform transgender surgery.
"This injunction will prevent the Biden administration from using the HHS and the EEOC to enforce the Obamacare transgender mandate, forcing doctors to provide cross-sex hormones and sex-reassignment surgery. Some doctors have warned that even the hormones — the less invasive treatment — give healthy people a disease. The actual surgery often involves sterilizing a patient for life. Mandating such treatments would force doctors to violate the Hippocratic oath."
The judge is a Trump appointee.
It made me happy to write that.
"Impeachment is a political circus that, as we learned last time, is nothing more than a Congressional popularity contest based on emanations from the penumbra of the definition of high crimes and misdemeanors or something. So skip it! Trump should demand his day in court on the exact charges in the articles of impeachment, and when he's acquitted, let Congress explain how words have no meaning anymore."
The last politician to demand an immediate trial was Ted Stevens, who was convicted.
Six months later, Judge Emmet Sullivan threw out the verdict because the prosecutors illegally withheld evidence.
But it was too late. Stevens had already lost re-election to the Senate. That gave Obama 59 senators. Flipping Arlen Specter got the Democrat majority to 60, which allowed them to steamroll Obamacare into law.
I am sure Judge Sullivan would love to try the case with a jury picked from a town where 95% of the votes were against President Trump.
I don't know.
All I know is Biden did.
Obama too.
But Chris Wallace said it was the greatest inauguration speech he has ever heard.
ITEM 13
:
The New York Post reported
, "Couple arrested after allegedly filming themselves having sex on Ferris wheel."
The guy looked like Freddie BOOM BOOM Cannon.
ITEM 14
:
Breitbart reported
, "During the Fox News Channel's Inauguration coverage on Wednesday, incoming Senate Budget Committee Ranking Member Lindsey Graham (R-SC) said incoming Senate Budget Committee Chairman Bernie Sanders (I-VT) will use the reconciliation process to 'impose the Green New Deal, higher taxes, and Medicare for all.' "
Graham said, "We're going to have our hands full. I'm going to be the Budget [Ranking Member]. I'm going to be fighting Bernie Sanders as he uses the budget reconciliation process to impose the Green New Deal, higher taxes, and Medicare for all. So, to my Republican colleagues out there, let's work together. We're going to have a real challenge on our hands.' "
Well, that is what happens when you let Democrats stuff the ballots with unverifiable mail-in votes.
Graham should save his surprise for an email alert seeking donations.
Republicans sat back for 4 years while Donald Trump had to take on the intelligence community and the deep state.
They are on their own now.
ITEM 15
:
Just the News reported
, "Russian Foreign Minister Sergey Lavrov on Monday joined calls from European Union officials to reign in the censorship power of Big Tech. In a Moscow news conference, Lavrov characterized the tech giants as extra-governmental entities that impose their own rules on public discourse."
He said, "Let's hope that American society will not let its elites use blatant censorship, flagrant infringement of the Constitution and international commitments in its struggle against one other.
"If it fails to cope with this problem, we all should be ready to face the consequences of such a failure of the American state, and these consequences would be very serious for the global arena."
The Russian government is more supportive of Americans' right to free speech than our government is.
ITEM 16
:
CNS reported
, "Acting DHS Deputy Secretary Ken Cuccinelli told Fox on Tuesday that House Speaker Nancy Pelosi requested more National Guards be sent to Washington, D.C., even requesting 'crew-manned machine guns' – a sharp contrast between how she reacted when President Donald Trump wanted to use the military to deal with the violence from nationwide Black Lives Matter protests."
I am surprised that she did not want sharks with fricking lasers.
Congress opposed sending troops to protect city after city from Antifa this summer.
But after maybe 100 protesters enter the Capitol, they want to turn Washington into an armed camp.
ITEM 17
: Chairman Xiden called for unity.
But why would he want to unite with people he calls the dregs of society? With people his party calls racist, sexist, and homophobic?
The fact is, he does not want us. His administration, working with corporations, will hunt down, hound, and harass anyone who dares speak against his government. This is fascism. Look it up in a dictionary, a paper one because the online dictionaries change words to suit the government's purpose on any particular day.
ITEM 18
: The New York Times reported, "Hours After Biden Inauguration, Federal Agents Use Tear Gas in Portland."
Oh?
Last June 10, the Associated Press reported
, "A federal judge Tuesday night backed Portland Mayor Ted Wheeler's restrictions on the city's police use of a common tear gas with a 14-day court order banning the agent except when a life is at risk."
That ban on tear gas came from an Obama judge. Of course.
So now tear gas is unconstitutional only when a Republican is president.
Good to know.
FINALLY
, we had an unnecessary inauguration ceremony in which a bunch of political phonies gathered on a stage without social distancing.
Lady Gaga, who cannot hold concerts because of covid 19 restrictions, was allowed to sing the national anthem, which Colin Kaepernick and BLM protest.
Because of covid 19, my wife and I were denied a funeral for our son in April.
I am not bitter or angry. I am pointing out that 3 million people died last year and most of their survivors were denied the right to hold a decent funeral, while our elected officials thumb their noses once again at their own rules.
And no one in the press is calling the inauguration a super-spreader as they call any Trump-related activity.
I don't seek fairness or vengeance. I just comment on the news.