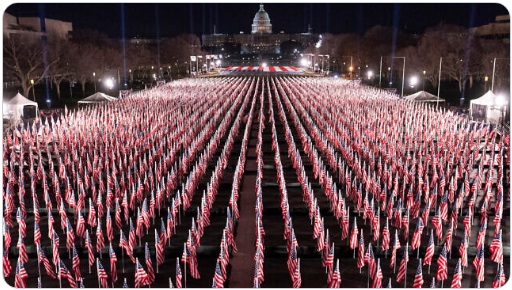 Our constitutional Republic formally ends at noon Eastern, just shy of its 232nd anniversary on March 4.
"As I conclude my term as the 45th President of the United States, I stand before you truly proud of what we have achieved together. We did what we came here to do — and so much more.
"This week, we inaugurate a new administration and pray for its success in keeping America safe and prosperous. We extend our best wishes, and we also want them to have luck — a very important word."
They said he would refuse to leave the White House.
They said he would stage a military coup.
They said he would not give Xiden the peaceful transition of power that Obama denied him.
Once again, they said a lot of nonsense that was as false as George Washington's teeth.
As Terrence K. Williams tweeted, we have 25,000 National Guardsmen protecting 100,000 flags.
As a reader tweeted, "Thousands of flags, inside a barbed wire pen. A metaphor for what's coming?"
As a reader emailed, "How appropriate. They were made in China."
Democrats fear the people. That tells you all you need to know about the validity of the last election.
Just what they said the story did not say.
It did say, "Two officials described the texts as broad in nature — not directed specifically at Mr. Biden or Vice President-elect Kamala Harris, but rather at lawmakers as a whole. One of the service members removed, the officials said, made a point of expressing support for President Trump in addition to making menacing comments."
Military people should be prudent when it comes to politics.
And there is a bias in this investigation. The Times said, "The announcement of the removals came as the Pentagon was intensifying efforts to identify and combat white supremacy and other far-right extremism in its ranks."
Why not go after far-left and black nationalism as well?
Lest we forget, a Muslim militant shot and killed 13 people and wounded 20 more in a rampage at Fort Hood on November 5, 2009.
"Our exhaustive documentation of the PRC's actions in Xinjiang confirms that since at least March 2017, local authorities dramatically escalated their decades-long campaign of repression against Uyghur Muslims and members of other ethnic and religious minority groups, including ethnic Kazakhs and ethnic Kyrgyz. Their morally repugnant, wholesale policies, practices, and abuses are designed systematically to discriminate against and surveil ethnic Uyghurs as a unique demographic and ethnic group, restrict their freedom to travel, emigrate, and attend schools, and deny other basic human rights of assembly, speech, and worship. PRC authorities have conducted forced sterilizations and abortions on Uyghur women, coerced them to marry non-Uyghurs, and separated Uyghur children from their families."
So much for Hillary's false claim that Donald Trump is Islamophobic.
He is standing up to the genocide of Muslims in Red China.
I expect Chairman Xiden to rescind this assessment because Red China bought him off through his wastrel son.
Boo hoo hoo.
4 years ago, Democrats slow-walked Donald Trump's Cabinet appointments.
Turnabout is fair play.
"House Freedom Caucus Chairman Andy Biggs (R-Ariz.) and Rep. Matt Rosendale (R-Mont.) are leading the effort on circulating a petition to force a special conference meeting where proponents are looking for a debate and a vote be held on a resolution calling on Cheney to resign from her role at the leadership table."
Ch-ch-Cheney.
Cheney's a fool.
If true, I can see why.
Roberts is the McCain of the judiciary. After the Spygate scandal, he never reformed FISA courts because he is a closet fascist who believes the government knows best. The FBI lied to a federal judge 17 times. By refusing to punish that, Roberts approves of it.
When I say the constitutional Republic formally ends at noon, I am not exaggerating. Impeaching someone after his term ends is not only unconstitutional, it is Looney Tunes. They are all power mad.
"Cotton made the announcement during a Senate Armed Services Committee hearing to vet Austin for the position."
As a former general who retired less than a decade ago, Austin needs a waiver to become a defense secretary. We waived it for Mattis. Big mistake.
Do not fear for Austin, America. Austin is a well-paid lobbyist for Raytheon. And he gets a generous pension.
We keep talking about the revolving door of lobbyists and the White House. We never mention how generals and others walk out of the Pentagon into plush jobs for military contractors. It is the same corruption only with a uniform.
Ike warned us of this in his farewell address 60 years ago.
"Burr, the senior senator from North Carolina, was informed on Tuesday by the DOJ that its investigation into his personal financial transactions would not result in insider trading charges, according to the New York Times."
Martha Stewart went to prison over a $45,673 insider trade.
The swamp takes care of its own.
He wrote, "Downtown Washington, DC is currently under what essentially amounts to military occupation. Streets are locked down, guarded by Army vehicles and blocked off by huge, garish checkpoints. Vehicular traffic is limited to motorists who can show papers demonstrating that, as one Guardsman told me, they are conducting 'legitimate business.' (Apparently this includes Uber drivers and food delivery workers.) According to official estimates, 25,000 military personnel are now deployed to the area — on top of countless federal, state, and local law enforcement agents. Troops roam around carrying rifles with no ammo loaded. If you can manage to navigate on foot to the perimeter of the National Mall, you encounter an enormous fencing apparatus, complete with barbed wire."
There is no threat.
This is a show of force for Chairman Xiden.
Pray for our country, for Donald Trump, and for one another.
Prayer is God's every day miracle.
Corporate Communism cancels non-conformists.
Let that be a warning, comrade.
How does anyone steal a Humvee from the military?
California has become the Florida Man State.
"Trump, 27, shared a photo to Instagram of herself and Michael Boulos, 23, at the White House, announcing the couple are engaged."
So the Inciting Insurrection story is as big a hoax as the Russian Collusion scandal.
Thanks, WaPo.
Oops.
There went that narrative.
Americans first.
I love it.