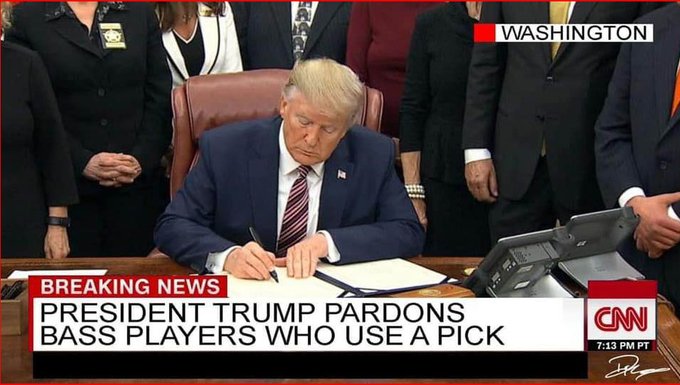 Donald John Trump is still our president.
"Pelosi's San Francisco home was vandalized overnight. Most of the damage was done to her garage door and driveway. The perp or perps spray-painted 'Cancel Rent!' and 'We Want Everything' in big black letters on her door. And there's also a nod to the failed $2,000 government stimulus checks."
A severed pig's head was left in the driveway.
They messed with the wrong woman.
She is second in line to the presidency. That may make this vandalism a federal crime.
The story said, "According to Yellen's financial disclosure document, the 74-year-old former Fed chair has raked in a whopping $7.3 million in speaking fees in just the past two years from Wall Street banks and large corporations including Citi, Goldman Sachs, Google, City National Bank, UBS, Citadel, Barclays, Credit Suisse, Salesforce. Did we mention Citadel? We did, but we should mention it again because for some odd reason the high frequency trading firm which was recently busted for frontrunning its own clients (and everyone knows what Citadel has been doing with Robinhood option orderflow) has been Janet Yellen's biggest customer, paying her over $800,000 (!) for three speeches (in Oct 2019, Dec 2019, and again Oct 2010). And yes, this is the same Citadel where Yellen's predecessor at the Fed, Ben Bernanke remains a "senior advisor" although how this man, who has never traded one share in his entire life, is advising hedge fund and trading giant like Citadel, remains a mystery.
"What isn't a mystery is why all these Wall Street firms, on at least 57 occasions, decided to fork over on average $127,310 to listen to Janet Yellen's confoundingly boring monotone: the reason is simple -- to buy influence from the one private sector individual that virtually everyone knew would soon return to public service under whatever administration followed Trump, and that's precisely what happened now that Janet Yellen will not only be in charge of the Treasury, but effectively in charge of the Fed too thanks to recent quasi fusion between the two institutions, which was required to launch helicopter money/MMT. That alone explains why Citi spent almost $1 million listening to Yellen on at least nine occasions in the past two years."
As Fed chairwoman, she gave them trillions. Now they give her millions as they hope for another big payday.
"Assembly Bill A-416, pre-filed for introduction in 2021 by Assemblyman Noah Perry of East Flatbush, Brooklyn, NY, lays out the forced confinement of -- anyone -- merely because government says so. And the person being forcibly confined cannot even ask for a court hearing unless and until he's been deprived of his liberty for three days; and at such time, he can request to be heard (as the court calendar allows) and will need a Court Order to be free!"
Excuse me, but didn't the city just reform bail to the point where anyone accused of a crime can walk out of jail?
If you tell the jailer you killed someone, won't they have to let you out?
Cohen hosts shows on Bravo interviewing reality stars and celebrities.
He risked his credibility as a journalist by co-hosting CNN's New Year's Eve celebration.
"McConnell was reportedly puzzled as why to why Hawley refused to answer, until ultimately realizing that Hawley had never joined the conference call to begin with."
Look for Hawley's parking spot at the Capitol to be moved to Maryland.
"A two-thirds majority was needed to override the veto, which marked the first in Trump's presidency. The NDAA authorizes over $740 billion in military programs and construction, as well as 3% pay raises for US troops. It also contains a provision to rename military bases named after Confederate generals."
The big sticking point was giving Twitter, Facebook and other censoring social media platforms Section 230 protection from libel.
In a fascist state, the government protects corporations that cooperate.
"The San Francisco Chronicle put the number of migrants who would not be admissible at an estimated 375,000 every year — or about one million every 2.5 years."
President Trump appointed good judges, and ended the clown show that was the Ninth Circuit.
"Between continued optimism over iPhone sales, Microsoft's growing Teams collaboration product, Amazon's ongoing control of e-commerce and the strength of Google and Facebook's online ad duopoly, Big Tech was neither slowed by Covid-19 nor the rising number of investigations into its dominance.
"Tesla's wild rally served as the biggest surprise.
"The stock climbed almost ninefold this year, lifting the electric car maker's market cap from $76 billion at the beginning of the year to $669 billion at Thursday's close. Despite initial factory closures due to the pandemic, Tesla bounced back to deliver a record number of vehicles in the third quarter."
Meanwhile, a million small businesses went out of business.
"The Los Angeles Times reports that Feucht held the event in the parking lot of Higher Vision Church in Valencia, with many of the hundreds of guests attending without wearing face coverings.
"It was one of many such events held by Feucht in recent days. He has been holding similar concerts across the country as well as a worship protest on the National Mall last October."
The concert truly was a peaceful protest -- to draconian lockdowns that have failed to stop the virus from going viral.
"The ruling, handed down Friday by a three-judge panel on the U.S. Court of Appeals for the District of Columbia Circuit, concluded that a lower court judge erred when he vacated Lisa Montgomery's execution date in an order last week.
"U.S. District Court Judge Randolph Moss had ruled the Justice Department unlawfully rescheduled Montgomery's execution and he vacated an order from the director of the Bureau of Prisons scheduling her death for Jan. 12."
Moss is an Obama judge.
A federal jury found that the woman strangled 23-year-old Bobbie Jo Stinnett with a rope in December 2004, and then cut the baby girl from the womb with a kitchen knife. The murderer then attempted to pass the girl off as her own child.
"The vaccine doubts swirling among healthcare workers across the country come as a surprise to researchers, who assumed hospital staff would be among those most in tune with the scientific data backing the vaccines.
"The scientific evidence is clear regarding the safety and efficacy of the vaccines after trials involving tens of thousands of participants, including elderly people and those with chronic health conditions. The shots are recommended for everyone except those who have had a severe allergic reaction to any of the ingredients."
The next two paragraphs then contradict the scientific evidence argument: "April Lu, a 31-year-old nurse at Providence Holy Cross Medical Center, said she refused to take the vaccine because she was not convinced it was safe for pregnant women. She is six months pregnant.
"Clinical trials have yet to be conducted on pregnant women who take the vaccine, but experts believe the vaccine is unlikely to pose a specific risk, according to the Centers for Disease Control. The agency says pregnant women may choose to be vaccinated."
Take the vaccine or don't.
It is your body, your choice.
"At least five people in the neighborhood have been bitten or scratched by squirrels on 65th Road and 65th Drive within the last month, according to residents who spoke to Patch.
"They include Micheline Frederick, who had to go to the hospital after a squirrel attack so vicious that it left her hands and arms covered with bites — and her snowy front yard stained with blood.
"'He was angry and he was vicious,; Frederick told Patch of the Dec. 21 attack. 'This was more than just a bite. This thing was fighting with me.'
"Frederick said she was holding her front door open for two movers when the squirrel ran up to her and scurried up her leg. She threw the squirrel off of her, but it pounced back onto her and started biting and scratching her.
"The attack left her pinky finger 'pretty chewed up' and her hand bruised black and blue for days, she said. She had at least eight bites, prompting physicians at a nearby urgent care center to send her to the emergency room for rabies shots."
Queens needs some hawks.
How about we redistribute their wealth first?
Her future has no fathers, mothers, sons, or daughters.
What a sad future that would be.
Better watch Allan Sherman before they ban him, too.