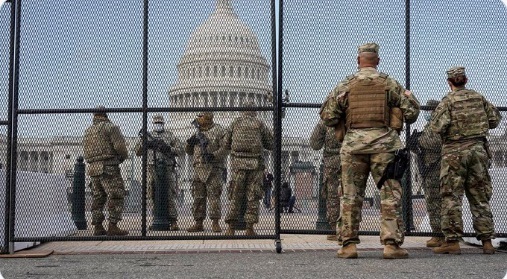 Donald John Trump is still our president.
"Medical professionals have widely credited North Dakota's mask mandate with reducing the spread of covid 19 in the state, but Gov. Doug Burgum said on Friday. He believes 'personal responsibility' can carry North Dakota through the rest of the pandemic.
"The Republican governor said the state still strongly encourages residents to wear masks in public, noting that 'the science doesn't change when the mandate goes away.' Burgum also acknowledged that residents should continue to comply with local mask mandates, like one that Fargo leaders recently extended until mid-February."
The announcement said, "This new designation upgraded the status of ivermectin from against to 'neither for nor against,' which is the same recommendation given to monoclonal antibodies and convalescent plasma, both widely used across the nation.
"By no longer recommending against Ivermectin use, doctors should feel more open in prescribing ivermectin as another therapeutic option for the treatment of covid 19. This may clear its path towards FDA emergency use approval."
With a deep stater's inauguration on Wednesday, the bureaucracy stops delaying treatment of covid 19.
"The drug Ivermectin – a pill sometimes used to treat children with head lice or to rid dogs and cats of worms – is not yet approved by the federal government for use against Covid-19. But Smentkiewicz's son and daughter call it a miracle drug in their court papers. So do her attorneys, Ralph C. Lorigo and Jon F. Minear."
The NIH deliberately killed people.
If they they can do this to a sitting president, they can do it to anyone.
They are.
These are not independent decisions, but rather coordinated attacks on the civil rights of Americans. As these attacks serve the party in power, the government allows this corporate collusion.
They stripped the empty promise of better enforcement of the law from this bill.
But what does citizenship mean in a police state?
Instead Ruiz and company have militarized the Capitol.
"Big city trends tend to overstate national trends, so a 5% increase in murder in big cities tends to mean a 2-3% increase nationally. But this year we have no idea what will happen with the national figure.
"The largest national percentage increase ever reported (data since 1960) was 12.7% in 1968 and the largest numerical increase was 1,938 in 1990. A 15% increase this year (and I think it'll be much larger) would mean 2,400 more murders & be the worst one year increase in murder ever recorded."
Democrat rallies and riots against the local police led to this record increase in murders.
The goal is to give the central government control of all police agencies in the country. Black lives do not matter to the government. Control does.
"What's happened? Fox News is in a ratings freefall. During the day and afternoon CNN is now beating it over the head. Later, at 9 p.m., Rachel Maddow has opened a wide lead over Sean Hannity. On Wednesday night, when the impeachment vote was happening, Maddow scored 4.7 million viewers. Hannity had under just 3.3 million."
Rhodes is the brother of Obama official Ben Rhodes who sold to America that giving $170 billion to Iran would magically end its nuke program. It didn't. The money went to terrorism aimed at Israel and war against Saudi Arabia.
Trump supporters bailed on Fox because it went CNN-lite in 2020.
"The soldiers, many wearing helmets and wielding shields and sticks, formed ranks across a highway in Chiquimula, near the Honduras border, to block the procession of migrants.
"Guatemala's immigration agency distributed a video showing a couple of hundred men scuffling with soldiers, pushing and running through their lines, even as troops held hundreds more back.
"Guatemalan President Alejandro Giammattei issued a statement calling on Honduran authorities 'to contain the mass exit of its inhabitants.' On Jan. 15, the migrants entered Guatemala by pushing past about 2,000 police and soldiers posted at the border; most entered without showing the negative coronavirus test that Guatemala requires."
Chairman Xiden put out the welcome mat.
That is how it goes. When you don't represent the people who elected you, they no longer trust you.
Nice to see Never Trumpers get paid for their services with a huge exclusive scoop like this.
"Rodgers, a California native who formerly starred at the University of California, Berkeley, spoke on The Pat McAfee Show about his $500,000 donation to the Dave Portnoy's Barstool Fund, which has been sending relief to many small businesses desperate to keep their businesses afloat."
A celebrity speaks out against Democrats?
Look for them to go after his product endorsements.
The story said, "The spiritual advisor for both Barack Obama and George W. Bush during their time as President has been sentenced to six years for his role in a multi-million dollar investment fraud scheme.
"Kirbyjon H. Caldwell, 67, was sentenced by US District Judge S. Maurice Hicks on Wednesday in Shreveport, Louisiana where he and his co-defendant, Gregory Alan Smith, were indicted in 2018.
"Caldwell was formerly the Senior Pastor of Windsor Village United Methodist Church, a mega-church in his native Houston, Texas, which has around 14,000 members, the Associated Press reported."
In his defense, Caldwell was led astray by two promoters of Red China.
Bush and Obama.
Capitol Police shot and killed an unarmed woman.
If the protesters had torched buildings and looted stores, the press would have called it a mostly peaceful protest.
Never mentioned are the 100,000 people President Trump rallied at the National Mall.
"The latest figure adds six to the number of known fatalities in Norway, and lowers the age group thought to be affected to 75 from 80. While it's unclear exactly when the deaths occurred, Norway has given at least one dose to about 42,000 people and focused on those considered most at risk if they contract the virus, including the elderly."
Beware the vaccine but also beware of all government reporting. This may be an excuse to ration treatment by telling the elderly the risk outweighs the benefit of the vaccine.
"When she asked if there was a problem with the food, the parents waved her away.
"That's when she saw bruises on the 11-year-old's face and arms.
"She decided to write a message to him so that the parents wouldn't notice. She wrote, 'Do you need help? OK' on a piece of cardboard.
"She stood behind his parents so he could see the sign while they ate. Eventually, the child signaled that he did need help."
Carvalho called police, who came and arrested the mother and stepfather for child abuse.
I will spare readers the details of the abuse, ecxcept to note that his sister also suffered abuse.
I am @donsurber at Parler, at Gab, and at Twitter.
"My wife and I spent the better part of Friday trying to make an appointment for the vaccine but failed.
"In NYS Albany runs everything. They have 1 website for registration for the whole population.
"Remember how the Obama care website performed? Well this is much worse. Slow performance, timeouts, server crashes, website going offline for hours. Many appointments cancelled.
"The state had a year to get ready but in reality should have procedures in place for any emergency but they don't. The counties were forbidden from managing the rollout. Had to be done by Albany. Guess why?
"The reason I am sending you this email is I have seen zero news about the failures in NYS. Just your mention in Highlights a few days ago.
"Some states like yours are using the NG to help and doing well but not here. It is a real mess and not getting any better.
"Your comments on highlights a few days ago about the vaccine being developed by capitalism but being distributed by socialism is spot on here in NY."
Email from other readers confirms that Cuomo does not know what he is doing.
Or maybe his plan is to screw New Yorkers.
The media calls Manchin a moderate.
They also call President Trump Hitler.
Democrats are leaning on corporations to do their bidding.
Disgusting.
President Trump is making every minute count and making it groovy.
None of the 3 women he ordered killed could be reached for comment.
"The unhinged and unclothed man had been wandering through the 2 and 3 station at 110th Street and Central Park North when he pushed the man, a stranger, at around 3:40 p.m., police said."
He was either crazy or high.
America has major drug problems.
The government meanwhile is legalizing marijuana in state after state, and handing out free needles to junkies.
Many tried to warn us. Joe McCarthy. Phyllis Schlafly. Patrick Buchanan. As a nation, we dismissed them as anti-communist kooks. We were wrong, and we now pay the price.