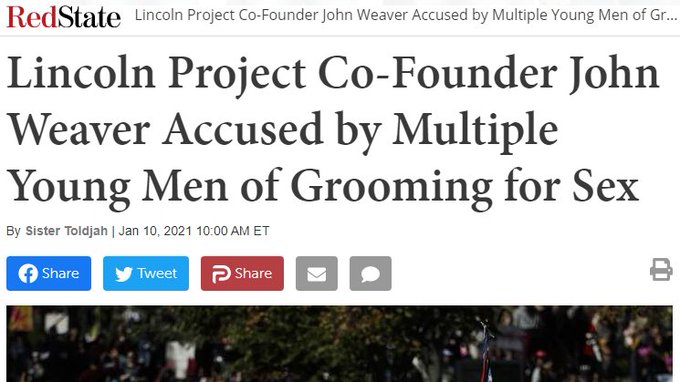 Donald John Trump is still our president.
This happens in life. Yes, women, men get propositioned too. I offer this item mainly for entertainment purposes but I am curious about one thing. Was he recruiting for himself or his wife?
There is a reason we call them cuckolds.
Poof! He's gone.
Let the heeling begin.
And you will heel. And you will obey. Or else.
ITEM 3
:
WFMD reported
, "Teachers In Jefferson County, WV, Who Attended Rally At The Capital Threatened With Termination."
The story said, "A letter was sent to the teachers by the Jefferson County Superintendent of Schools Bondy Shay Gibson. In the letter the teachers are told to report to a meeting on Tuesday, January 12, 2021 where disciplinary action, including termination, will be discussed. The teachers are encouraged to bring a representative with them. The teachers were also told to not enter any Jefferson County School's property or attend any school activity.
"The Jefferson County Republican Executive Committee released a statement about Dr. Gibson's letter. They say it is a threatening letter that is attack on our liberties. The JCREC is requesting that Dr. Gibson be suspended pending an investigation of her actions. They are also requesting that the Board of Education immediately cease the violation of the constitutional rights of the Board of Education employees, students, and the citizens of Jefferson County."
And then Vogue reneged.
Off with their Twitter!
ITEM 5
:
Gab tweeted
, "We are getting resumes from senior level employees at Big Tech companies.
"Hearing that many people are putting in their two weeks too. Internal civil war among staff and executives.
"Panic in Silicon Valley.
"The house of cards falls.
We shall see.
But Gab's servers are overloaded right now.
Also, Facebook censors placed a notification on one of my posts. Considering how few clicks I get from Facebook, I may stop posting there.
"The Republican Party in Arizona's largest county voted Saturday to censure the widow of the late Sen. John McCain after she endorsed Democrat Joe Biden. The state GOP is planning a similar vote later this month."
OK, that makes sense.
A political party cannot afford to have prominent traitors
The story then said, "The Maricopa County GOP's censure resolution called Cindy McCain a 'troubled individual, with a past riddled with drug abuse and illegalities associated with such behavior.'
"The measure also accused Cindy McCain of supporting leftist causes including gay marriage, larger government and "others that run counter to Republican values.
"Cindy McCain has acknowledged suffering a three-year addiction to pain medicine from 1989 to 1992 and stealing pills from the American Voluntary Medical Team, a charity that she founded to assist developing countries, the Arizona Republic reported."
The personal nature of the resolution troubled me.
Then I remember how personal her attacks on Our Republican President were.
"National Association of Manufacturers Chief Executive Jay Timmons said Trump 'incited violence in an attempt to retain power, and any elected leader defending him is violating their oath to the Constitution and rejecting democracy in favor of anarchy.' "
No president since Reagan did more for manufacturers.
But Corporate America wants to shut down all American factories because Corporate America is loyal to Red China.
Just 80 years ago, FDR called America the arsenal of democracy.
Communists want to destroy that arsenal.
"Egard Watches has generated buzz twice before with its videos — one in response to Gillette's ad regarding toxic masculinity and another defending police officers during the height of the Defund the Police movement.
"The company's latest video comes at a time when our personal independence is being undermined at a frightening pace.
" 'What is freedom'" the video, narrated by Egard owner Ilan Srulovicz, begins. 'Is it allowing others to decide what's best for you while this is how they live their lives?'
"As the question is posed, a news story about how lockdown isolation negatively impacts the elderly is juxtaposed with the now-infamous photo of California Governor Gavin Newsom dining with a group of people at the wildly expensive French Laundry restaurant."
That is bravery in action.
"Even as overall government employment was going down, however, federal government employment went up from the end of 2019 to the end of 2020. In December 2019, the federal government employed 2,847,000. As of December 2020, it employed 2,908,000—an increase of 61,000."
State and local governments will have to face the fact that as tax revenues drop, the politicians will have to lay off their family and friends.
Attention ambulance chasers: A pocket deeper than the Marianas Trench awaits to be picked in an African court.
The most violent of the most violent statements was (drumroll), "Together we are determined to defend and preserve government of the people, by the people and for the people."
Quoting Lincoln is now a crime against humanity.
Conform, comrade.
Not mentioned is just how you can remove someone from an office he no longer holds.
Both deaths were tragedies.
Blue Lives Matter.
Not mentioned in the story was Ashli Babbitt, who was shot and killed by an officer.
"After years competing with Uber and Lyft drivers for razor-thin margins, while maintaining an average debt of $450,000 on taxi medallions now worth $75,000 - $100,000, ridership is down 80-90% since March due to the pandemic, according to CNN."
Kneecapping the economy creates the depression (both mental and financial) that Democrats believe will usher in the communist state they have wanted since the days of FDR.
Better to rule a Third World Nation than live in a free country, eh?
In a press release, Pompeo declared that all parts of the agency's Foreign Affairs Handbook governing meetings between Taiwanese officials and various agencies in the executive branch, including the State Department, were to be voided."
Don't trust Taiwan either. Its Foxconn company promised big things and delivered nothing.
How about a No China policy?
"Earlier this summer, she sparked controversy after it was discovered that she purportedly sat on the board as vice-chair of Thousand Currents, which has poured more than $10 million into grassroots social change initiatives, including Black Lives Matter as of late.
"The nonprofit, formerly known as IDEX, quickly removed the director's page featuring Rosenberg from its website in June. It remained unclear if and to what capacity she still serves the organization. Thousand Currents did not immediately respond to Fox News' request for comment."
She received a 58-year sentence in 1985.
Clinton pardoned her.
She tried to kill Republican senators with a bomb.
She co-opted them with her BLM.
The Maoists won.
I told you he was not a conservative.
Joe is about Joe.
" 'The odds that '22's PGA Championship will happen as scheduled in New Jersey are about as good as the chances of you or I winning it,' Golfweek's Eamon Lynch wrote on Saturday. 'Moving its major from Trump National has been debated internally at the PGA for more than two years, but executives have been reluctant to antagonize a famously vindictive man who controls the Internal Revenue Service.' "
They want to plow his resorts and plant salt in the ground.