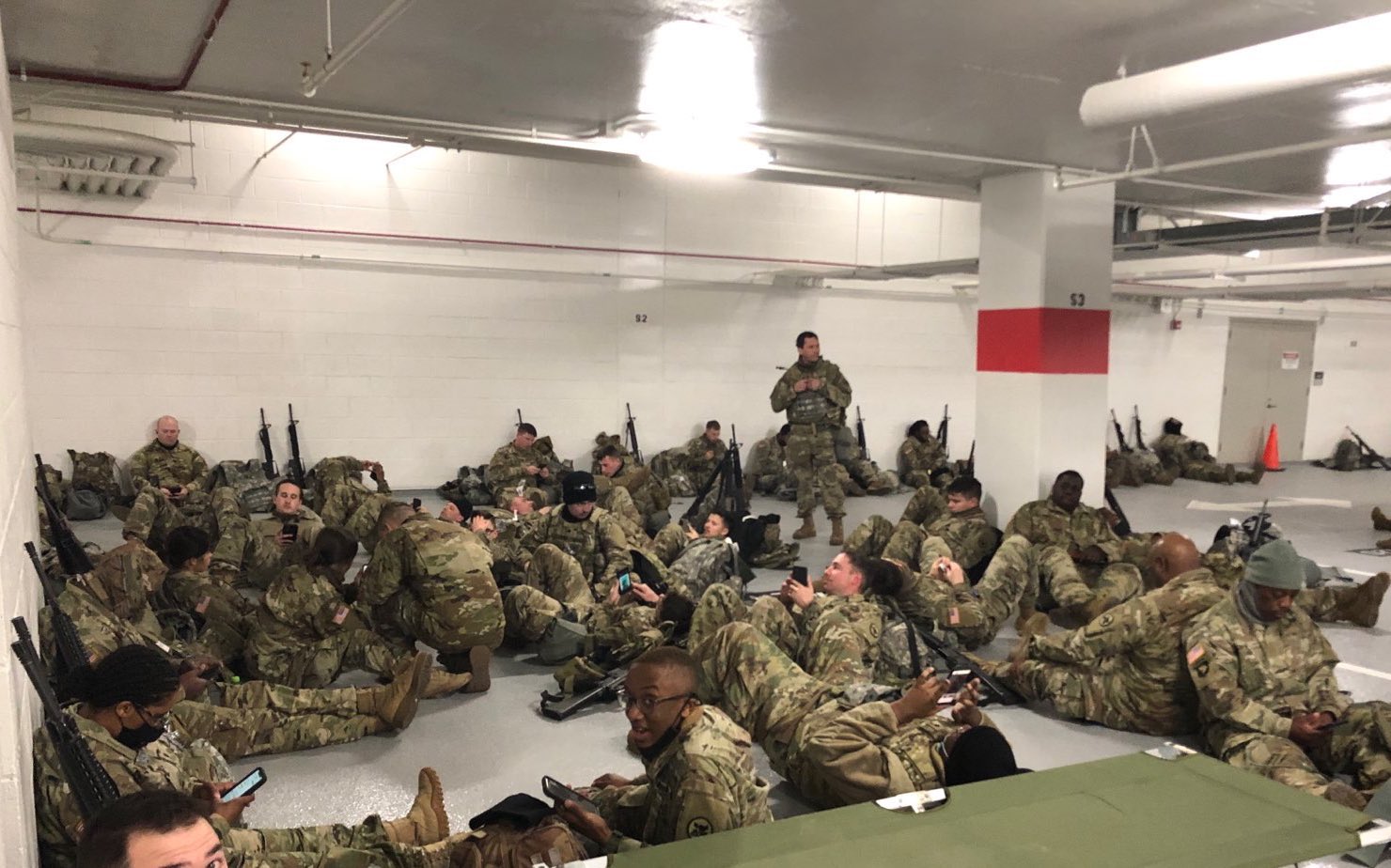 Governor Greg Abbott of Texas and governors of other states ordered their National Guard troops home after Nancy Pelosi, Chuck Schumer, and the rest of Congress evicted them from the Capitol they were brought in to protect from imaginary terrorists.
That was the final straw for Abbott, who was displeased when Democrats demanded the FBI vet Guardsmen for disloyal thoughts.
He tweeted, "This is the most offensive thing I've ever heard. No one should ever question the loyalty or professionalism of the Texas National Guard. I authorized more than 1,000 to go to DC. I'll never do it again if they are disrespected like this."
Democrats turned DC into an armed encampment for the inauguration. It was a show of force aimed at quelling dissent by the civilian populace. Democrats control the military and will use it against political opponents just as they use the IRS, the FBI, and the major news networks.
Governors sent 20,000 to 30,000 National Guardsmen to DC for the inauguration. Various sources cite various numbers. To put that in perspective, Fort Stewart, the largest Army post by area east of the Mississippi, has a little under 12,000 troops.
DeSantis in Florida, Sununu in New Hampshire, and Baker in Massachusetts were among the governors recalling their Guardsmen.
Sununu told Fox
, "To be treated with that kind of disrespect, I think a lot of governors are second guessing and saying, well, we're going to pull them back.
"I don't know who's responsible, frankly I don't care, I just have to protect my troops and do what's right."
Democrat Senator Tammy Duckworth, who lost her legs in the Iraq War, tweeted, "Unreal. I can't believe that the same brave servicemembers we've been asking to protect our Capitol and our Constitution these last two weeks would be unceremoniously ordered to vacate the building. I am demanding answers ASAP. They can use my office."
Donald Trump opened his DC luxury hotel to them as well.
Guardsmen aren't pansies. They help in floods, forest fires, snowstorms, and every imaginable calamity.
But making them sleep on concrete this time was totally unnecessary. Washington brought in a division of Guardsmen without providing them accommodations. That is inexcusable. They should not have been sleeping in the Capitol to begin with. This catastrophe is not just on the politicians but also on the people in the Pentagon.
General Daniel R. Hokanson, the chief of the National Guard Bureau, needs to apologize and explain why he personally let down 20,000 to 30,000 men and women. Then he should resign. The buck stops at the top.
Congressional leaders are doing CYA.
Schumer said
, "I have told those who run the security at the Capitol that it can never happen again.
"I have pledged to every National Guard member it will not happen again. The minute I heard about this outrage last night we made sure it was fixed immediately. Every member of the Guard was found proper accommodations inside and as of this morning everyone was accounted for and taken care of this."
The real problem was having 5,000 troops guard the Capitol. My goodness, who were they protecting the building from? Klingons? Han Solo and a rebel army? The Rooskies?
This was Chairman Xiden's first outing as commander-in-chief. He blew it. His show of force turned into a farce.
But his wife sent them chocolate chip cookies, so that made everything fine again.