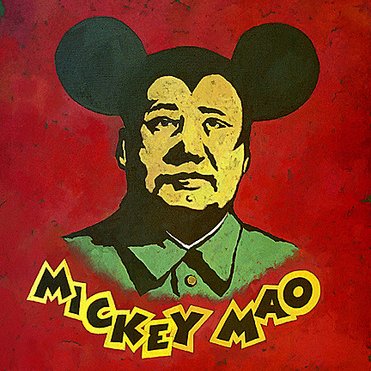 A fan bitter about what Disney has done to the Star Wars anthology has seen the latest chapter of this 43-year-old relic of the 1970s.
Disney Star Wars Is Dumb wrote
, "The baizuos of Lucasfilm have released some wonderful video propaganda with regards to their new Chinese Star Wars story,"
Baizuos are Western Maoists who use political correctness to force a Corporate Communism on us.
See Obama, Barry.
The anti-Disney site said, "Edward Cheng, Chief Executive Officer of China Literature, says they are very excited to be partnering with Disney and Lucasfilm. I imagine he is. Edward is also the Vice President of Tencent and Chief Executive Officer of Tencent Pictures, which has plans to release a film celebrating the brutal CCP according to China Daily."
Tencent is Chairman Xi's American film company.
China Daily reported
, "Updates on a total of 56 projects were announced, including plans to release an epic film 1921 to commemorate the centenary anniversary of the founding of the Chinese Communist Party of China, as well as the second season of Qing Yu Nian, a sought-after drama adapted from a namesake popular online novel."
What a long fall from liberty George Lucas has had since making his plucky tribute to Flash Gordon's adventures in 1977. It is the only installment in the series I have seen. Lucas has gone from being part of a rebellion to promoting an evil empire. The man sold out for billions.
The anti-Disney site said, "Star Wars has been faced with mostly disinterest by the Chinese People in recent years, which may be due to the films being banned in the communist country 40 years ago. Or it may be due to the fact that the Chinese people find it difficult to muster nostalgia over plastic stormtroopers, when they're under the yoke of real life stormtroopers who force them to work as slave labor in Hasbro's Chinese factories, while Disney films a movie right next to Chinese internment camps starring an actress that may or may not have been used by the CCP to sex bribe Hunter Biden. Either way, this is likely an attempt to increase the appeal of Star Wars to the Chinese market after the Rose Tico character failed to do so. Good luck."
From banned to ownership.
This is part of Corporate America's sellout to Red China. The lure of a market 4 times bigger than America got them hooked, as did cheap labor.
But the cheap labor cost them trade secrets and technology. And eventually Red China owned them.
Red China used its trade surpluses to build its military and buy American politicians. They also bought politicians around the globe, including Africa. They did not miss the reigns in Africa.
Walt Disney promoted America with his series on Davy Crockett and assorted pro-American cartoons.
Lefties took over Disney and are making it an anti-American, pro-Red China company.
What will happen to the American billionaires that Red China made? Well, a few years ago there was a movie about the last emperor of China. He wound up working in a labor camp.
Billionaire Jack Ma is now under "voluntary supervision" following his criticism of the communists in October.
Meanwhile,
the Wall Street Journal reported
, "Walt Disney Co. executive chairman Robert Iger has told people close to the incoming Biden administration that he would be interested in serving as U.S. ambassador to China, according to people familiar with the matter.
"Mr. Iger, who served as Disney CEO for 15 years until being named executive chairman earlier this year, would be an unorthodox choice for a posting that typically goes to governors and senators. Lawmakers on both sides of the aisle have criticized Disney's business dealings in China or have questioned whether President-elect Joe Biden would be sufficiently tough on Beijing, so his possible appointment may draw political backlash.
"In recent weeks, high-dollar donors have begun to quietly discuss ambassadorships with the Biden transition team, though they have been told cabinet positions are the current focus, people familiar with the discussions said. Mr. Iger has been a supporter of Mr. Biden and has a long-running relationship with China's President Xi Jinping."
So Chairman Xi will pick the U.S. ambassador.
Red China runs American foreign policy under Chairman Xiden. Buying off Hunter was only part of it.
We elected Han Solo president in 2016. I understand that in one of the Star Wars movies, they froze Han Solo alive in a slab of carbonite.
He came back, didn't he?
I want our Han Solo to freeze them all in carbonite.