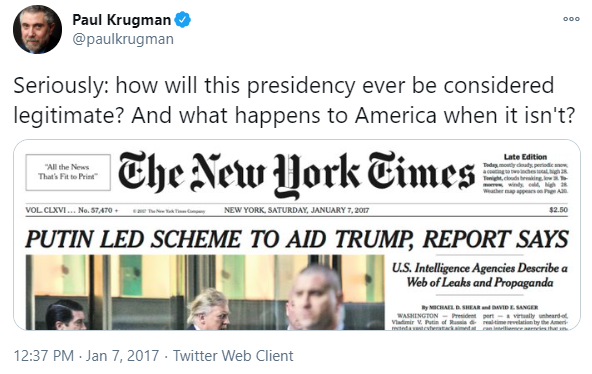 Paul Krugman tweeted on January 7, 2017, "Seriously, how will this presidency ever be considered legitimate? And what happens to America when it isn't?"
Krugman wrote, "When Joe Biden is inaugurated, he will immediately be confronted with an unprecedented challenge — and I don't mean the pandemic, although covid-19 will almost surely be killing thousands of Americans every day. I mean, instead, that he'll be the first modern U.S. president trying to govern in the face of an opposition that refuses to accept his legitimacy. And no, Democrats never said Donald Trump was illegitimate, just that he was incompetent and dangerous."
An opposition that refuses to accept his legitimacy?
I pulled a muscle rolling mine eyes on that one.
Byron York must have rolled his eyes, too, because he wrote
, "Does anyone at the New York Times read Krugman's column before it's published? Of course some Democrats said Trump was illegitimate. Hillary Clinton said so last year. 'He [Trump] knows he's an illegitimate president,' Clinton told CBS's 60 Minutes on September 29, 2019."
Krugman was just one of the many, many, many writers the Times used to cast shade on the president's inauguration in 2017.
The Times posted "Not My President, Not Now, Not Ever" by Lindy West at 7:11 PM, January 20, 2017. West reported on the riots -- er, mostly peaceful protests -- that Democrats had organized to greet the inauguration of Donald John Trump as president.
West wrote, "I've felt a guilty alienation from the chorus of 'not my president' that's been building among the left since the supposed free election of Donald J. Trump. Not because I have any connection or loyalty to the man, but because the phrase itself is something of a Trumpism: 'Not my president' was a favorite refrain of the Tea Party, a fundamental buttress of the racist delegitimization of Barack Obama, an incantation that, in retrospect, recalled some of the first stirrings of Mr. Trump's rise to power.
"Watching the inauguration — looking over the sea (or, more accurately, the smallish pond) of white faces celebrating what they clearly believe to be a white victory, a reassertion of the natural order — all reluctance left me. Mr. Trump was shoved into office by the desperate, violent and unconstitutional machinations of a minuscule sliver of super-rich, traditionalist white Americans.
"Feeling their grip on global supremacy slipping, they've snatched one final, improbable chance to bleed us to death so they can buy a few more gold toilets before the biosphere collapses. Mr. Trump isn't my president. I don't mean it emotionally; I mean it literally. It's not sloganeering; it's observable truth.
"Mr. Trump has no intention of representing me, my family, the people I care about, or the majority of Americans, from the imperiled to the comfortable. It is a stretch to call him anyone's president but his own."
***
"Not my president."
"Supposed free election."
"Trump isn't my president. I don't mean it emotionally; I mean it literally. It's not sloganeering; it's observable truth."
Lefties said the same thing about George Walker Bush. West was one of more than a dozen opinion writers who created one long word salad against the inauguration of President Trump.
Today, Old Krugman said Old Biden is the first to have his legitimacy questioned.
Sigh.
They believe their own BS.
Krugman wrote in his column, "So what can Biden do?
"First, he needs to start talking about immediate policy actions to help ordinary Americans, if only to make it clear to Georgia voters how much damage will be done if they don't elect Democrats to those two Senate seats."
Why should Biden start talking policy now? He had a year to do so in the presidential campaign. Democrats shut him up and locked him in the basement to keep him from mucking up their plans by saying something stupid because when you are stupid you say a lot of stupid things.
Democrats spied and lied on Donald Trump. They slow-walked approval of his appointees. They used Obama judges to stall policy. They propped up false charges of non-existent crimes to investigate (collusion) and later to impeach (obstruction of Congress). They bad-mouthed him and tried to undermine his relationships with world leaders.
Krugman ended his piece, "American voters don't fully understand what the modern G.O.P. is really about. Biden needs to get that point across, and make Republicans pay for the sabotage we all know is coming."
By sabotage, he means payback.
The best payback would be for Justices Thomas, Barrett, and Kavanaugh to be in the majority that overturns the elections Democrats stole.
Then I can say the same thing about Biden what I say about Hillary.
Not my president.