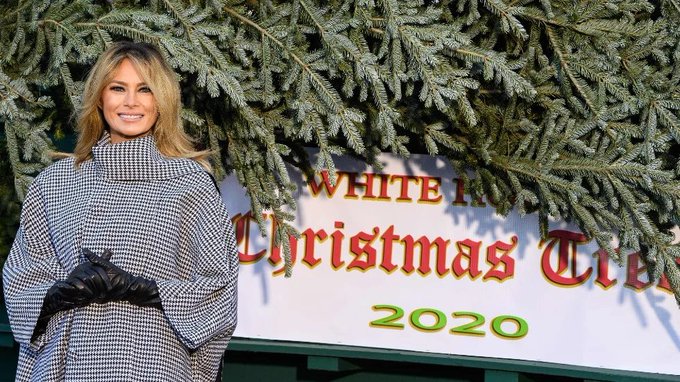 Donald John Trump is still our president.
ITEM 1
:
Haaretz reported
, "A senior commander in Iran's Revolutionary Guards was killed Sunday in a drone strike along the Syria-Iraq border, several Arab media outlets reported, citing Iraqi officials.
"According to the reports, three more people were killed alongside the commander, identified as Muslim Shahdan.
"Al Arabiya, quoting Iraqi intelligence sources, reported Shahdan's car was targeted after he crossed the al-Qa'im border crossing into Syria."
Wow.
So much for the plan to have Biden re-institute Obama's strategy of appeasement.
ITEM 2
:
Glenn Reynolds reported
, "I think we should start calling the vaccines developed under Operation Warp Speed the Trump shot just for fun."
Trump shot.
Trump shot.
Trump shot.
ITEM 3
:
Zero Hedge reported
, "Demand for sub-zero freezers has erupted over the last month following encouraging covid 19 vaccine developments from Pfizer and the German firm BioNTech.
"The Pfizer-BioNTech vaccine has to be stored at -70 degrees Celsius -- standard commercial freezers don't get that cold -- forcing many hospital systems across the country to panic buy these special freezers from refrigerator-maker So-Low Environmental Equipment."
What's with the Antarctic cold freezing?
Obviously, you cannot safely inject a vaccine this cold in someone's arm. I suspect foul play.
I also suspect that with as many as 100 million Americans having it and not noticing, this whole thing is a biomedical scare that Chairman Xi concocted.
I underestimated the man.
ITEM 4
:
Zero Hedge reported
, "French Protesters Set Fire To Central Bank."
The story said, "Over the weekend, tens of thousands of critics of a proposed security law that would restrict the filming of police officers protested across France on Saturday, and officers in Paris who were advised to behave responsibly during the demonstrations repeatedly fired tear gas to disperse rowdy protesters. The controversial Article 24 of the bill seeks to protect police officers from doxing and harassment, and bans filming of cops on duty and sharing their images online with the intent to harm.
"Civil liberties groups, journalists, and people who have faced police abuse are concerned that the measure will stymie press freedoms and allow police brutality to go undiscovered and unpunished."
Zero Hedge made the point that unlike BLM, the French did not attack innocent shopkeepers.
Of course not.
Unlike the French protesters, BLM supports the central banks, big corporations, and big government.
Who do you think funds them?
ITEM 5
:
Andrea Widburg reported
, "In her Georgia complaint, Sidney Powell included the declaration of Navid Keshavarz-Nia, an expert witness who stated under oath that there was massive computer fraud in the 2020 election, all of it intended to secure a victory for Joe Biden. Dr. Kershavarz-Nia's name may not mean a lot to you, but it's one of the weightiest names in the world when it comes to sniffing out cyber-security problems.
"We know how important Dr. Kershavarz-Nia is because, just two and a half months ago, the New York Times ran one of its Sunday long-form articles about a massive, multi-million-dollar fraud that a talented grifter ran against the American intelligence and military communities. Dr. Kershavarz-Nia is one of the few people who comes off looking good."
Oh, there is a story the Old Gray Mare regrets publishing.
ITEM 6
:
CNS News.com reported
, "Iranian generals and regime officials are threatening to avenge the assassination of a top nuclear scientist, blaming Israel for the killing of the man who led Iran's nuclear weapons program until it was publicly suspended – but then allegedly continued to oversee clandestine work of concern to the international community.
"Inside Iran and elsewhere, the assassination of Mohsen Fakhrizadeh is being compared to that early this year of Qods Force commander Qassem Soleimani.
"Both killings removed from the battle field key cogs in the regime's military machine. Fakhrizadeh, whose body was circumambulated at leading Shi'ite shrines over the weekend ahead of burial on Monday, is, like Soleimani, being hailed as a leading martyr.
"In the U.S., Sen. Bernie Sanders, former CIA Director John Brennan, and former Obama National Security Council member Ben Rhodes were among those denouncing the assassination."
They support Iranian terrorists and warmongers over the duly elected president of the USA.
Too bad we cannot deport all 3 to Tehran.
ITEM 7
:
MenRec reported
, "Obama blasted Hispanics who voted for Donald Trump, suggesting their pro-life views and opposition to gay marriage led them to turn a blind eye to the President's racism
"In an interview with Charlamagne Tha God on The Breakfast Club, Obama unleashed what at least one observer defined as a racist rant about Evangelical Hispanics being homophobic."
Homophobic?
Is Obama saying Biden is gay?
ITEM 8
:
The Washington Times reported
, "Several GOP state lawmakers have filed 12 articles of impeachment against Ohio Gov. Mike DeWine, over their fellow Republican's handling of the corona virus pandemic.
"The articles, which were filed by Rep. John Becker, accuse Mr. DeWine of numerous abuses of power in the past several months, including threats to veto a bill to limit the governor's emergency powers."
Weed DeWine, mellow out your mind.
ITEM 9
:
Just the News reported
, "46% of registered U.S. voters say they strongly or at least somewhat approve of President Trump's job performance, while 51% disapprove of how he's running the country.
"The split among the registered voters was similar to the one among party lines – with 82% of Democrats disapproving of the president's performance and 86% of Republicans approving."
46% of Americans are sane.
ITEM 10
:
Just the News reported
, "Multiple business leaders and media enterprises in 2020 are making plans to leave California for southern states, where local governments exert a lighter touch on business matters.
"Among the media companies to announce such a move this year was the Daily Wire, the conservative website founded in 2015 with Ben Shapiro as its editor in chief.
"The digital news site announced in September that it would be moving its headquarters from Los Angeles to Nashville. Shapiro cited California's political environment as the motivating factor for the move."
Send them back.
They made that mess. Make them live in it. Decent folks don't want their kind coming around here.
ITEM 11
:
United Press International reported
, "The U.S. Supreme Court appeared hesitant to rule on whether undocumented immigrants should not be counted in the U.S. Census report after hearing arguments from the Trump administration Monday.
"Several of the court's conservative justices suggested they should wait on the ruling that could shift power from migrant-rich states to smaller, and typically more Republican, states."
The story then proceeded to quote liberal John McCain Roberts.
Sigh.
ITEM 12
:
The New York Post reported
, "Nike and Coca-Cola are among a number of companies seeking to water down a bill that would ban imports from a region of China where products are made through forced labor by minority Muslim groups being held in detention camps, according to a report.
"The bill, called the Uyghur Forced Labor Prevention Act, would forbid the import of a variety of materials from the Xinjiang region of China, in an effort to crack down on human rights abuses, the New York Times reported on Sunday."
Now you know why big business hates Republicans.
We oppose slavery.
"Following her one kick against Missouri to open the second half, the SEC named her the Special Teams Player of the Week along with Florida's Kadarius Toney.
"The SEC wrote, 'She took the opening kickoff of the second half against the Tigers, as her perfectly-executed kick sailed 30 yards and was downed at the Missouri 35-yard line.'"
She did almost as well as Denver's wide receiver who had to quarterback the team because of covid.
He completed one pass.
Hey, Jets, have I got a kicker for you...
ITEM 14
:
Fox News reported
, "Just one week after welcoming a massive 18-plus-foot Fraser fir at the White House, first lady Melania Trump has shared footage of the festive decorations adorning the halls of 1600 Pennsylvania Avenue.
"On Monday morning, Trump shared a peek at this year's Christmassy touches, which feature more traditional decorations than in years past, with plenty of trees (green trees) decorated with bulbs, stars and what appear to be decorations made by children from across the country.
"A video shared by Trump also appears to show a mini White House decked out for the holiday, as well as a train set (dubbed the White House Express) chugging alongside the boughs of holly."
This is normal, something DC has denied our beloved president -- and nation -- for 4 years.
ITEM 15
:
Life News reported
, "Abortions Drop to Lowest Levels Since Roe v. Wade as More Babies are Saved."
The story said, "The CDC documented 619,591 abortions in 2018 and 612,719 abortions in 2017. These numbers haven't dropped this low since Roe v. Wade, the 1973 Supreme Court decision that legalized abortion nationwide. That year, the CDC reported 615,831 abortions."
That is less than half as many as the record 1,429,247 abortions in 1990.
ITEM 16
:
Just the News reported
, "A Pennsylvania congressman says a Pittsburgh company has helped develop a paint that can kill covid 19 on surfaces, a discovery he predicts will be a game changer in the effort to stop the virus from spreading.
"Republican Rep. Guy Reschenthaler says the paint is made up of certain minerals, like silver, which create the antimicrobial and antiviral properties in the paint. He told Just the News AM the paint is a huge win for public safety and public health because coated on tables and other similar surfaces, it will kill bacterias and viruses, ultimately stopping the spread."
I see a red door and I want it painted with that.