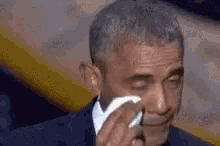 The Washington Post reported yesterday, "'Make liberals cry again' became the battle hymn of the Republicans under Trump."
And they are crying! Unbelievable. It is the oddest and most amusing development of 2020.
The New York Times reported, "Amid Tears and Anger, House Democrats Promise 'Deep Dive' on Election Losses."
The first paragraph was delicious. Enjoy: "Democrats wept, cursed and traded blame on Thursday during an extraordinary party confab to dissect the disappointing results of this week's elections, agreeing on little except that they needed a 'deep dive' into how they had ended up with painful losses that weakened their House majority instead of the big gains they had boldly predicted."
Huh?
But Matt Drudge told me Biden was elected with 80 gajillion votes.
And yet the Times reported (no links to pay sites) that Democrats lost.
The subheadline gave a clue. It read, "During an emotional conference call, Democrats traded excuses, blame and prognostications about how their expectations for big gains in their majority could have been so wrong — and what to do about it."
Oh yes, they were supposed to flip Texas blue, knock off Mitch McConnell, pad their majority in the House, cure covid, and convert the pope to communism.
Only the last thing happened and it really had nothing to do with the election.
Now I predicted a 37-state win for President Donald John Trump. I was a little low here and there, but it ain't over till we say it is over.
By the way, Z Regime, I need you to go to the store...
Maybe not. We may not need 10,000 marbles. Democrats are losing it.
The story said, "In a caucus meeting held by telephone that was their first group conversation since Election Day, Speaker Nancy Pelosi and Representative Cheri Bustos of Illinois, who led the party's campaign arm, defended their efforts. Democrats expressed frustration over the loss of eight of their members — and a net loss of six seats, with 33 races still undecided — that had left them with a slimmer margin of control."
It was a 3-hour call.
That is 3 hours longer than Biden campaigned in the 5 days before the last debate.
Bustos said, "Something went wrong."
No feces, Felicia.
The something that went wrong was they believed their polls that showed a 7-point lead. They failed to rally supporters, they failed to knock on doors, and they failed to mark off the down-ticket portion when they stuffed the polls with ballots for Biden.
The Times said, "It was a bitter pill for Democrats who had been ebullient only days before about their chances. On Election Day, Ms. Pelosi and Ms. Bustos had crowed about their likelihood of success. Ms. Pelosi cited predictions that the party could pick up five, 10 or even 20 seats and said she was worried about fewer than a handful of incumbents. Both women, though, declined to offer their own precise predictions.
"But by Thursday, one of the incumbents Democrats had spent heavily to defend, Representative Debbie Mucarsel-Powell, who was defeated Tuesday night as President Trump won a resounding victory in her Miami-area district, broke into tears as she spoke out to her soon-to-be former colleagues about internal divides in the party."
Hmm.
Dream big, win small, be happy with what you have. Then start planning for the next battle. As Fred Astaire and Ginger Rogers sang, pick yourself up, dust yourself off, and start all over again.
This election is not over, however. The stealing may be stopped, and recounts matter.
Nevertheless, Democrats already are falling apart. I enjoy their sadness. Their tears may be bitter, but you can always mix in some bourbon or even better, cognac, before drinking.
The story said, "Representative Abigail Spanberger, who narrowly escaped defeat on Wednesday in a conservative-leaning district in Virginia that Democrats had also toiled to protect, chastised her progressive colleagues for embracing the defund the police movement and for not pushing back forcefully against accusations of socialism. If Democrats did not acknowledge the election results as a failure and change strategies, she said using an expletive for emphasis, they would be crushed in future elections."
She makes sense but AOC and the Squaw Squad run the party now. Democrats are stuck with a Green Deal that has them grounding airplanes and regulating cow farts.
Democrats wasted a whopping $315 million in Senate races in Kansas, Kentucky, Texas, and other Republican strongholds.
The story said, "Bustos also defended the Democrats' offensive push deeper into Republican territory, a move that yielded few pickups and some members said left incumbents inadequately protected.
"Losses for Democrats included freshmen in swing districts — like Representatives Joe Cunningham of South Carolina, Xochitl Torres Small of New Mexico, Kendra Horn of Oklahoma and Abby Finkenauer of Iowa — but also a veteran, Representative Collin C. Peterson of Minnesota, who leads the Agriculture Committee and has served in the House for three decades.
"One of the biggest surprises of the election came in South Florida, where Mr. Trump made significant inroads among Cuban-Americans. Along with Ms. Mucarsel-Powell, Representative Donna E. Shalala, another first-term Democrat representing the Miami area, lost."
President Trump carried Florida by more than 3 points as the Sunshine State looks to be joining Texas as a Republican stronghold.
House Majority Whip James Clyburn told them ix-nay on the ommunist-cay alk-tay.
The Times reported, "He cautioned against running on 'Medicare for all or defunding police or socialized medicine,' adding that if Democrats pursued such policies, 'we're not going to win.'
"Representative Marc Veasey of Texas warned his fellow members against anti-fracking talk, saying it was turnoff to voters in South Texas: 'They hear, Take away jobs.'"
Texans have good ears.
Democrats are an anti-American communist party. Decades of indoctrinating college students into believing the nation was founded on slavery, the Constitution is illegitimate, and patriotism is racism have taken a toll. When you believe the other side is evil, there can be no compromise. And without compromise, the wheels come off a republic.
There is an alternative. President Trump gave a generation a taste of capitalism and 3.5% unemployment.
Democrats cannot publicly say what they believe. That is a problem. Voters may or may not have turned the president out, but one thing is for sure. Democrats are on shaky ground. We know that because they are crying worse than poor old Johnnie Ray.
Too-ra-loo-rye-ay
And you'll hum this tune forever...